Make a monthly donation
Become a Hope Sustainer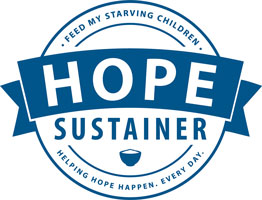 Become a Hope Sustainer
Our Hope Sustainers are a special group of passionate supporters who believe in our mission and commit to give a reliable monthly donation to FMSC.
Your monthly gift lays the foundation FMSC relies on to send meals to kids like Chimi, whose life and community have been transformed by sustained access to MannaPack™ meals.

Why current FMSC Hope Sustainers love giving monthly:
"I like knowing how my gift multiplies to feed so many people."
"Knowing that even when I don't have time to volunteer and pack, I am still helping."
"I like knowing that each month the meals are making a huge difference in people's lives and I get to be a part of that."
Benefits of becoming a Hope Sustainer:
Convenience of automatic monthly withdrawal
Welcome kit with a small FMSC gift
Greater connection to bringing hope to starving children
Flexibility to change your gift amount at any time
Your gift goes a long way: each FMSC meal costs less than 25 cents to make and more than 90% of total donations are spent directly on feeding kids around the world
Set up a monthly gift
Set up a monthly gift using your credit card, bank account or digital wallet.
For more information or updates to your monthly contribution, please contact monthlydonors@fmsc.org or 763-252-6336.
"...To them I was like one who lifts a little child to the cheek, and I bent down to feed them."
- Hosea 11:4