Other ways to give
In addition to giving cash directly to FMSC, there are other simple and easy ways to support Feed My Starving Children in your everyday life. Some cost you nothing - all are convenient. Many even have tax benefits! 
Your generous financial support feeds desperately hungry kids around the world. Since each meal costs less than 25 cents to make, your gift goes a long way in the fight against world hunger. 

TAX ID
FMSC's Tax ID is 41-1601449.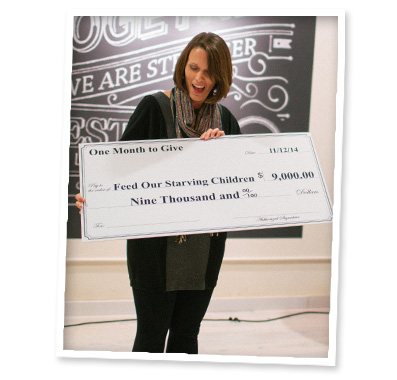 Workplace giving 
Need to choose a charity for your payroll giving program? We qualify! Your employer may even match your gift. 
United Way 
Write in "Feed My Starving Children" to direct your contribution to FMSC. On the form, be sure to include our full name and the address of our national headquarters: 
Feed My Starving Children
401 93rd Ave. NW
Minneapolis, MN 55433 
Global Impact 
We are part of the Global Impact alliance of charities! Direct your payroll deductions to Feed My Starving Children within the Global Impact group in your employee giving campaign.
Find out more
Matching gifts 
Your employer may double or even triple your donation with a matching gift!

Find out more
Donate assets
Planned giving: leave a legacy gift 
Donate real estate, retirement assets, cash, insurance, stocks or bonds. Enjoy tax and income benefits while giving hope to hungry children.
Learn more
Vehicles for charity
Would you like a tax benefit and a way to help Feed My Starving Children? Donate any car, truck, RV, or boat.
Donate today
Charitable giving programs
Thrivent Choice 
If you own a Thrivent Financial plan, you can direct your "Thrivent Choice dollars" to FMSC.
Direct my dollars
Thrivent Action Team 
If you have Thrivent Financial products, you are eligible to lead a Thrivent Action Team in a one-time fundraiser, service activity or educational event. You will receive a $250 Community Impact Card to use as seed money to apply toward your project.
Learn more
AmazonSmile 
Amazon donates 0.5% of the price of your eligible AmazonSmile purchases to the charitable organization of your choice. Select Feed My Starving Children to be the recipient of your purchases.
Shop now