The Feed
Stories of Feeding God's Children Hungry in Body & Spirit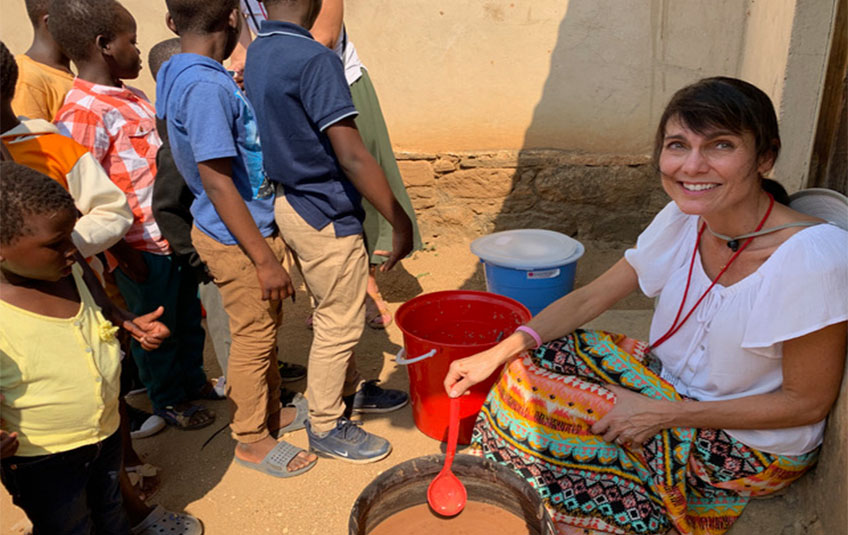 Local Dietitian Serves Up Cooking Classes to Feed Kids Around the World
"The King will reply, 'Truly I tell you, whatever you did for one of the least of these brothers and sisters of mine, you did for me.'" – Matthew 25:40
Every time Feed My Starving Children Illinois Council Member Lynn Dugan comes across a quarter, she saves it for FMSC, knowing a lifesaving meal costs just under 25 cents. Her family packs meals on birthdays and hosts an annual Christmas party that collects donations.
"It's been part of our hearts and lives for a long time," she said, estimating that the family has been supporting FMSC for over a decade.
But with COVID-19 pushing even greater numbers of people into starvation, the dietitian and nutritionist from Glen Ellyn, Illinois, realized she wanted to do even more.
Her background means she has an even better understanding of the effects of malnutrition. That, combined with her faith, compelled her to become a Hope Champion.
"I just know how critical food is for life, for brain development," she said. "It's having a Christian faith and realizing that everything we have is a gift, and we have to share. We always feel that we have a responsibility."
Global Cuisine — Virtually
Inspired by FMSC's work around the world, she began offering a series of virtual global cooking classes this past fall.
The classes are free, but the suggested minimum donation is $50. So far, she has raised $3,411. That's enough to feed 38 children a daily meal for an entire year. And she's not done yet — she's scheduled four more classes for 2021.
From beef empanadas and flan casera to West African Fufu and callaloo, the recipes span the globe.
In addition to her work as a nutritionist, she teaches a cultural foods class in Benedictine University's Food and Nutrition department, where students study a different region each week.
But it's her travels that have really inspired her.
"I always try to learn something from the local cuisine," she said.
Food in Action
Last year, she went on a Food In Action Trip with FMSC to eSwatini, a country in Africa where more than 50 percent of children under 17 are orphaned, according to the World Food Programme. The country experiences frequent droughts and prolonged dry spells.
Lynn saw all these things firsthand when she met a girl in her early teens who lived alone with her brother. The siblings receive support from FMSC food partner Adventures in Mission's after-school program, where they eat nutritious MannaPack™ meals.
Lynn remembers going with her to dig for fresh water.
"It made me realize the meal she had at the after-school program sustained her so she could get the water she needs and take care of her home," Lynn said.
Experiences like this have driven Lynn to do even more to feed kids around the world.
"I can't imagine not having food for my kids," she said.
Inspired by Lynn? Become a Hope Champion
Lynn is what we call a Hope Champion, and we can't wait to see what God continues to do through her. Through the Hope Champion program, you can turn your passion and skills into a fundraiser to bring hope to children around the world.
Visit Hope Champion page to learn more. Just like Lynn, YOUR passion can bring hope to children around the world.
Sign up to pack lifesaving meals TODAY. Sign up for one of Lynn's classes here.
Donate Now
Donate by credit card, bank account or digital wallet.
Subscribe to The Feed
We'll periodically send stories of hope to your inbox.