Volunteer Now
Volunteering at FMSC is fun, upbeat and energizing! FMSC volunteers from all walks of life are able to come together with family, friends, co-workers and strangers to feed starving children. 
Find a packing event
Our permanent sites are located in Minnesota, Illinois and Arizona. MobilePack events are short-term volunteer opportunities that are all over the United States.
FMSC offers volunteers a one-of-a-kind experience. You'll hand-pack rice, soy, dried vegetables and a nutritionally complete blend of vitamins and minerals into bags which are then sealed, boxed, placed on pallets and shipped to our incredible partners working hard to reach the neediest children around the world.
Through volunteering at FMSC, you'll get the chance to impact hundreds of kids in just two hours per packing shift. You'll experience what it's like to make a tangible difference—today.
Feed My Starving Children meals are produced by volunteers in Minnesota, Illinois, Arizona and all over the United States through MobilePack events.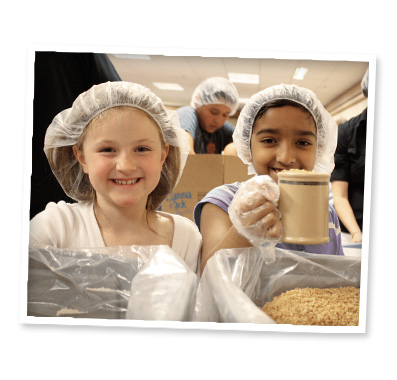 "Not only was it rewarding to see the hundreds of boxes that we completed that afternoon, but it gave me such joy to do it alongside my husband and kids and to see their eagerness to work hard at the jobs they were given."
Volunteering highlights