The Feed
Stories of Feeding God's Children Hungry in Body & Spirit
Handing Hope to His Precious Children
Jesus said, "Let the little children come to me, and do not hinder them, for the kingdom of heaven belongs to such as these." – Matthew 19:14

In the tiny country of Swaziland, where unemployment is rampant and food is scarce, a father and mother desperately seek to provide for their children.

Nine pairs of brown eyes look to their parents anxiously, each child's stomach growling as they wonder when they will receive their next meal. The youngest baby is sick and needs food quickly.

With no one else to turn to and no help in sight, the father leaves in search of food. He is promptly arrested for stealing and thrown in jail for ten years.

Just weeks later, the mother is also arrested as she tries to steal food and basic items in an attempt to ensure the survival of her children—she finds herself staring at a three-year prison sentence.

Before serving out her prison term, the mother was placed in the hospital due to the severe malnourishment of her newborn baby. That's where our partner, Heart for Africa, met her—and she pleaded with them to help her eight children who were now left alone to fend for themselves.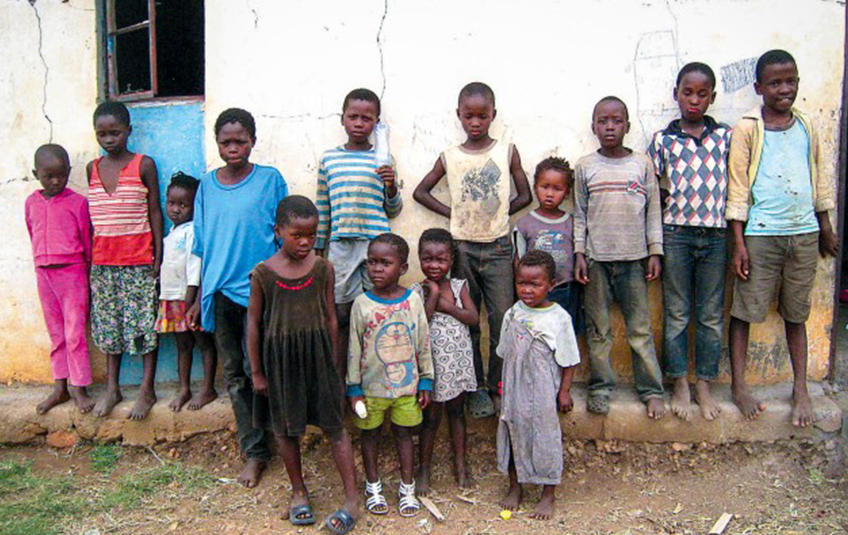 Frightened and starving, these children were barely surviving. A filthy mattress was their only place to sleep. They attempted to cook grass in a dirty black pot over a poorly-lit fire in the middle of a dusty old building.

"There are approximately 15,000 orphan-headed households in Swaziland." – Heart for Africa

Heart for Africa began bringing MannaPack™ meals to the orphaned household, and a neighbor helped cook the food for the children. As a direct result of your faithful giving, these beautiful children now receive meals consistently.

Their grandmother, who left the home because she had no way to provide for her grandchildren and couldn't bear to watch them starve, has returned.

Now the kids have someone to care for them and nutritious food to help them grow healthy and strong. This is amazing!

On the first return visit to the orphaned household, it was discovered that 14 children now live there. Other children who were also living without parents had drifted to a reliable source of food.

Children like these are the reason Feed My Starving Children exists.

They are desperate and without hope, but your care and intentional giving literally hands them hope in the form of a simple nutritious meal.

You bring them immense encouragement, shine the great love of Jesus and show them they are not forgotten.
Subscribe to The Feed
A couple times a month, we'll send stories of hope to your inbox.
Related Items