The Feed
Stories of Feeding God's Children Hungry in Body & Spirit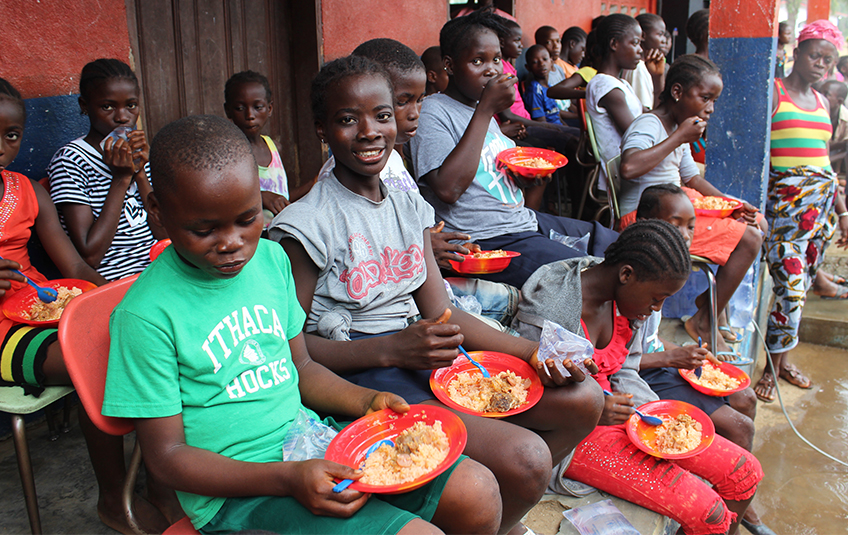 In Liberia: Ebola, Healing and What Makes Us Complete
Matt Muraski is the VP of International Programs and Supply Chain for Feed My Starving Children.

More than two years ago, we had planned to make a trip to visit our newly formed CROPPS group and partners serving in the country of Liberia. Then, in 2014, Ebola broke out and our partners said, "Don't come."

We were torn about not going. After all, these partners had become friends we cared about, co-laborers in the difficult task of reaching more of the hungry and hurting.

But we knew if we did go our partners would be more worried about our safety than their own.

So we did the best thing we could: stayed home, sent more FMSC food and prayed for their survival.

Recently, three FMSC staff landed in Liberia for the first time since Ebola shut the country down, secluding it from the rest of world.

Defeating a virus like Ebola required limiting human-to-human contact so as not to spread the disease. It required schools to be closed, and if you did choose to attend church, no one hugged or shook or held hands.

Waving replaced those normal greetings of fellowship. It was a long trial, but the brave people of Liberia overcame Ebola.

So it was now time to return and reunite with these friends and co-laborers.

Pastor Paasewe is with Living World Missions. His compound is located a few miles from the Sierra Leone border and contains a school and church. He is constructing more buildings that will serve as dormitories for children orphaned by Ebola and plans to start with 30 to 35 children.

We have all experienced a time when we start something and before we can call it complete, life brings something else we need to contend with first.

Living Word Missions receives FMSC food from one of our larger Liberia-focused partners, International Children's Fund. Here the MannaPack Rice™ meals are called "Pastor Thank You," and everyone DID seem thankful as they ate MannaPack in celebration of our arrival.

Pastor Paasewe recounted how the food helped them through the crisis, how he shared it with the local community and how it brought Christians and Muslims together.

More importantly, he communicated how Christ-like compassion connects and completes us as children of a Holy God.

Thank you for standing by them with food and prayers. You see this type of enduring love demonstrated by Jesus Christ — never forgetting, never tiring, never ceasing.

This kind of love is what really completes us all.

Subscribe to The Feed
We'll periodically send stories of hope to your inbox.
Related Items