The Feed
Stories of Feeding God's Children Hungry in Body & Spirit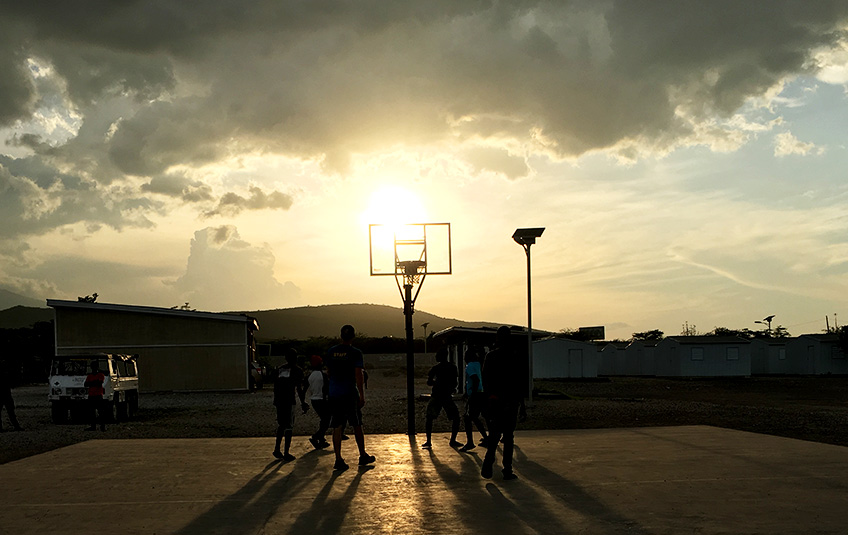 A Common Language
October 5, 2016
Guest Author
Feed My Starving Children Board Member, Kieran Kelliher, recently took a Food In Action trip to Haiti, distributing food at Love a Child. He's the director of finance for the Chicago Bulls.

"Let love be genuine. Abhor what is evil; hold fast to what is good. Love one another with brotherly affection. Outdo one another in showing honor. Do not be slothful in zeal, be fervent in spirit, serve the Lord. Rejoice in hope, be patient in tribulation, be constant in prayer. Contribute to the needs of the saints and seek to show hospitality." --Romans 12:9-13

While there are a number of heartwarming moments that have struck me from the last few days on the island, I figured I should share an experience that might be a bit unique for a typical visit to Love a Child.

After an amazing experience distributing food at villages such as Le Tant and La Roche during the day on Wednesday, and visiting the marketplace built by Love a Child, we had a couple hours before the team's dinner in the depot.

In our tour of the Love a Child grounds earlier in the week, we had seen a small basketball court built next to the kids' playground.

With some time to kill, some of the guys on the trip from FMSC asked the staff if they had a basketball and wanted to play.

However, our best hopes for a bit of basketball were far exceeded when Bobby and Sherry suggested that the staff take us a bit down the road to play on the court at Miracle Village.

Carlos - our expert LaC staff truck driver for the week - drove myself, Manny and Tyler over to this village founded by Love a Child in the early evening, and knew to ask one of the neighbors in the houses nearby for a ball.

Initially the three of us dribbled a bit and chucked up some shots, and slowly our skin color (and probably our poor play) attracted some of the villagers to come out and watch.

We got a few brave souls to take turns with us and start shooting baskets, and fumbled our way through brief introductions of each other's names.

The villagers suggested we start a game, and we split up and formed teams for some 4-on-4 basketball, making sure that us Americans played on opposite teams.

We quickly had a crowd of over 50 villagers that came out to watch and socialize, and we had a chance while subbing-out for a rest to spend time with some of the kids on the sidelines.

Over the course of that hour, we shared in some mediocre basketball games, but couldn't talk to our own teammates.

However, in that short time together we developed a common language in the game and in everyone's positive sportsmanship, and began to work well with our teams to make the right pass or a good cut.

My hope is that cheering on each other's shots and their smart passes, even the opposing team, was just a tiny witness to the love of Christ that we could offer to them at that moment.

It was heartwarming to see the villagers doing the same with each other and with us, both applauding the nice plays and ribbing us for the turnovers and airballs.

On the drive back, I thought about a nugget of wisdom from St. Francis: "Preach always; use words when necessary."

My prayer is that our presence there was a time of recreation and fellowship with the villagers, and that we were able to preach to them in some small way despite the lack of a common language.




Subscribe to The Feed
We'll periodically send stories of hope to your inbox.
More stories of hope