The Feed
Stories of Feeding God's Children Hungry in Body & Spirit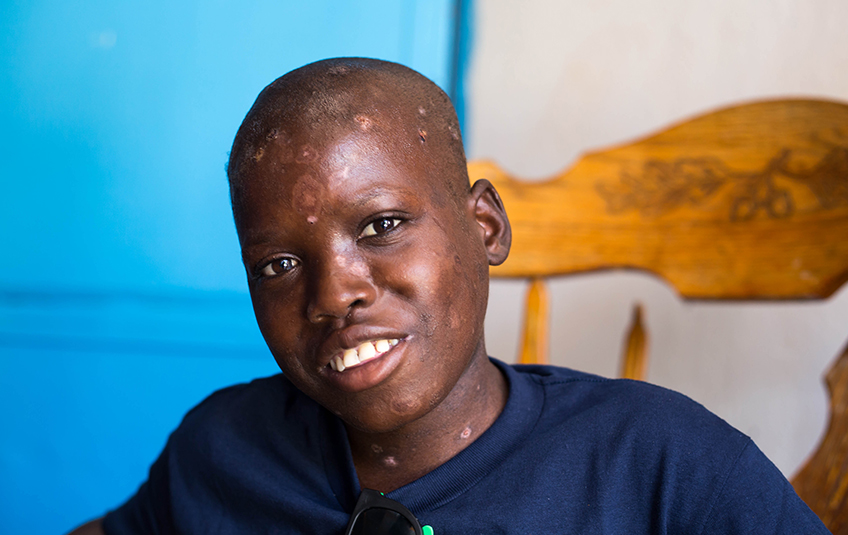 God's Work in Vilson
April 27, 2017
Guest Author
Sarah Pressly is a former development advisor for Feed My Starving Children.
Update: Vilson had been working at Real Hope For Haiti and continued to battle his illness. He had a terrible relapse and they took him to the hospital, surrounded him with love and hope, and he quietly left the world of pain.

Real Hope For Haiti was always trying to figure out what was the root of the problem, but y'all know some things don't get cured. I do know pieces of his heart were healed - the comments were so so lovely, so many folks have gotten to know him over these many years, and he was surrounded by his Real Hope for Haiti family when he died.

This is the painful reality of life, in Haiti and in the U.S. and everywhere, really - as way more eloquent folks than I have said. It's what the hyphen, 1999-2020, THAT hyphen, tells us about Vilson. It tells me he was beloved and loved his family and his friends so well.

And now, he is out of pain, and it won't hurt "only when I lie down."

Rest easy, Vilson. Rest in comfort.
___

He sat quietly, wrapped neck to hip and shoulder to wrist in bandages, with a mesh cap fitted to his head. Eyes dull with pain, he nonetheless moved his sore-covered hands to pull out the small brightly colored rubber bands to make bracelets, wrists already bright with colors. The smaller kids surrounded him, wanting to make bracelets too – I sat down to watch.

Vilson. To my ears, it sounded like Veel-SOH.

"Do you like music?" I asked him with the help of Al, our guide and translator. "Yes," he quietly replied, fingers continuing to move. But he did not get up and dance like the little ones did. He made bracelets. He fussed at the little ones when they got too squirmy and bumped his arm. Did it hurt, did he not want his art disturbed? Both, probably.

When the food came around, Vilson took a bowl with MannaPack Rice™ and some chicken in it as well. He ate quietly, not moving very much, and I sat beside him. Together we watched the little ones bumping and bickering at the table – on our bench, quietly eating.

"How old is he?" I asked. "Seventeen," came the reply. My heart thumped. Seventeen.

Sam is 17. Sam is healthy, well-fed, surrounded by friends, planning for his future, going to prom. Sam is safe, healthy, educated. Sam is my son. Sam is my heart.

Vilson is 17. Vilson is covered in sores, surrounded by little children, hoping for a future, sitting still on that bench. Vilson is not my son – Vilson's mother is dead, his father gone. Vilson is also now in my heart.
Why?
Why is Sam safe and healthy and whole, and Vilson is at risk, ill and hurt?
In John 9, the disciples asked Jesus, "What did this man do, or what did his parents do, that has made him blind?" Jesus said, "Neither this man nor his parents sinned – this has happened so that the works of God might be displayed in him."
Do I believe that God struck Vilson just to change my heart? NO I do not. What I do believe is that Haiti is an island of pain and need, caused by a series of terrible decisions long before Vilson got there.
I believe God drew my eyes and my heart, and the eyes and heart of Real Hope for Haiti, to Vilson. This is a key and important difference: God did not cause this, but God is calling on me, on Real Hope for Haiti, on Feed My Starving Children, to take Vilson and display the works of God through him.

As the day wore on, the littles climbed up on my lap while I sat beside Vilson. They looked at my phone, swiped the pictures, laughed at the videos.

A bandaged covered arm leant on my leg as if to look at the pictures too, and then a capped head was on my shoulder. A small body leaned into mine. I gently put my arm around him. We sat.

Tears that I simply could not stop moved down my cheeks – I wiped as quietly as I could. I prayed. I kissed the bandaged head. I prayed.

At that moment, I did not know what the future held for this young boy, this young man, this Vilson. I knew he was almost too old to be in an orphanage. I knew he hurt, though when I asked about my arm on him, he said he only hurt when he lay down. I did not know if he would heal, if he would be safe, and so I prayed.

As we left, I gently pulled him to my side once more, rose, and walked away. I have to trust the Real Hope for Haiti staff to do what they are called to do – display the works of God through Vilson.

As of this writing, Vilson continues to heal – from dull eyes of pain to bright eyes of interest. From quiet sitting on the bench to singing and using a volunteer's phone camera to record his current family as they sing too.
My tears come again – God's work is indeed displayed, God's miracle of science and doctors, God's miracle of food, God's miracle of love.

I have hope for Vilson. And hope changes everything.
Subscribe to The Feed
A couple times a month, we'll send stories of hope to your inbox.
Related Items