The Feed
Stories of Feeding God's Children Hungry in Body & Spirit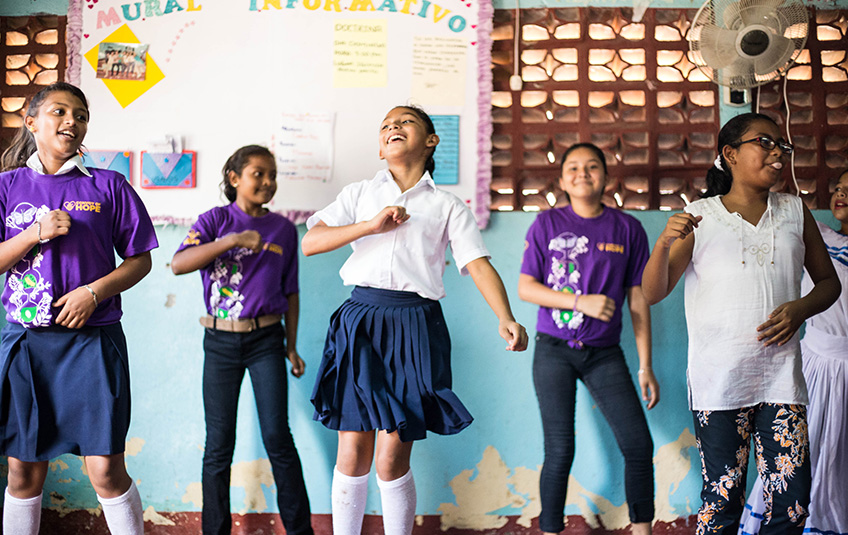 In Nicaragua: Dancing and Empowerment
"You are the God who performs miracles; you display your power among the peoples." –Psalm 77:14
A flurry of school uniforms and purple T-shirts rushed the group of Feed My Starving Children staff visiting a girls' empowerment program in Nicaragua. Laughing, the pre-teen girls each grabbed an arm and pulled us into their dance.

The scene moved me as our staff picked up the choreography with little hesitation. Feet and arms fell into step. But it felt like more than dancing. It felt like we were joining something big that was already happening.

The dictionary defines the word join as "bringing together in a particular relation or for a specific purpose, action, etc.; unite."

Later, after returning to the states, I came across the following quote while reading about how to maintain dignity in the work of aid and, again, the word join hit me between the eyes.

"If you come only to help me, you can go back home. But if you consider my struggle as part of your struggle for survival, then maybe we can work together." – Aboriginal Activists Group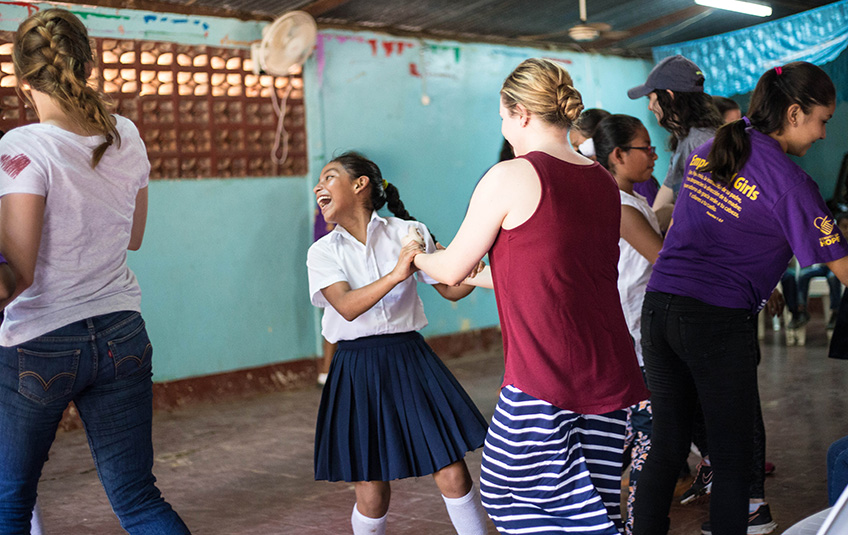 One of the things that makes FMSC unique is our partnerships. We aren't dropping food and running. We work closely with partners embedded in communities in 70 countries around the world – arm in arm, our steps in alignment.

And our role in this dance – providing nutritious meals to children and families who don't have a sustainable food source – builds a solid foundation for entire communities to become healthy and self-sufficient.

Reliable FMSC meals allow our partners like Convoy of Hope to do what they do best, whether it is education, health care, ministry, agriculture or micro-business. Our ultimate goal is to create local food security so future generations can thrive.
Empowered Girls Club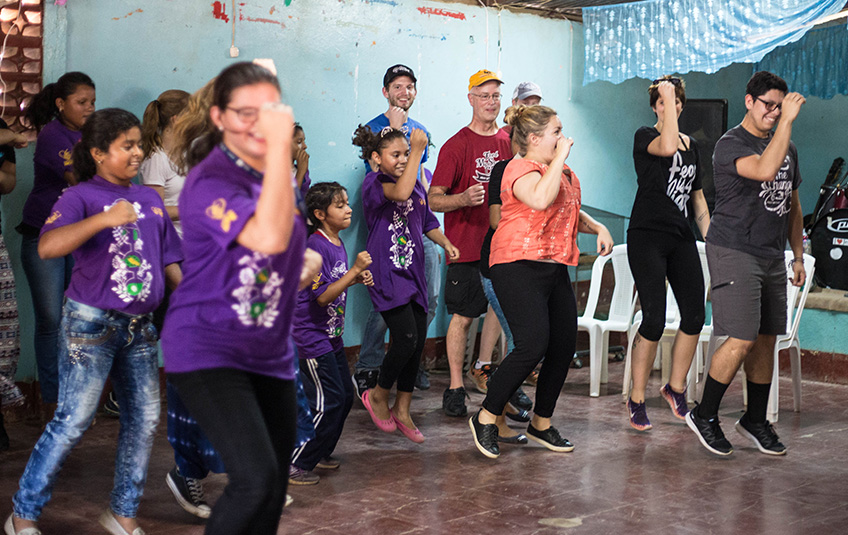 And this ideal could be seen so perfectly that day, our arms joined, spinning like tops around a hot room in Nicaragua with Convoy of Hope's Empowered Girls program.

The initiative brings educational programs to schools and communities. Sessions include contextually appropriate topics such as self-esteem, gender-based violence and harmful cultural beliefs and practices. The girls in the club are also supported nutritionally with MannaPack meals.

Nicaragua, the poorest country in Central America, is plagued by a high birth rate among adolescents, which perpetuates a cycle of poverty and low educational attainment, according to the CIA World Factbook.

One of the girl's mothers, describing herself only as "Little Vanessa's mother," said she was grateful for the program.

"I've seen big progress in my daughter. She has been very much helped by the training she has received," she said.

Convoy of Hope's programs in Nicaragua feed 13,231 children at 38 program centers, but their work extends far beyond providing meals. And just like that day we danced with the Empowered Girls club, it's our partners who are leading this dance.
Photos
Subscribe to The Feed
A couple times a month, we'll send stories of hope to your inbox.
Related Items