The Feed
Stories of Feeding God's Children Hungry in Body & Spirit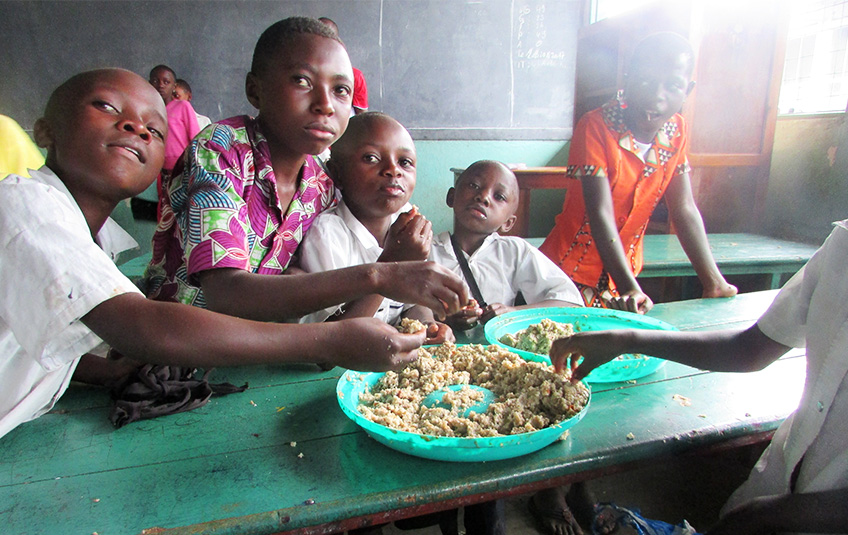 No Borders: The Democratic Republic of the Congo
"Jesus looked at them and said, 'With man this is 
impossible
, but not with God; all things are possible with God.'" --Mark 10:27
This is the first in a series of posts about Feed My Starving Children meals reaching hard to reach places. Search "no borders" to find more stories in the series.

We have all had conversations that have changed us, conversations that we can remember where we were and what we were doing when our life was changed.

For me, one of those conversations happened while bouncing down the dusty, desert roads of Sudan 15 years ago. The country was in the midst of a decades-long civil war, and there were very few organizations or missionaries working there at the time.

I was there with a group of 12, run by Strategic World Impact, distributing water filtration systems, food and medicine and showing the Jesus film.

We were barely in Sudan at that point, having crossed over on camel back earlier that day. Now we were in an old Land Rover, about 50 miles inside the country.

Fifty miles, Kevin, the director of SWI quipped, past the Great Commission.

Sudan of course, is not outside of the borders of the Great Commission, Jesus' command to spread the gospel to all nations.

The Great Commission has no borders.

But Kevin's words were a commentary on how Christians often treat these places that can be so difficult, and frankly dangerous, to reach.

This is the first in a series of blog posts about hard to reach places and the work Feed My Starving Children and our partners are doing to feed those who are starving in body and spirit.

We're going to dive deeper into what is happening in Syria, Kosovo and other places you may have seen in the news – starting today with the Democratic Republic of the Congo.
A First for FMSC
At least 6 million people have died during a civil war in the DRC, many as victims of disease and malnutrition, many of them children. In fact, life expectancy itself is just 47 to 51 years.

One of those children, 12-year-old Evariste, didn't have much hope. He weighed only 50 pounds when he started eating MannaPack meals through our partner Salesian Missions. After a few months, he gained 8 pounds.

This was the first shipment of Feed My Starving Children meals to ever arrive in the Congo, a country devastated by mass killings, starvation and other effects of war.

We have sent food to more than 70 countries around the world through existing partnerships, and it is through these amazing partners that our food gets distributed to those in desperate need.

But shipping and distributing meals can be more difficult in some regions because of volatility and conflict.

Up until recently, the Democratic Republic of Congo was one of these regions, and we praise God that these children can now be fed because of the organizations and people who have answered the call to minister there, to make sure we're not putting borders on the Great Commission.

Salesian Missions runs the Don Bosco Ngangi center in the Congo, including a school and a clinic. Staff there said they have seen a huge improvement in both areas.

"The number of children who are admitted to the clinic has decreased. While asking our medical doctor, he agreed that it is the positive impact of FMSC food," the staff reported.

Please pray that the power of food will continue to reach the tough places, where children deserve to not only survive, but to dream for a future. As you read this, there are regions that FMSC is currently unable to reach. Please join us in praying for open doors and partnerships in those regions. 
Subscribe to The Feed
We'll periodically send stories of hope to your inbox.
Related Items