The Feed
Stories of Feeding God's Children Hungry in Body & Spirit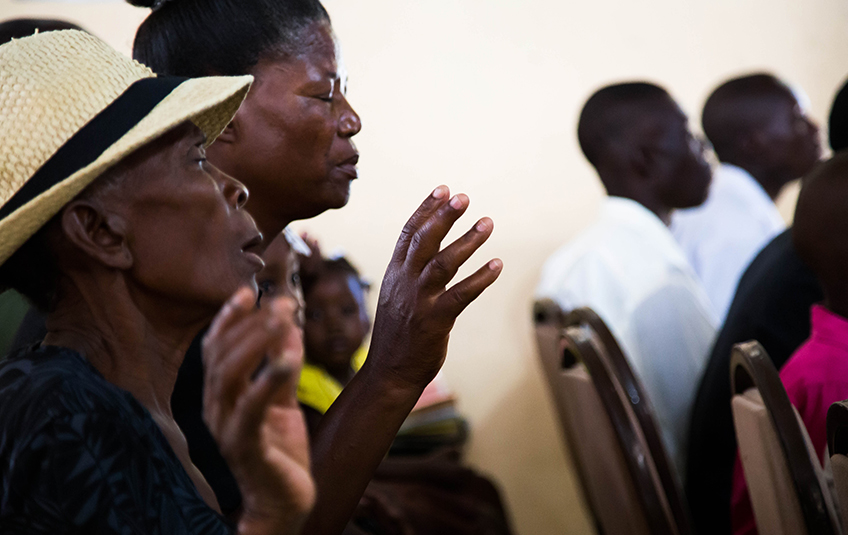 Photos: Sunday in Haiti
"All the believers were together and had everything in common." -- Acts 2:44
Church members walked around offering coffee in mismatched mugs and hot dog bun-like bread.

This was my first introduction to church in Haiti.

Our team of more than a dozen FMSC staff and donors was led to the front few rows of folding chairs. Large fans overhead whirred to keep everyone cool.

A young man struck the first few chords of the keyboard, and I knew that this was going to be a powerful experience.

Haitians don't just sing. They shout. They pour their entire heart and soul out to God with their voices, with their hands.

It's mostly in Creole, but every so often a chant would repeat, "I love you Jesus, I love you Jesus, I love you Jesus," or "Hallelujah, hallelujah, hallelujah."
'Thin Places'
There is an old Celtic notion called "thin places" that means the line between heaven and earth is blurred. Whether or not this is sound theology, the saying goes, "Heaven and earth are only three feet apart, but in thin places that distance is even shorter."

Church in Haiti was the thinnest place I've ever been.

I go to a liturgical church where we sing hymns and speak prayers aloud together. I love it. That place is holy, and I am in God's presence. But I am not one to raise my hands in the air. That is simply not the worship experience in all churches – and that is fine.

But on that Sunday in Haiti, with the generator going in and out, I got on my knees and put my face to the ground.

God was there in a tangible way.  

And God isn't just inside those four walls. God is in the streets of Haiti. God is in the mountaintop huts of Haiti. He is in the malnutrition clinics and the missionaries who run them. He is in the people of Haiti.
Gallery
Subscribe to The Feed
A couple times a month, we'll send stories of hope to your inbox.
Related Items