The Feed
Stories of Feeding God's Children Hungry in Body & Spirit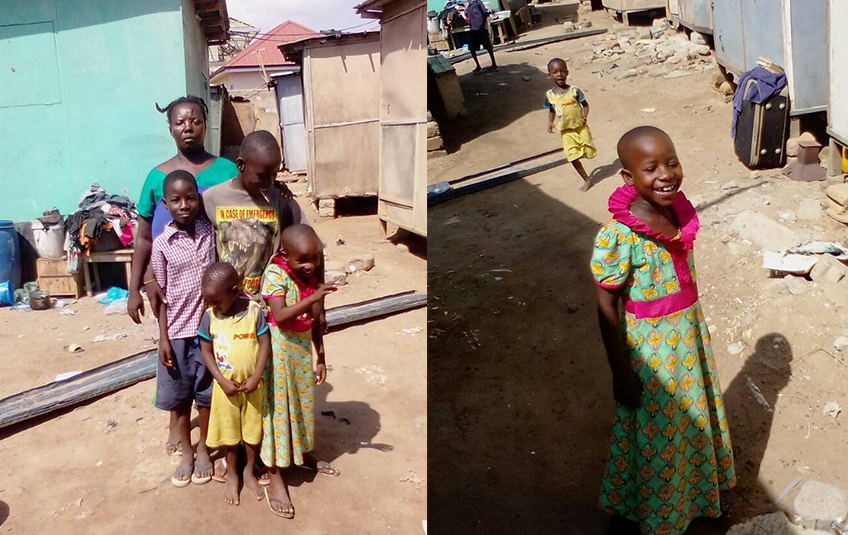 Hope is Greater: 'Saved by the Clock' in Ghana
Three weeks ago, I was sitting at my desk at the Feed My Starving Children headquarters, sipping on my Starbucks coffee, reading through a report one of our overseas partners sent when I got to this part about three quarters of the way through. It stopped me in my tracks.
Margaret has been struggling to take care of these children all alone; sometimes they only eat a meal a day or nothing at all. Life is so unbearable; a day before a worse decision was the same day our team chanced on her. She had decided to pawn her two sons age 10 and 8 to a fisherman in a small fishing town where underage children are sold as slaves to undertake fishing activities.
So three weeks have passed and I don't know how to bring you this story – Margaret's story. The story of a 48-year-old single mother of four in Ghana who struggles to feed her children because her partner spent all he had on the expenses of a complicated pregnancy, lost his source of income and left his family. The story of a mom 24 hours away from pawning two of her children into slavery in order to feed them.
How do I tell you about Margaret in a way that doesn't pass judgment and doesn't encourage you to pass judgment? It's easy to villainize a parent who essentially sells their children into slavery isn't it?
Sometimes we don't even realize we're doing it. We use loaded words like "abandoned." We simply can't understand a mom leaving her baby in a latrine or a grandma refusing to name her grandchild because she knows the baby is days from death.
I've spent the past three weeks thinking about what would lead Margaret to this point of desperation.
It reminds me of the well-known line from Warsan Shire's poem about refugees: "No one leaves home unless home is the mouth of a shark."
No one leaves their child on the side of the road or in a latrine or the steps of an orphanage or the dock of a fishing boat unless home is the mouth of a shark.
'She had decided…'
The psychology of poverty is complex.
Studies have shown that poverty leads to such a mental burden that it traps people in a socioeconomic pit that is nearly impossible to ascend, Scott Sleek writes in an article for the Association of Psychological Science.
"Part of the fuel for poverty's unending cycle is its suppressing effects on individuals' cognitive development, executive functioning and attention," Sleek explains.
Terms like "mental burden" and "scarce mental bandwidth" have been used to describe what happens when someone falls into this pit.
Writer and editor Andrew Golis penned some thoughts on his blog in response to a post written by someone in poverty's grip.
"The inescapability of poverty weighs so heavily on the author that s/he abandons long-term planning entirely, because the short-term needs are so great and the long-term gains so implausible," Golis explains. "The train is just not coming. What if the psychology of poverty, which can appear so irrational to those not in poverty, is actually 'the most rational response to a world of chaos and unpredictable outcomes?'"
'Which can appear so irrational to those not in poverty…'
We can never understand – as we sit at our desks sipping our Starbucks coffee – the rationale behind such decisions.
So we embrace the complex reality. We think more deeply about it. We pray. We sign up to pack meals. We thank God for our partners on the ground that can intervene in the lives of mothers like Margaret with a box of food and ongoing support.
International Children's Fund
titled their report to us "Saved by the Clock." They literally stumbled upon her just a day before she was to sell her children into slavery. They gave her boxes of MannaPack Rice™ and one of their partners has promised to put all four of Margaret's children back in school and to provide for all education materials that they would need.
Because of this timely intervention, Margaret has already been able to reinstate her business selling a cereal called koko.
"A visit to her yesterday saw her full of smiles preparing a meal of the rice with the children playing around," International Children's Fund told us.
"These were the exact words of Margaret when we visited: 'How can I ever thank you enough for all you have done for me and my family? We have never seen anything as beautiful as this, thank you for thinking of us and taking the time to be kind to us. You are the most beautiful thing that has ever happened to us, God bless you and your source of support.'"
Hope is Greater
At FMSC, we believe that food assistance is so important in tandem with community development. We are honored to work side by side with partners like International Children's Fund that share our belief that
hope is greater
.
Hope is greater than conflict. It's greater than drought and famine and disease. It's greater than earthquakes and hurricanes. It's greater than crippling poverty. And it's greater than hunger.
Thank you for believing this. Every time you put on a hairnet and pack meals or write a check or drop a quarter in a bucket, you are saying, "Yes. Hope IS greater."
What you do makes a difference. We need you more than ever as poverty, conflict and natural disasters continue to wreak havoc in the lives of mothers like Margaret in Ghana and around the world.
Subscribe to The Feed
A couple times a month, we'll send stories of hope to your inbox.
Related Items