The Feed
Stories of Feeding God's Children Hungry in Body & Spirit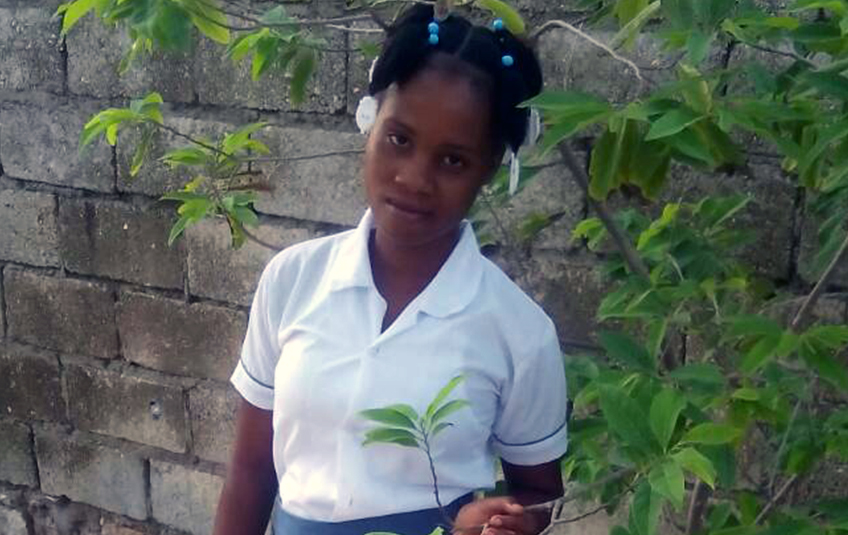 The Power of Food: 'I Have Something Inside Me that is Like a Smile'
A year ago a flood swept my sister and brother out to the ocean. It hurt really bad to watch as the flood come down the mountain into our village. Everyone was running and screaming. The water was fast and deep. It tore down our houses and took everything we had. My school uniform and my school books were gone. I was sure that I would not be able to go back to school. I did not know what was going to happen to us. Everything was gone. I did not have a house or a bed where I could sleep. My mother was so sad because there was no way to find food for us. – Esther
Esther is in her second year of high school. She has been trying her best to go to school and get good grades.
She knows that without education, there are very few opportunities for her to find a way to earn money.
"Life has been very difficult, which makes it hard for me to smile," she said.
Esther lives in a remote village in Northwest Haiti called Petit Paradise, but, "Our village has not always been a paradise," she said.
In 2010, a 9-foot tsunami caused by the devastating earthquake crashed into the village, killing several people. The area is prone to heavy rains and hurricane damage.
But things have changed in the past year, Esther said.
Her tuition, books and uniform for school were given to her as a gift. Her school moved into a new building that will offer more kinds of classes and she eats MannaPack Rice for lunch at school each day through our partner
Living Water Ministries.

"Although I do not always have a smile on my face during those times when I remember my brother and sister, I have something inside me that is like a smile," she said, adding,"I have learned that God loves me and it is because of His love that I now have a chance to go back to school, a place to live and food to eat. Thank you to everyone that made this possible."
The Power of Food
Feed My Starving's mission is to feed God's starving children hungry in body and spirit. For the past few months, we have been highlighting how powerful food can be in spiritual and physical health.
Our overseas partners, like Living Water Ministries, share FMSC's mission to feed kids in body and spirit. LWM ministers to 4,500 children in 30 schools in remote villages in Northwest Haiti.
Living Water Ministries' mission is simple: they want to change lives, which they do through ministering with food, water, clothing and medical care. These things provide HOPE when the basic spiritual and physical necessities of life often elude the families of Northwest Haiti. "Our mission," LWM said, "is to change this."
Through our partners we see that food paves the way for education. Food builds a solid foundation for communities to become strong and self-reliant. Food makes it possible for children to gain physical and spiritual health. Just like it did for Esther, food delivers hope in the name of Jesus.
Subscribe to The Feed
A couple times a month, we'll send stories of hope to your inbox.
Related Items