The Feed
Stories of Feeding God's Children Hungry in Body & Spirit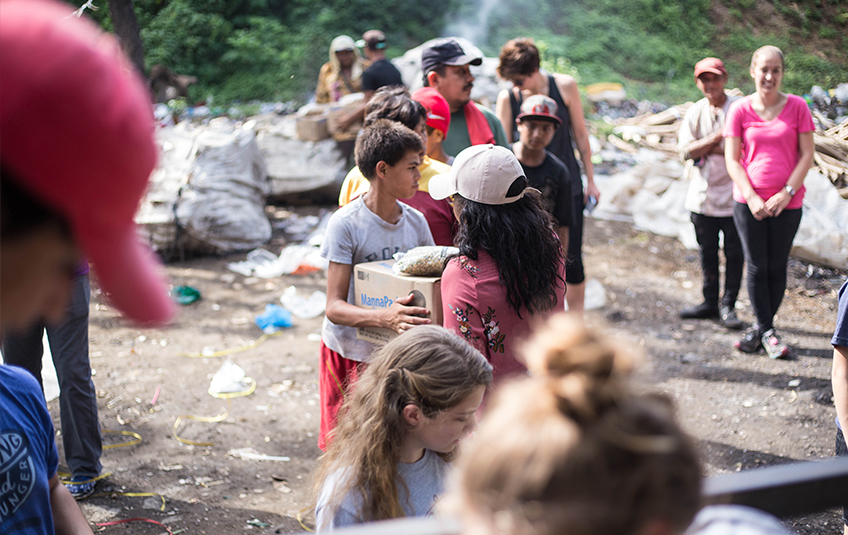 In Nicaragua: From a 'Slow Death' to Life
"May God bless you with a restless discomfort..." – Franciscan Blessing
Nicaragua is the second poorest country in the Western Hemisphere. After Haiti, it's the country that receives the most Feed My Starving Children meals.

But the children of Nicaragua aren't what you picture when you hear the word "malnutrition."

Some of the signs are there, but you have to look closely for tints of burnt orange in their hair and near-crumbling teeth.

This lack of bloated bellies and protruding ribs is deceptive. These children suffer from undernutrition, defined by UNICEF as the outcome of insufficient food intake and repeated infectious diseases. It includes being underweight for one's age, too short for one's age (stunted), dangerously thin for one's height (wasted) and deficient in vitamins and minerals (micronutrient malnutrition).

Patrick Brown, president of Samaritan's International of Waxhaw, shared his heart while our driver expertly maneuvered watered down roads on our way to Bella Vista, a garbage dump in Nicaragua's capital city.

"It may not be today, but it's a slow death because they're not getting the nutrients and vitamins," he said.

A slow death.

I couldn't shake the phrase. We don't often acknowledge death at Feed My Starving Children. We focus on the hope that MannaPack meals bring to children around the world.

I first heard one of our partners acknowledge death on a trip to Haiti last year. We were distributing meals at Real Hope for Haiti, a malnutrition clinic in the mountains of Haiti.

He was trying to encourage me that the toddler I was in tears over was going to be okay because she had been there for months. She didn't die right away.

He said that if a child were to die there, it would likely happen early on because they were dropped off in such a bad condition. The organization asks for donations of burial clothes on its Facebook page from time to time.

So many children are healed at this clinic. Many of the stories of hope we bring you are from this very clinic. But they don't shy away from the reality they face – the reality of life in an impoverished area of an impoverished country.
It's an uncomfortable reality, but as we pray:
"May God bless you with a restless discomfort about easy answers, half-truths and superficial relationships so that you may seek truth boldly and love deep within your heart. May God bless you with holy anger at injustice, oppression and exploitation of people so that you may tirelessly work for justice, freedom and peace among all people. May God bless you with the gift of tears to shed for those who suffer from pain, rejection, starvation or the loss of all that they cherish so that you may reach out your hand to comfort them and transform their pain into joy. May God bless you with enough foolishness to believe that you really can make a difference in this world so that you are able with God's grace to do what others claim cannot be done to bring justice and kindness to all our children and the poor." – Franciscan Blessing

So when Patrick Brown talked about children dying a slow death in Nicaragua, I just couldn't shake it or the importance of the work our partners do.
Feeding Spirits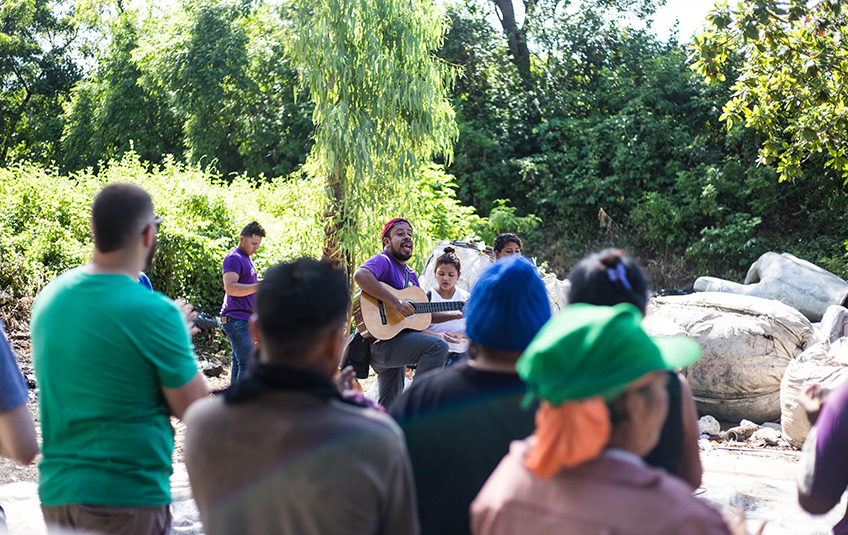 The missionaries at Samaritan's International in Nicaragua say "Jesus loves you" with every bowl of MannaPack rice they place in a child's hands.

The organization believes a hungry belly has no ears.

"How can we tell them about a loving God when they have no food" is a rhetorical question you will hear if you spend time with any of the staff there.

They bring the hope of the gospel to every man, woman and child they encounter across Nicaragua.

On this day, that happened to be a garbage dump in Mateares, a town just outside Managua.

We pulled up and stepped out of our van to the smell of burning garbage, which is nearly impossible to describe because it doesn't smell how you think burning garbage would smell.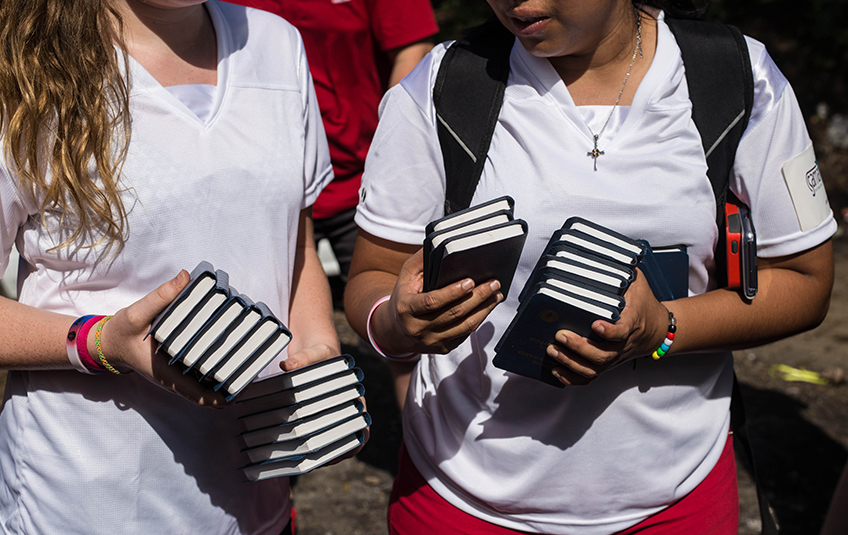 The Samaritan's International missionaries starting setting up for an impromptu worship service, while we played with kids and passed out Bibles. Those of us who could speak Spanish had conversations with the older kids and adults.

After the service, we formed an assembly line to hand boxes of MannaPack meals to families who live and make a living scavenging for garbage in the dump.

We followed Patrick and team's lead with every handoff.

Jesus loves you.

Jesus loves you.

Jesus loves you.
The Gospel
Our mission at FMSC is to feed God's starving children hungry in body and spirit. And the gospel – the good news of Christ – not only offers us hope for the future but a full life TODAY. Today – despite our circumstances, despite living amidst garbage – we can live with hope because of Jesus.

And Samaritan's International makes sure the people of Nicaragua know it. They are working to end the "slow death" these children experience while bringing them hope for eternity.
The Power of Food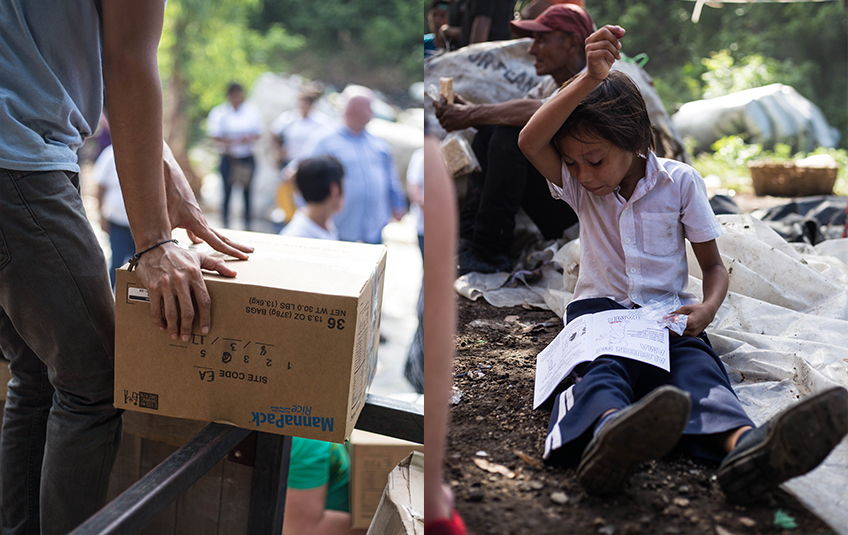 Feed My Starving's mission is to feed God's starving children hungry in body and spirit. For the next few months, we're going to highlight how powerful food can be in spiritual and physical health.

Our overseas partners, like Samaritan's International, share FMSC's mission to feed kids in body and spirit.

Samaritan's International works in hunger relief is all 17 departments of Nicaragua, as well as the two atomomas regions. The organization primarily focuses on four groups of people: children, pregnant mothers, disabled and elderly.

Samaritan's International operates a little more than 800 feeding centers that minister to more than 100,000 children.

Through our partners we see that food paves the way for education. Food builds a solid foundation for communities to become strong and self-reliant. Food makes it possible for children to gain physical and spiritual health. Food delivers hope in the name of Jesus.


Subscribe to The Feed
We'll periodically send stories of hope to your inbox.
Related Items