The Feed
Stories of Feeding God's Children Hungry in Body & Spirit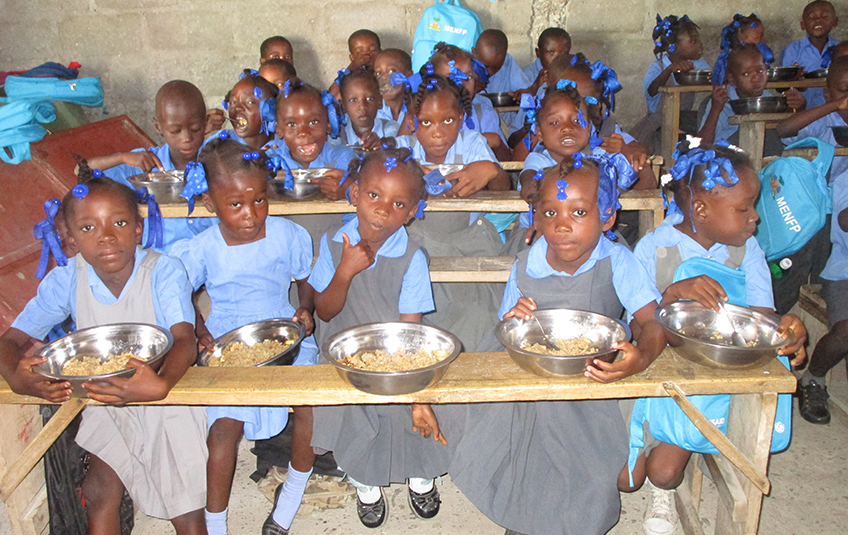 In Haiti: School Meals Change Lives
 "...They are not able to learn because the hunger is too great to bear." 
School meals not only draw children into the classroom, they provide an incentive to continue their education. Improvements in education and health, in turn, have a direct effect on children's ability to break the cycle of poverty.
Every day, FMSC's partners around the world work to support these efforts. In a recent survey, 35 percent of FMSC partners reported that school meal programs are the primary context in which they use MannaPack™ products.

One such program operates at a school in Corail, Haiti that is run by Feed My Starving Children partner Reciprocal Ministries International, an evangelical ministry.

This ministry facilitates a program called Connected Church to Church Partnerships. These partnerships are designed to support the Haitian church in a long term, strategic and life transforming way.
Below you'll hear from Benson Joseph, a supervisor for RMI's Hope for Kidz Program.
I have been working for RMI for 16 Years. Over the years, RMI was looking everywhere to find a partner that would help us provide a daily hot meal to our school kids.

As a Haitian, I know what it means to be hungry, and this is the case for many of the children a part of our program. Many of them walk at least four miles one way to school.

Unfortunately, when they leave home for school they normally have had nothing for breakfast and when they get to school around 10 O'clock in the morning they are not able to learn because the hunger is too great to bear.

This is the case for one of our schools in Corail. Corail is a very difficult area in Haiti. There are very few jobs in that area. Children in the area are very vulnerable. Malnourishment was such a big problem that we registered a lot of death, disease and disability in the area.

Two years ago we started the Hot Lunch Program there. It has brought a tremendous change in the life of the community especially in the areas of life expectancy, disease and more ability to live and learn for the students.

On behalf of those children in Corail School, on behalf of RMI and myself as a Haitian, I want to humbly say THANK YOU to Feed My Starving Children for all the food that they provided to RMI so that we can reach out to those that are suffering greatly in this part of the world.
Sign up to pack meals for schoolkids TODAY.
Subscribe to The Feed
A couple times a month, we'll send stories of hope to your inbox.
Related Items