The Feed
Stories of Feeding God's Children Hungry in Body & Spirit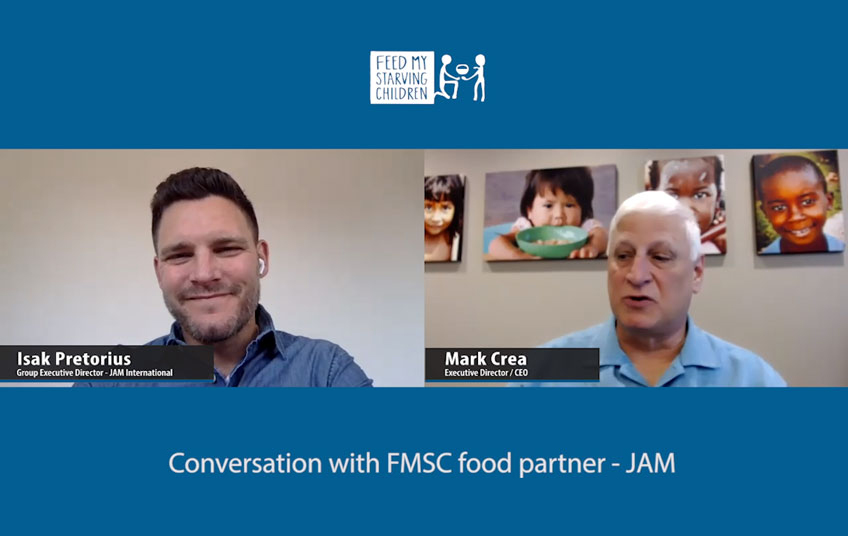 Video Update from FMSC Food Partner JAM
Food distribution is ongoing and more urgent than ever amid the COVID-19 pandemic. We spoke to Isak Pretorius of food partner JAM International to find out what they're seeing in the communities they serve in South Africa and throughout Africa.
The message was clear: food security is the biggest issue facing vulnerable communities.
Food is the foundation that individuals and families need to whether storms like a pandemic. Without access to food, more will die of hunger than of the virus itself.
JAM is one of many partners that uses FMSC food for school feeding programs. This one of the main ways our food is used around the world.
Since COVID-19, because of school closings, almost 370 million children worldwide have lost regular access to nutritious food, according to the World Food Programme.
Those children still need food, more urgently now than ever. We can still provide meals as long as we can fund them. You can help. Give using the form below.
Watch the full conversation with JAM International:
Donate Now
Donate by credit card, bank account or digital wallet.
Subscribe to The Feed
A couple times a month, we'll send stories of hope to your inbox.