The Feed
Stories of Feeding God's Children Hungry in Body & Spirit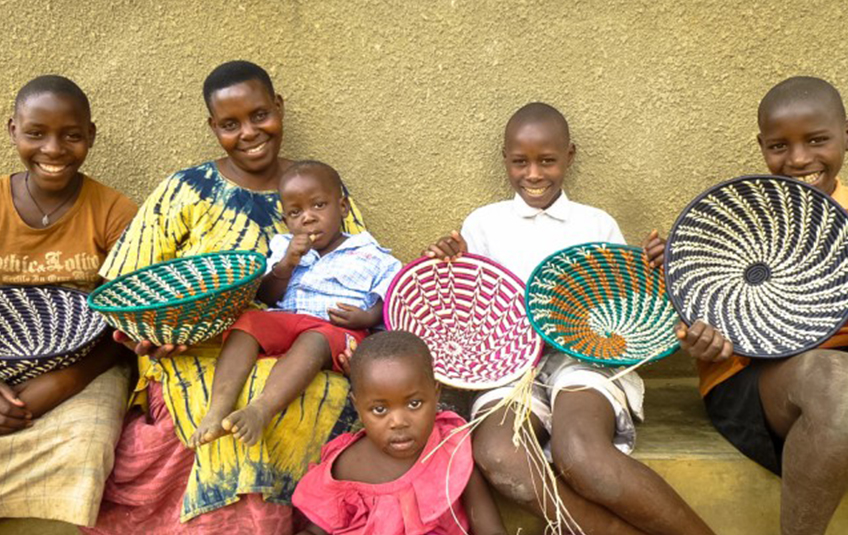 Beautiful Ugandan Baskets
April 15, 2015
Guest Author
Meghan Howard is the retail operations specialist for Feed My Starving Children.

The Rakai Orphan Development Initiative (RODI) is one of FMSC's food partners in Uganda. Last year FMSC sent a container of food (272,160 meals) to RODI.

In addition to providing life-giving meals to orphaned children in need, FMSC also works with the Ugandan staff in Rakai to purchase beautiful, handmade items from the Hope Again Women's Ministry Cooperative.

This project employs over 200 women in the Rakai community, many of whom are widows affected by HIV/AIDS and who care for multiple children in their households.

The women produce jewelry made from recycled magazines and hand-dyed, hand-woven grass baskets. The Hope Again Women's Ministry is one of FMSC's largest MarketPlace partners.

We are grateful to work with each and every artisan in the cooperative. As Mother's Day approaches, here is one particular story we wanted to share.

Meet Rose. She is 35 years old and is a single mother of 6 children. She joined the Hope Again Women's Ministry in 2011 shortly after separating with her husband.

Without having any additional support from other family members, she struggled to raise her six children. The community of love she found at the Hope Again Women's Ministry Cooperative was a great gift to her.


Rose makes beautiful, hand-woven grass baskets as well as recycled magazine jewelry. With the income she receives from her craft, Rose is able to feed her children.

She has also invested in her family's future by purchasing and raising pigs. The money she generates from these micro-businesses helps Rose pay school fees for her children who are enrolled at a very good school. She is grateful for her children's education and has hope in what the future holds for them.

Rose's future plans include starting a poultry project, planting coffee trees, and continuing to supporting her children in school. Rose intends to fulfill her plans and continue to care for her children through the sales of her beautiful baskets and jewelry.

Support Rose and other women like her in Rakai, Uganda today by purchasing a unique, handmade basket from the FMSC MarketPlace for Mother's Day.

Purchase a Hand-woven Grass Basket or Magazine Earrings from the FMSC MarketPlace.
Related Items