Necklaces Providing Hope in Nicaragua
Stories of Feeding God's Children Hungry in Body & Spirit
Related Items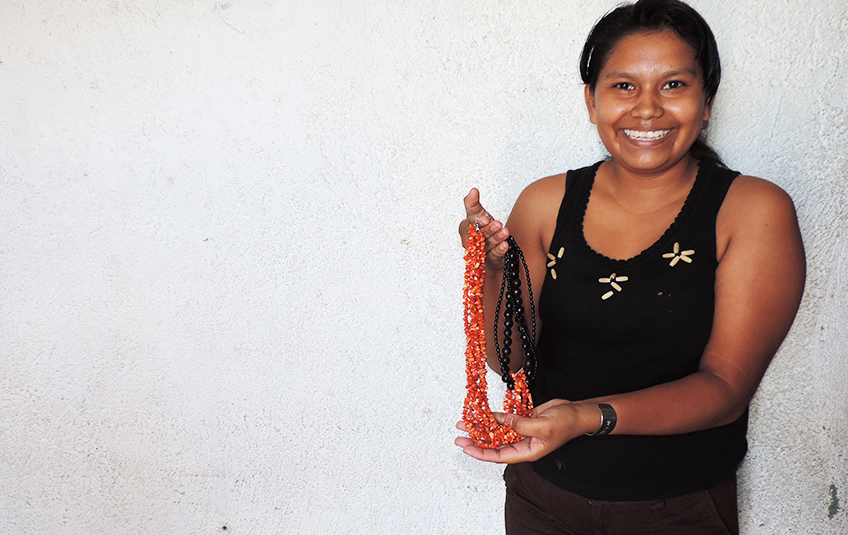 Necklaces Providing Hope in Nicaragua
January 8, 2015
Guest Author
Emily Meyer is the retail operations manager at Feed My Starving Children.
"From hopelessness, the work at Nica HOPE has transformed me and now I have a sense of empowerment. I can think of new things to create and then I can sell them to support my family," Marisa tells me as we stand in the small Nica HOPE shop in Niacragua.

Marisa worked at the municipal trash dump of Managua, known as "La Chureca," starting at the age of 13. She, along with many others, would spend the day sorting through the trash looking for recyclable items they could sell, earning little more than $2 a day.

When Marisa met the owner of Nica HOPE and was offered a job making jewelry, her life was changed forever.

Marisa has now worked at Nica HOPE for five years and has become the president of the cooperative. She enjoys her jewelry work and uses the money from selling her jewelry to support her two young children.

As we spoke of her jewelry, you could sense her passion for Nica HOPE and their work. She likes being creative and thinking of new designs.

She was very proud to show me the necklaces, bracelets, and ornaments she has made–and she should be proud! The pieces are beautiful!

Marisa now has 21 artisans who work in the cooperative. From the earnings of their jewelry work, the artisans are able to provide the basic necessities for their family: cooking oil, fruits, vegetables, and cookware.

The women of the cooperative, Marisa noted, are more than just coworkers, they are their support network. Together, they work through the struggles of life and maintain a hopeful future for themselves, their family, and their community.

Nica HOPE jewelry has been available in the FMSC MarketPlace since 2009 and, this month, there is a new addition! The Nicaraguan Statement Necklace was hand-crafted by Marisa and the other women at Nica HOPE.

The necklace is made with seeds, wooden beads, and colorful stones which are available in 6 stunning colors.

The purchase of this necklace supports the creative, hard-working artisans at Nica HOPE and provides 196 FMSC meals!



Subscribe to The Feed
We'll periodically send stories of hope to your inbox.