The Feed
Stories of Feeding God's Children Hungry in Body & Spirit
"Tops of Heads"
This post is part of a series of reflections from Feed My Starving Children employees about what it is like to work at a faith-filled organization during a time of crisis. Dave is a MobilePack™ Regional Development Advisor. He has been on the FMSC MobilePack team for more than eight years.
"Tops of heads." These three words capture best what it is like working at FMSC during this crazy season.
I noticed it for the first time three weeks ago at our first virtual all staff prayer meeting. As we gathered from around the country on Zoom, I was taken by this simple view. My screen was filled with the tops of people's heads. Now this may seem like a bizarre thing to notice, but there it was in front of me, a staff of faithful people with no where else to turn but to Him with heads bowed in prayer. It brought tears to my eyes that, as a staff family, this was the place we were turning together to give us a glimpse of hope as everything changed.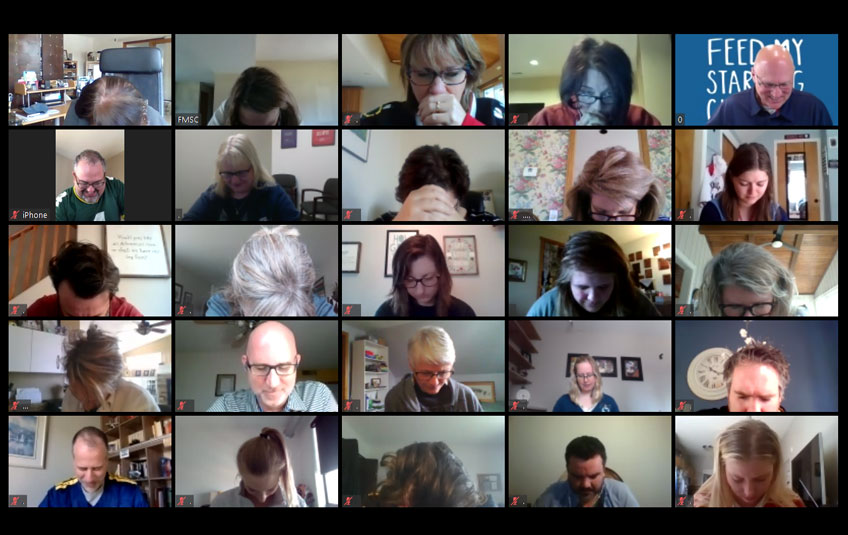 A few days later I found myself on Zoom again with many of our MobilePack™ hosts and staff from across the country. These are some of the most incredible people we work with at FMSC. They give their hearts, passion, time and lives to host meal packing events that bring their communities together to feed God's beautiful children. I'm so thankful for them. I really do love them and am honored to call many of them friends. We gathered to share brief updates, but more importantly to pray together. And here I was again with that same view, looking at the tops of people's heads as they bowed to pray together, and to cry out to God for their communities and the kids they love to feed.
Just a week later, early on a Wednesday morning, I returned to Zoom to pray with our food partners from around the globe. I was brought to tears as the faces and names came on the screen. I have so much respect and a deep love for this group as well. They are such an amazing group of people who give their lives to care for and feed so many beautiful children and their communities. I have been humbly honored to walk with many of them over the years in the places they serve and at the partner conference. And here we were together in the only place we could be, bowed together in prayer. As I looked across another screen full of the tops of heads, tears fell from my eyes as we went to God together across thousands of miles and countries as one family.
A Culture of Prayer
Perhaps I shouldn't be surprised by this. While I have so many incredible memories from many years at FMSC, there is one that always stands out. A few years ago we had gathered as a staff across the country through technology to celebrate the packing of FMSC's one billionth meal. It was a simple gathering. There was cake, lemonade, a few words from our CEO Mark Crea and a local pastor who joined us to lead devotion and prayer. And so we prayed. The entire staff across the country was on their knees praying for God's direction and favor as we moved into the future and the next billion meals. It was a simple, yet a powerful moment and reminder of what FMSC is really about. FMSC is an organization seeking God's face at every turn. I will never forget and will always cherish that moment.
At countless meetings and gatherings the over the past several weeks, the view has never changed. I have begun to recognize people on screen not by their faces or smiles but by the top of their heads as they are bowed in prayer.
This is the same posture we have seen for years in daily devotions and meetings with staff, in our warehouse as we pray for trucks full of food as they leave the dock and certainly, as I have experienced, at hundreds of packing sessions and MobilePacks across the country as we have gathered to pray over pallets of food. Prayer has been the place and the tops of people's heads has been my view as we have sought God together for hope, joy, wisdom and peace.
And so in this season of daily changes and uncertainties, one thing has not changed. FMSC as a staff continues to return to the only place we can. We gather and pray together with our heads bowed and our hearts hopeful for all that God provides. While it has been difficult and many tears have fallen, nothing will ever change the view at FMSC!
I leave you with these words from Paul's letter to the Thessalonians, "Be joyful always, pray continually, give thanks in all circumstances, for this is God's will for you in Christ Jesus!" — 1 Thessalonians 5:16-18

Thank you to all across the country and throughout the world who have reached out to FMSC to let us know you are praying for us during these days.
Support FMSC through the COVID-19 pandemic
Donate by credit card, bank account or digital wallet.
Subscribe to The Feed
We'll periodically send stories of hope to your inbox.