School Meals Save Lives
Stories of Feeding God's Children Hungry in Body & Spirit
Related Items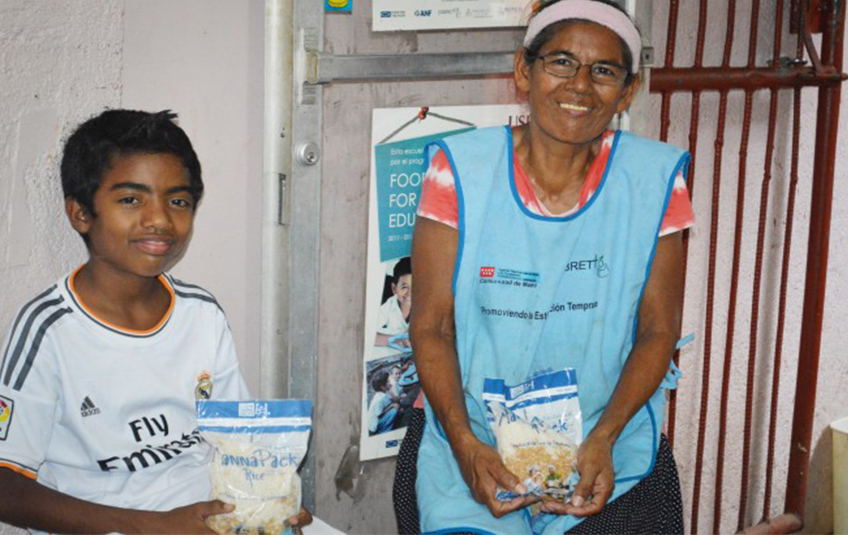 School Meals Save Lives
"May the God of hope fill you with all joy and peace as you trust in him…" –Romans 15:13

Moisés was severely malnourished. Too dizzy to attend school, he was forced to repeat first grade.

Moisés lives with his grandmother, Maria Elena. She can't afford the vitamins and minerals he needs.

Their neighborhood in Managua, Nicaragua, is extremely poor and dangerous. Most people work at the local trash dump. It's a hard, filthy place.

FMSC's partner Fabretto Children's Foundation steps in to help. Moisés starts attending their school program, where he eats nutritious MannaPack Rice daily. Maria Elena helps cook the meals so she can be near her grandson.

Still, he struggles. His body isn't functioning normally.

Extremely malnourished kids often lose the desire to eat. At 13 years old, Moisés weighs only 58 pounds. A healthy boy his age should weigh almost double this weight.

Despite this, Moisés is one of Fabretto's most motivated and cheerful students. He is eager to learn!


His teacher encourages him to eat full portions of MannaPack Rice. Because he eats nourishing food every day, even in small amounts at first, he is able to remain in school.

Maria Elena receives FMSC meals to feed Moisés at home. This helps immensely. Consistent nutrition at school and at home gives him new strength.

At 14 years old, Moisés' eyes now sparkle. He's still underweight at 66 pounds but he's improving. Food makes all the difference.

"I am grateful for Fabretto and the donors who have made it possible for us to receive food," says Maria Elena. "The meals that Moisés receives at the Center help him stay focused in class. He's very motivated to go to school. He's happy. That makes me happy, too."

Moisés now attends secondary education (seventh grade), a huge achievement for a student in his community.

Nutritious FMSC meals motivate children to attend school, enable them to learn and give them a future brimming with hope.

This is why your giving is so important. You hand them their lives back. Thank you.



Subscribe to The Feed
We'll periodically send stories of hope to your inbox.