The Feed
Stories of Feeding God's Children Hungry in Body & Spirit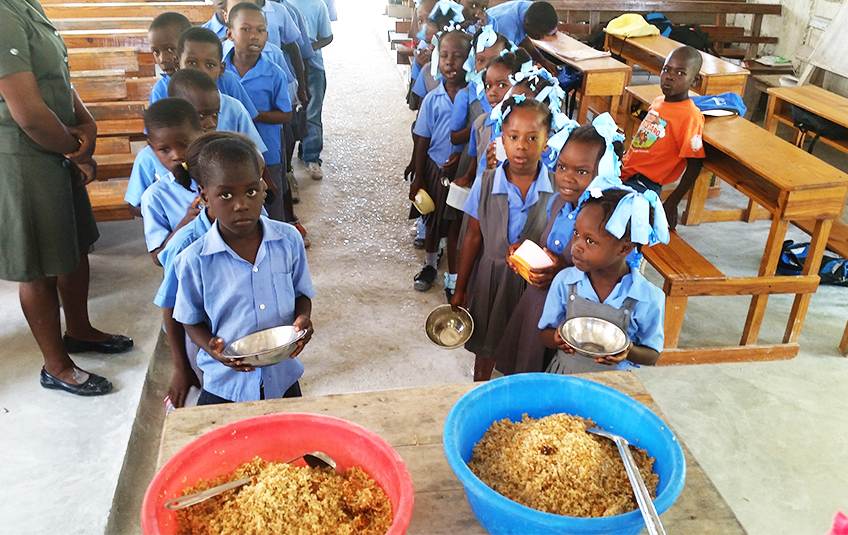 In Haiti: Still Reeling
In Haiti, the destruction from Hurricane Matthew will last a long time. Not only did people die, but many who survived lost their homes, crops and other means of livelihood. Feed My Starving Children is committed to stand with our partners in Haiti. As of the end of December, we have already shipped about 13 million meals and will continue to send more.
We work with large and small partners in Haiti who rely on the meals you pack.
Below, a Haitian principal tells us what MannaPack meals mean to his school :
After Hurricane Matthew destroyed all the crops and killed all the animals, it has become very difficult for many of them to find food to eat. The food was not only a necessity but an emergency.

Right now since the arrival of the food, the children have no worry about going home if mom or dad do not prepare something to eat because they have already eaten in the school. We can say the food is a great support for the school and families.

The food is really improving the situation of the students and many other people in the community.

There is a Haitian saying, "the empty sack does not stand."

As the school principle of Zanglais, it was a big problem for us when we did not have the food. It was difficult for the kids to learn and to pass the tests. They always fell asleep in the classrooms and missed class.

But praise God, after having the food there is a huge change in our school.
Giving a hot lunch at least three times a week in our school the students give 90 percent of success.
We want to thank Reciprocal Ministries International and FMSC that works to provide meals for our school, and make us brilliant in the community and have a huge impact in the society.

In summary, having the hot lunch program in Zanglais school is more than a need -- it's an emergency.
Editor's note: This account has been lightly edited for clarity.
Subscribe to The Feed
A couple times a month, we'll send stories of hope to your inbox.
Related Items