The Feed
Stories of Feeding God's Children Hungry in Body & Spirit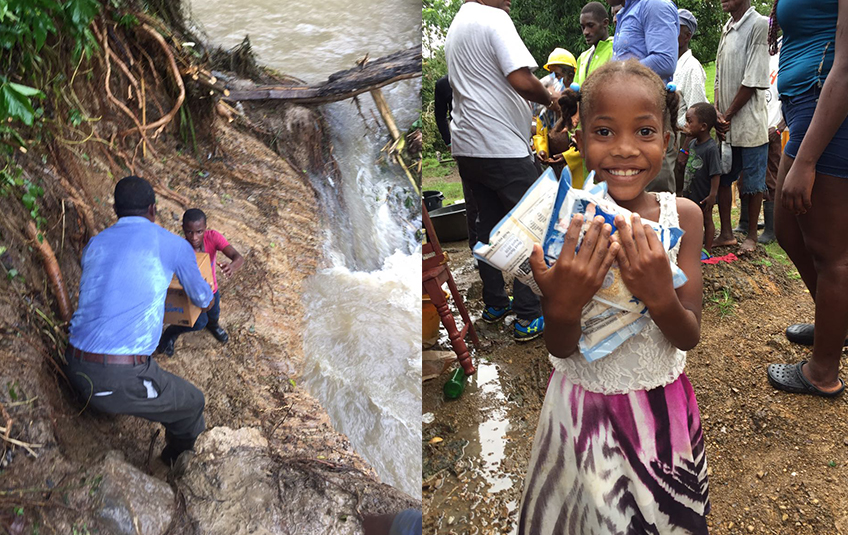 Update: Food Sent to Puerto Rico, Others After Recent Disasters
"Hope is being able to see that there is light despite all of the darkness." -- Desmond Tutu
UPDATE: As of October 3, five containers (more than 1 million meals) are being shipped to Puerto Rico through Convoy of Hope -- praise God!
The above photo shows FMSC meals being distributed in the Dominican Republic in response to Hurricane Maria.
About 97 percent of Puerto Rico's 3.4 million residents don't have power one week after Hurricane Maria hit the island, according to news reports. About half of the residents do not have running water, and there's not enough food to go around.

As of today, Feed My Starving Children has shipped 10 pallets of MannaPack Rice to Puerto Rico through a new organization that was sending a mixed container of supplies for hurricane response.

This was FMSC's first shipment to Puerto Rico, an island we don't currently have partners in.

Meanwhile, Hurricane Maria caused considerable damage in eastern Dominican Republic. Batey 106, our PBFA project site, was hit by the storm with several roofs blown off.

The PBFA project committee in Batey 106 is currently distributing FMSC meals to neighboring Batey communities after the storm.

One container of MannaPack meals are being shipped to both Antigua and Dominica.
Hurricane Irma
Hurricane Irma devastated parts of the Caribbean earlier this month before making landfall in Florida, where some of Feed My Starving Children's partners are headquartered.
We have been closely monitoring Hurricane Irma and its impact on our food distribution partners in the Caribbean. Several of our partners had FMSC meals on hand for immediate use in case of disaster, and were strategically positioning resources as needed.
Irma largely spared Haiti and the Dominican Republic, but St. Thomas, Anguilla and St. Maarten experienced devastation.
We have been able to ship the following in response to partner requests:
- Three containers of MannaPack Rice to Dominican Republic
- Six containers of MannaPack Rice to Cuba
- One container of MannaPack Rice to St. Thomas in the U.S. Virgin Islands
Our partners have requested six more containers for Cuba in the coming months.
Mexico Earthquakes
Earlier this month, an 8.1 magnitude earthquake struck Mexico, killing 96 people and devastating parts of Oaxaca and Chiapas States.
It was the strongest earthquake in living memory, according to news reports. At least 16,000 homes were damaged or destroyed in the two regions.
Shortly after, Hurricane Katia also came to Mexico's shores, causing mudslides and flooding.
Feed My Starving Children's partner Buckner International has begun distributing FMSC meals that were already in-country at the time of the earthquake.
Just two weeks later, a deadly earthquake struck in Puebla, south of Mexico City.
The 7.1 magnitude quake has left more than 300 dead and many more homeless, according to news reports.
Our partner AMBA has requested three additional containers in the months of October and November for the states of Morelos, Oaxaca and Chiapas.
We anticipate there may be additional requests for FMSC meals from our partners in the coming days.
Please continue to pray for those affected by these disasters and for our faithful partners on the ground.
Subscribe to The Feed
A couple times a month, we'll send stories of hope to your inbox.
Related Items