The Feed
Stories of Feeding God's Children Hungry in Body & Spirit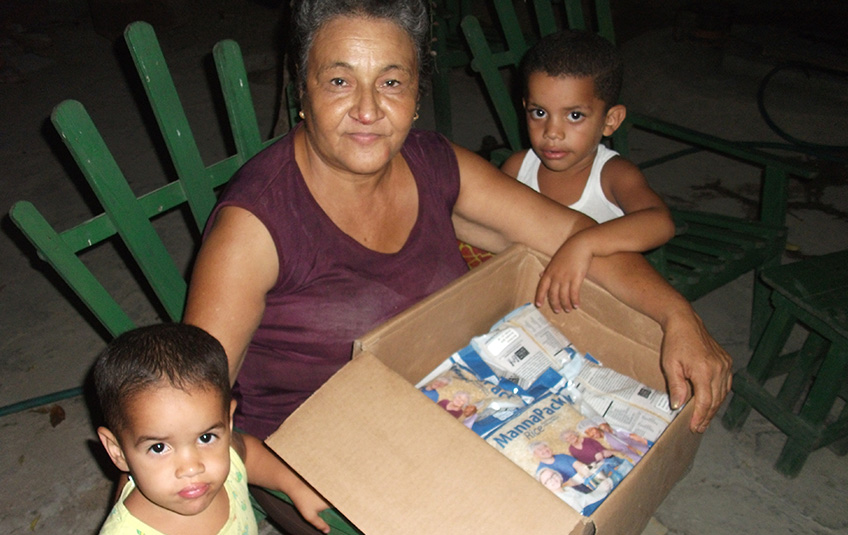 In Cuba: Jose's Network
This story is part of an occasional series that highlights the caring network of adults in children's lives. You can read the first installment here. 
Margarita takes care of her young grandsons, Jose and Ismael. The family lives in the outer city of Sagua la Grande in Cuba.

Our partner, Outreach Aid to the Americas, tells us that Margarita is always concerned for the nutrition of her grandchildren, as the struggle to provide nutritious food is constant.

Margarita sews and sells handcrafted products from her home, but this income isn't enough to fully provide for her small family. Her church and relatives have come around her to provide continuous support to her and her grandchildren.

She recently started receiving MannaPack™ meals from her church, and the meals have helped Jose begin to heal from the effects of undernutrition.

"We are extremely happy with this support for my little kids, this rice for them has been a blessing," Margarita said. "It is a relief to know that this food that I am able to give them is being nutritious for their bodies, I know they are getting the vitamins they need. They love their rice."

The average Cuban family is poor in micronutrients, consuming a low diversity of vegetables, according to the World Food Programme, the food-assistance branch of the United Nations.

In 2011, the government began prioritizing higher domestic food production – particularly of beans, but the World Food Programme says that challenges remain.

These challenges include obsolete farming technology, low food productivity and high post-harvest losses. There is also limited technical capacity and poor access to inputs and credit, according to the agency.

Feed My Starving Children has shipped close to 12 million meals to three distribution partners since 2012.

FMSC meals provide support to our distribution partners, which allow them to focus on the work they do to further sustainable development in these communities.
A Caring Network
Margarita is not alone in her passionate care of her grandchildren. There is a network of caring adults in every community that receives the support of FMSC meals.

These adults know the unique circumstances of the kids who live there. They're behind every before and after story you see.

Sometimes we focus so much on the children in the story, it can be easy to overlook or even misunderstand the adults -- but they are so important. Over the next few months, we're going to bring you the stories of some of the cooks, drivers, teachers and parents who dwell behind the scenes of every child's story.


Subscribe to The Feed
A couple times a month, we'll send stories of hope to your inbox.
Related Items