The Feed
Stories of Feeding God's Children Hungry in Body & Spirit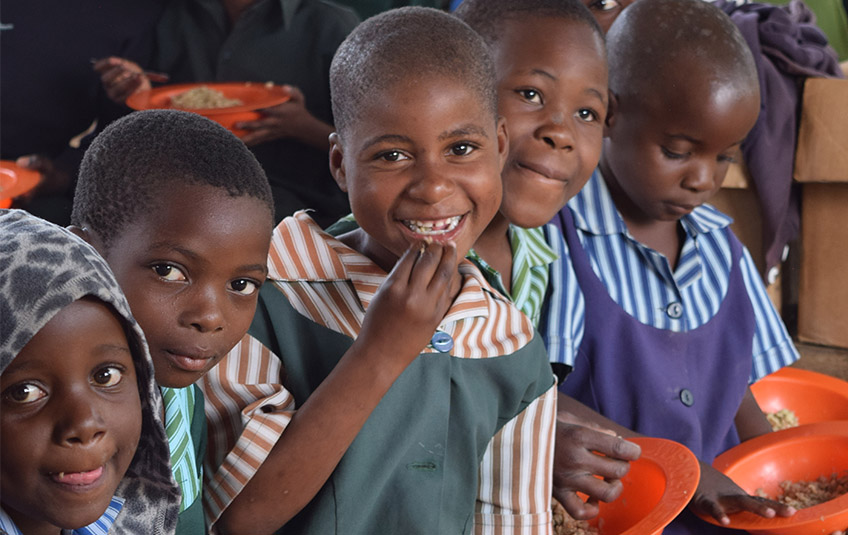 Hope is Greater than Political Strife in Zimbabwe
"You, dear children, are from God and have overcome them, because the one who is in you is greater than the one who is in the world." – 1 John 4:4
Two years ago, Feed My Starving Children partner,
Feed The Hungry
, had to shut down its feeding programs in Epworth, Zimbabwe.
The city was a friction point for political unrest and was no longer safe for our partner to operate.
"While it was a hard decision to make, it was necessary to keep from putting a political bullseye on other vital operations," Feed The Hungry reported.
But hope IS greater. Just two months ago, this faithful organization was able to safely reopen their ministry in Zimbabwe and distribute meals YOU have packed with your own two hands.
The opportunity to restart Feed The Hungry's programs was so abrupt other schools decided to give up one feeding a week to free up resources for the Epworth schools.
This allowed the organization to feed 1,200 students until additional resources could be received.
And these meals are making a huge difference in the local schools.
Feed The Hungry reported that a common theme during their interviews with school leaders was how consistent feeding has impacted attendance numbers.
One school headmaster saw absenteeism drop from 60 to 5 percent. Other school leaders reported increased test scores, better attentiveness in classrooms and an overall healthier student body.
Feed The Hungry's team in Zimbabwe is working hard to construct a new storage area for maintaining their food supply. Room is being made to accommodate containers and another space is already filled with Christian education curriculum, Bibles and medical supplies. Plans for this area also include opening an Internet café and building a public gathering area.
"Our team in Zimbabwe is excited and motivated to expand feeding opportunities into the greater Harare area and beyond," the organization reported. "Zimbabwe has plenty of need and our team has the vision to believe that we can make a significant impact on food security but have an even greater impact on spiritual levels."
Zimbabwe: A Snapshot
"Once the bread basket of the region, since 2000 Zimbabwe has struggled to feed its own people due to severe droughts and the effects of a land reform programme which saw the seizure of white-owned farms redistributed to landless black Zimbabweans which led to sharp falls in production." -- BBC News
• Bordered by Zambia in the north, Mozambique in the east, Botswana in the west and South Africa in the south
• Population of 13 million
• Unemployment and poverty are endemic
• Political strife is common
• Life expectancy is 54 years
Read more from Zimbabwe
Hope is Greater
At FMSC, we believe that food assistance is so important in tandem with community development. We are honored to work side by side with partners like Feed The Hungry that share our belief that
hope is greater
.
Hope is greater than conflict. It's greater than drought and famine and disease. It's greater than earthquakes and hurricanes. It's greater than crippling poverty. And it's greater than hunger.
Thank you for believing this. Every time you put on a hairnet and pack meals or write a check or drop a quarter in a bucket, you are saying, "Yes. Hope IS greater."
What you do makes a difference. We need you more than ever as poverty, conflict and natural disasters continue to wreak havoc in the lives of people around the world.
Sign up to pack meals
See ways to give
Subscribe to The Feed
A couple times a month, we'll send stories of hope to your inbox.
Related Items