The Feed
Stories of Feeding God's Children Hungry in Body & Spirit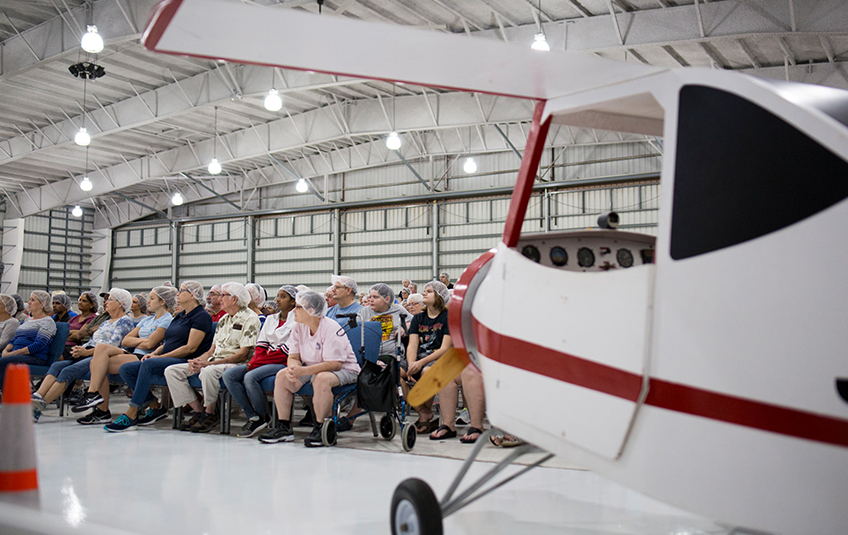 FMSC Food Partner Commemorates Haiti Earthquake by Packing Meals
"No, in all these things we are more than conquerors through him who loved us." — Romans 8:37 
One by one, volunteers filed into an airplane hangar in Fort Pierce, Florida, about two hours south of Orlando. Once a year, tables of vitamins, veggies, soy and rice replace the 28,000 square foot hangar's usual tenants – two DC-3 airplanes.

This is the eighth year Missionary Flights International (MFI) has hosted the Feed My Starving Children MobilePack™ event where 500 volunteers packed more than 100,000 lifesaving meals for the Caribbean.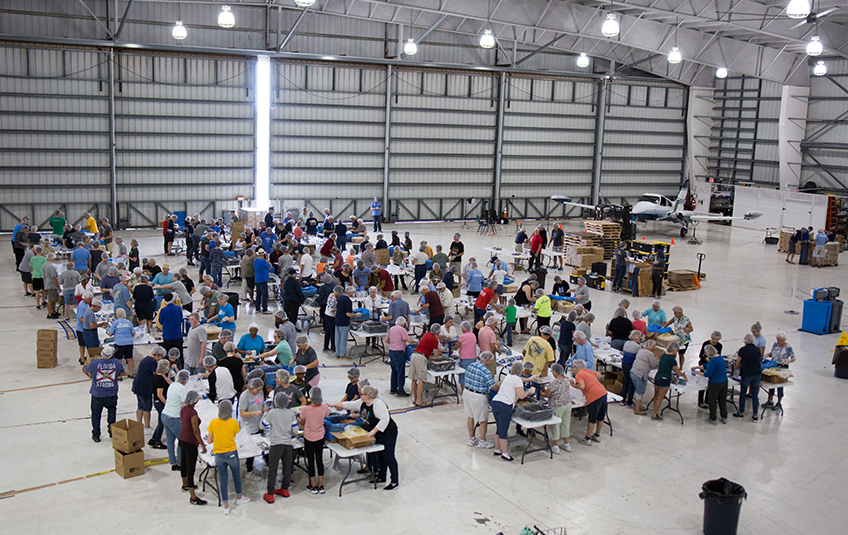 And every year it takes place on the same weekend – the Saturday closest to January 12, the day Haiti was forever changed by a devastating earthquake in 2010.
Two years before he began working at FMSC, and less than 100 days after the quake, FMSC's Regional Program Manager for the Caribbean, Junior Obrand, went back to Haiti to see his family. 

"Port au Prince had been disfigured. A new Creole word had been formed – 'tent,'" he recalled. "Everyone needed a tent."

Other words were born out of the tragedy, as well. "Goudou-Goudou" (pronounced Goo-doo-Goo-doo), meaning a rumbling sound of something very heavy, became the new word for "earthquake."
The MobilePack is a chance to not only commemorate the earthquake, but to do something for Haiti.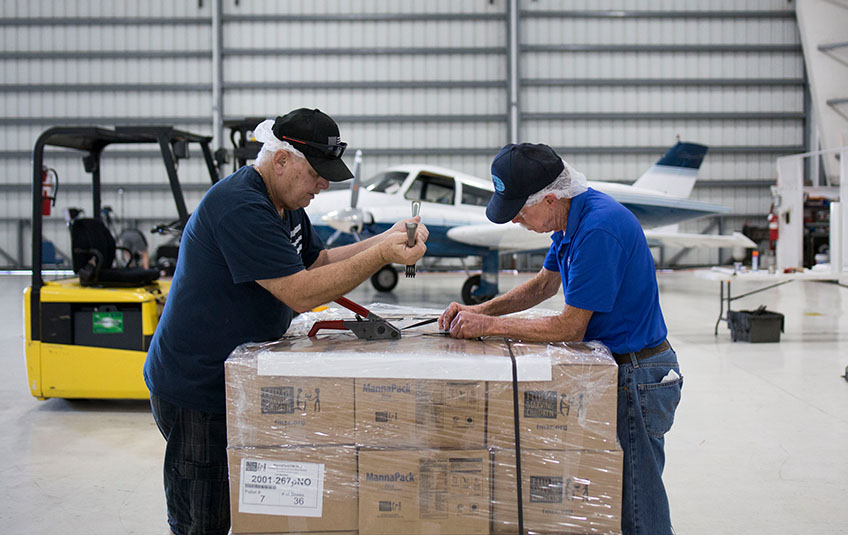 "We do this [event] every year near the anniversary because we don't want to ever forget what the Haitian people went through," President of MFI, Joe Karabensh, said.

And it was even more important to commemorate this year – the 10th year after Haiti was brought to its knees in just 30 seconds, killing nearly 250,000 people and destroying vital infrastructure.
Ten Years Later
Recovery has been slow for this resilient nation. Every time Haiti starts to get up, she gets knocked down again. The hits keep coming: Cholera. Hurricanes. Earthquakes. Political unrest. Economic crisis.
And after all that Haiti has been through, the United Nations last month published a report that Haiti faces the harshest test yet – an economic crisis where one in three people need urgent food assistance. That amounts to 4.6 million people – nearly half of which are children.

After serving Haiti for five decades, retired missionary Belle Roneus had one thing to say: "This is the worst I've ever seen it."
A Unique Partnership
MFI operates out of two hangars flying turbine-powered DC-3s to meet the needs of more than 450 missions in the Bahamas, Haiti and the Dominican Republic. They transport about 300 tons of cargo and 4,000 missionaries each year.


And every time they have room on one of these trips, they load up a few boxes of MannaPack™ meals to send with the missionaries – to the tune of 3 million since their partnership with FMSC began a few years after the earthquake.

MFI not only transports FMSC meals, they organize the annual event to pack the 100,000 meals that sustain their efforts until the next MobilePack event.

One volunteer we met, named Rebecca, has been volunteering since the first MFI MobilePack in 2013. She emigrated from Haiti to Florida three years before the earthquake.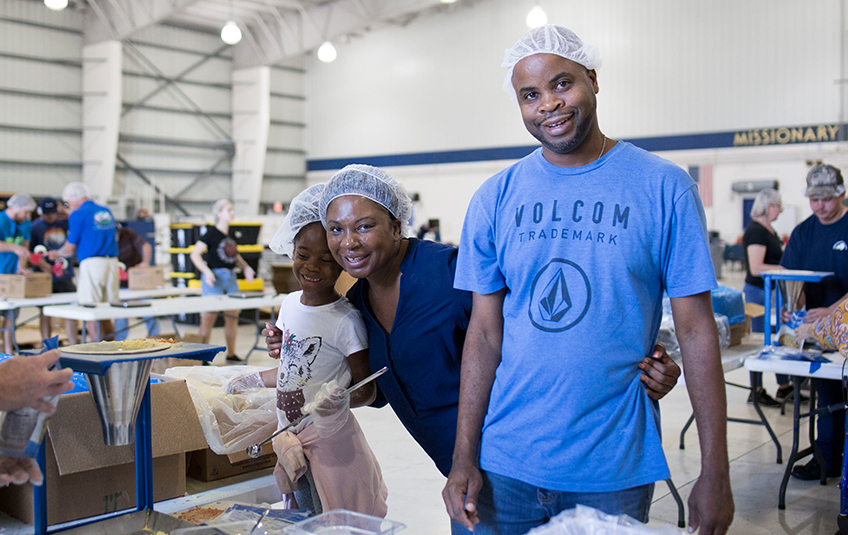 As a nurse, she understands the importance of the vitamins and nutrients MannaPack meals provide.

"That's why I keep coming back," she said. "Even though it's been 10 years, people are still unable to feed their children."
A Formula for Resilience
Haiti is a special place for Feed My Starving Children. Since the earthquake, we have worked with 93 partners in Haiti to distribute millions of lifesaving meals.

These meals enable our partners to provide education, healthcare, discipleship, employment and so much more throughout Haiti. These endeavors empower the already-resilient Haitian people.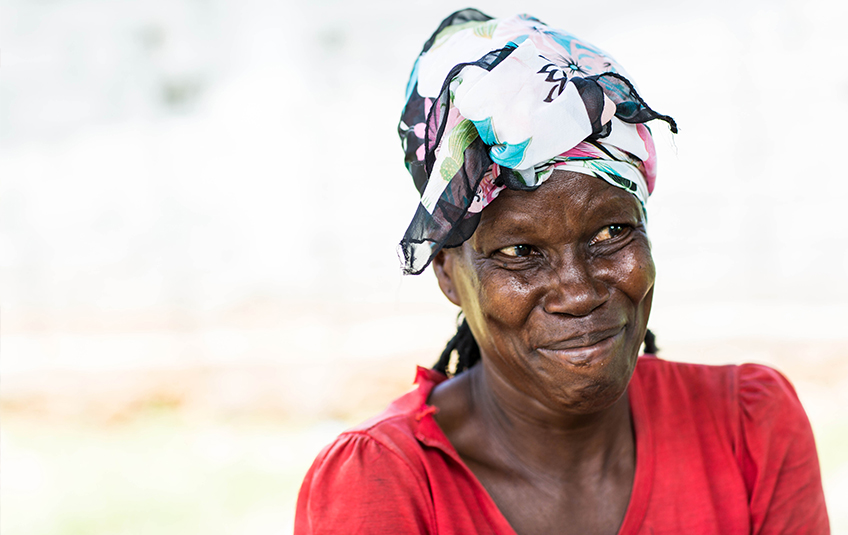 "Resilience is the idea of never giving up," Junior said. "Resilience is the idea of getting back up after being knocked down by political unrest, earthquakes, cholera and hurricanes."

Retired missionary and MFI volunteer, Jane Dennington, is hopeful for Haiti's future – not because she's an idealist, but because she has seen the importance of hope first hand.

"The one thing I've learned about the Haitian people is they are the most resilient people I have ever met," she said. "Haitians survive when other people would not survive."

She attributes this resilience to two things: faith and hope.

After all, as the Haitian proverb says, "Espwa fe viv."

Hope makes one live.
Give Hope Today
Donate by credit card, bank account or digital wallet.
Photo Gallery
Subscribe to The Feed
We'll periodically send stories of hope to your inbox.