The Feed
Stories of Feeding God's Children Hungry in Body & Spirit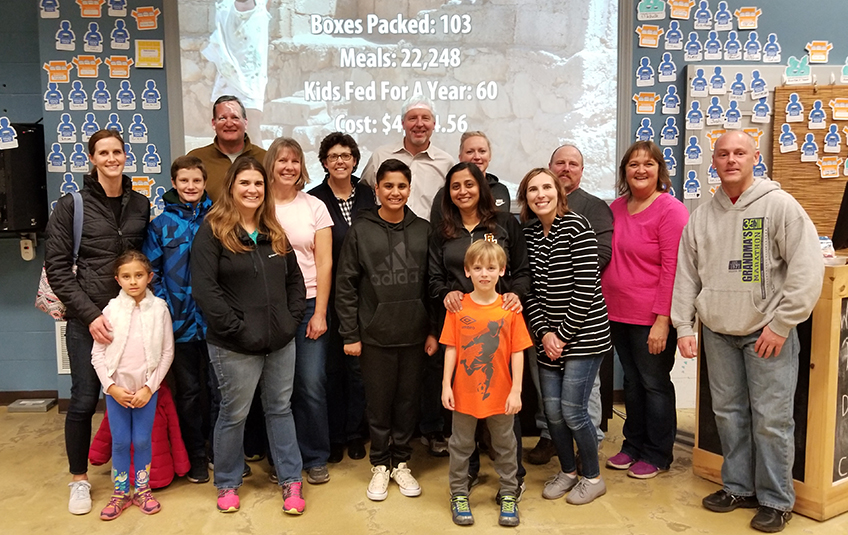 Meal-Packing that Honors Pineault Family Reaches Sixth Year
"And if you spend yourselves in behalf of the hungry and satisfy the needs of the oppressed, then your light will rise in the darkness, and your night will become like the noonday." – Isaiah 58:10
Todd is a volunteer at Feed My Starving Children's Coon Rapids location. Here, he shares the story of his former co-worker who died tragically in a canoe accident six years ago. The couple had designated memorial gifts to FMSC, and after the funeral, the family brought in memorial gifts of just over $1,880. If you are familiar with FMSC, you'll know that $1,800 provides an entire pallet of lifesaving meals.
From Todd:
Tom Pineault was one of the overnight pharmacists where I work (I am the other). Tom was the kind of pharmacist, friend and co-worker that I always hoped to be.

He was a kind-hearted, fair-minded and generous man of faith. His wife Cindy was a mirror image of Tom with, perhaps, a little bit of fun loving mischief in her personality.

They had a passion for the outdoors and especially canoeing in the Boundary Waters Canoe Area Wilderness (BWCAW), especially in the fall.

Unfortunately in October of 2012, we lost Tom and Cindy to a canoeing accident in the BWCAW. They were in their 33rd year of marriage.

In the weeks to follow, I learned that FMSC was an organization they supported.

I made a promise that I would organize a work event every year in the fall in honor of the Pineault family. We are six years strong!

Thank you (and your staff) for the incredibly important work you do, you truly provide the base for people to thrive. Once food is available, everything else can begin!

Thank you for giving us a place that is accessible where we can help those in need, even at a great distance. We are so blessed to have you in our backyard.
Hope is Greater
We've talked a lot this year about how hope is greater, focusing this campaign on our overseas partners: the work they do in the face of natural disasters, conflict and poverty. 

But this story is such a powerful reminder of how hope is greater than unimaginable loss and grief — not just for our overseas partners and the kids they feed, but for volunteers and donors here in the United States. 

We are so grateful for volunteers like Todd, his co-workers and the Pineault family who share this belief and work to provide hope for children all over the world. 

Sign up to pack meals TODAY.


Subscribe to The Feed
A couple times a month, we'll send stories of hope to your inbox.
Related Items