The Power of Potatoes and Following Gods Call
Stories of Feeding God's Children Hungry in Body & Spirit
Related Items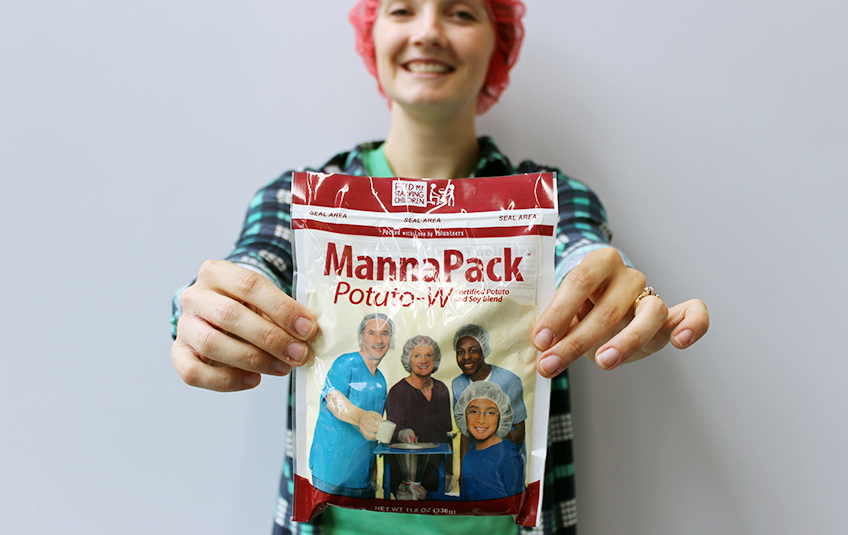 The Power of Potatoes and Following Gods Call
June 30, 2016
Guest Author
Ali Carter is one of the hosts of the WPVGA (Wisconsin Potato Growers Auxiliary) MobilePack™ in Stevens Point, Wis. Now in its sixth year, this event has packed 756,000 Potato-W meals.
Ali first shared this post on her blog, Life On Granite Ridge. Learn more about her HERE.

They say that we get more from giving than receiving. I've never experienced that more than through my involvement with Feed My Starving Children.

It's interesting to look back on life and see the twists and turns taken that you are unaware of while in the process of walking your path. Sitting back and taking a look at all the pieces that fell into place only to cumulate to launch a meaningful moment, or moments, in our lives.

About eight years ago I was attending a meeting with my husband in Denver, Co. Mike was a board member on the United States Potato Board (USPB) at the time and I found myself sitting by his side in a small auditorium listening to a red-headed woman share about an organization called Feed My Starving Children.

I learned that the USPB had partnered with FMSC to develop a potato-based MannaPack™. Prior to this development, FMSC only offered a rice-based MannaPack. This rice meal offered life sustaining nutrition to many hungry people, but it was not tolerated well by the littlest of bellies. The potato meals were going to fill that need.

MannaPack Potato-W™ is a hypoallergenic weaning product specifically designed to meet World Health Organization–recommended nutrient requirements for children 7-12 months old.

We were shown videos of how these meals were impacting lives and stories were shared with us about little children left parentless, often raising themselves, and unable to find enough food to survive.

By the end of her presentation I was in tears. OK…actually I was sobbing. Something was tugging at my heart.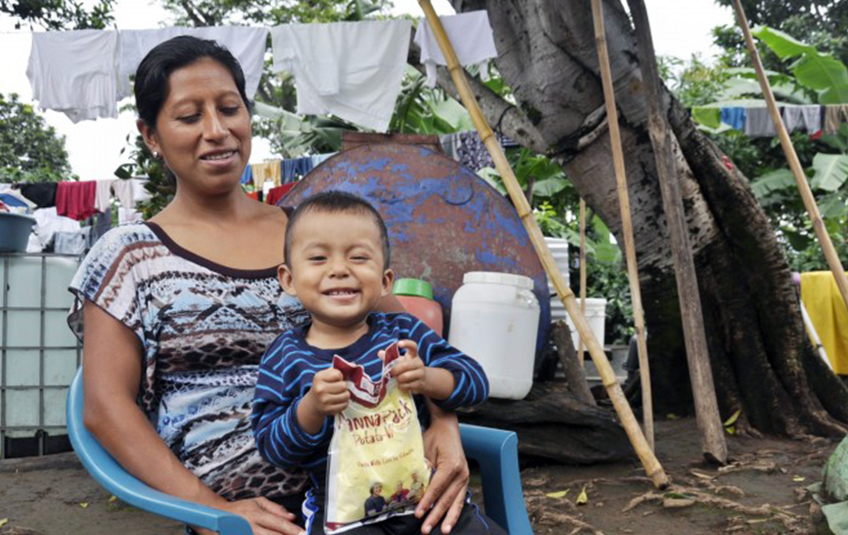 'How Could I be of Any Use?'
I knew that I wanted to help somehow but wasn't sure what I, as a little individual from central Wisconsin, could actually do.
As Mike sat next to me I could feel that he too was being pulled to take action. He and I had a few conversations that afternoon about the organization and the USPBs involvement.
We chatted about possible donations we could make or other ways we could help. But honestly, the day moved on, other activities needed our attention, and we both arrived home later that week and settled back into our family routine.
This is where our story could have ended but I am beyond thankful that this is only the beginning of our FMSC story.
Months after that trip, in August of 2010, Mike was on another USPB trip, this time in Idaho while I remained home with the children. While on this trip, Mike was able to be a part of the very first MobilePack event through FMSC packing the new potato-based MannaPack meals.
He and other USPB members packed 300,000 potato meals in a two day period. After the first day of packing Mike called me, his voice thick with emotion, and told me how the day had impacted him deeply. I'll never forget the excitement radiating through the phone as he told me about the MobilePack and that he knew — 100 percent knew — that he and I had to host one in Wisconsin.
We ended the call with me feeling some trepidation.
Remember…I am the more analytical and unsure one in this relationship. And again, if I'm honest with all of you I struggle with some self worth, I just could not imagine how I could be of any use as a part of something so big and important.
But along with the trepidation was that same strange stirring that I felt when I had first heard about the children receiving the FMSC meals. And Mike's enthusiasm was quite inspiring! I spent some time researching FMSC that evening and by the time Mike arrived home from that trip he and I had both agreed to move forward and host a MobilePack event.
It was the MobilePack idea that had Mike fired up and me intrigued. In the very early spring of 2011, Mike and I drove to Eagan, Minn. and met with the FMSC employees to talk about how we could establish a FMSC MobilePack event.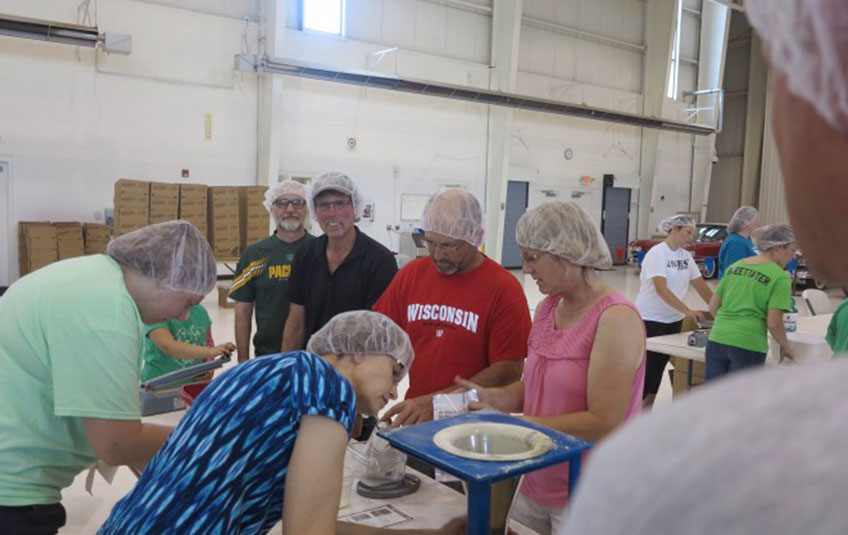 Each and every person that we chatted with there was knowledgeable and helpful and all so very encouraging of us.
Mike and I then spent the following two hours volunteering at the location packing the rice meals next to other volunteers — some school groups and local employees from area businesses on their extended lunch breaks.
As I labeled the bags and packed meals into boxes I watched all of these people in the room with me, most of them strangers to one another, work side by side with smiles on by their faces.
This was a community coming together to do a greater good.
The food we were packing was heading to places like Haiti and El Salvador to feed children who without this assistance often went with nothing.
It was that moment that I was fully on board with the idea of hosting an event. And Mike and I set to planning.
'Only Through the Grace of God'
Here too I'll share, in the desire to be completely honest with all of you, I fumbled.
This was NOT an easy task to pull off. Lining up the event, the location, the volunteers, raising the money, finding support from the community, learning the online system used by FMSC, raising awareness about an event that had never occurred here before….it was all difficult and exhausting, and there were movements that I felt WAY over my head.
I spent many many hours on this project and struggled repeatedly with a lack of confidence in my abilities. Looking back I can now see that God was pushing me and growing me and showing me to stop relying solely on myself but to trust in Him and those around me.
I am so incredibly grateful for Mike's strong character and confidence and the many hands and hearts that walked alongside us during this time.
Our connection with the Wisconsin Potato and Vegetable Growers organization was beyond helpful in all of this. The WPVGA, the Women's Auxiliary, and the Associate Division all donated generous amounts of money toward the event.
We were blessed to have friends of ours, Tamas and Paula, step up to co-host with us that year. They and their children were with us throughout the entire weekend overseeing all of the pieces that needed to fit together to ensure as best we could that the event was successful. Other friends and acquaintances became involved, donated their time and money, and the community rallied around the event.
In the end, nearly $50,000 had been raised and 500 volunteers came together to pack over 200,000 potato MannaPack meals in a weekend in July of that year.
My mind was exhausted and my body tired, but my heart was almost achingly FULL at the end of that weekend.
It was only after the event that Mike and I learned from one of the coordinators at FMSC that we were the first individuals (couple) to ever host an event like this…it had always been churches and organizations signing the contract and hosting MobilePacks throughout the country.
Only through the grace of God did this event occur. Only through His hand was it so successful.
Since then we have hosted yearly events, with the most recent the weekend of July 18 of this year.
We've adjusted how we organize the event, and two years ago Paula and I approached our fellow board members on the Wisconsin Potato Growers Auxiliary about hosting the event.
They wholeheartedly accepted the challenge and have since signed the FMSC contracts rather than Mike and I doing so as individuals. This has allowed for wonderful growth of our MobilePack here as we established committees and now have additional minds, ideas, and connections involved. And as they say…many hands make for lighter work.
I am filled with gratitude each year by the love that my community pours out, the generosity of the organizations and the potato growers here and the desire of my own children to put in the time and effort needed for this event.
I find myself grateful for my mother-in-law and father-in-law and their commitment to spend the time volunteering behind the scenes and on the packing floor each year.
I am so honored to have a husband with a big and generous heart and a commitment to doing good, who wouldn't let me give up and who trusted my abilities when I didn't.
And I feel a sense of awe when I think of how God's hand has overseen each moment and worked in the tough times and the obstacles we encountered, transforming those difficult moments into good.
I encourage you to learn more about this wonderful organization and urge you to push beyond your fears and any self-imposed limitations to offer a helping hand and give of yourself to others.

Editor's note: This is a VERY unique MobilePack event. For logistical reasons, it is the only MobilePack to pack our Potato-W meals. If you are interested in hosting a MobilePack with our original formula, click on the links below.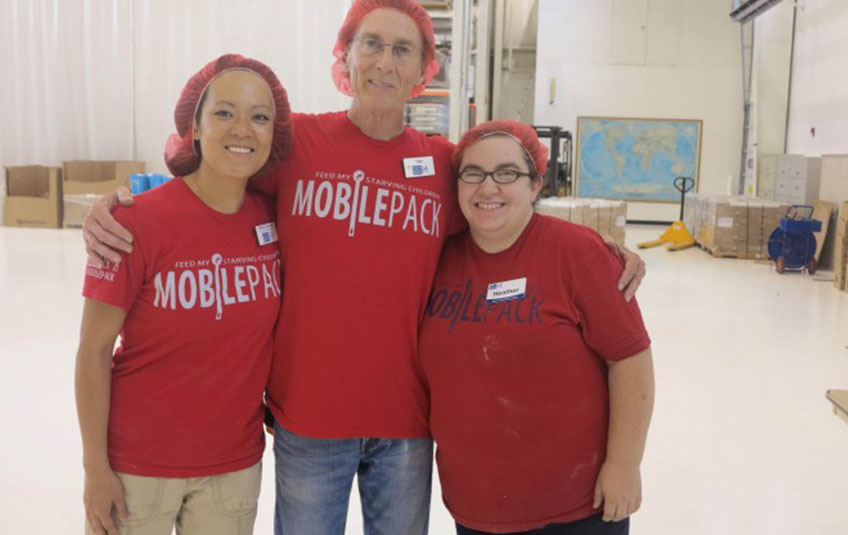 Subscribe to The Feed
We'll periodically send stories of hope to your inbox.