The Feed
Stories of Feeding God's Children Hungry in Body & Spirit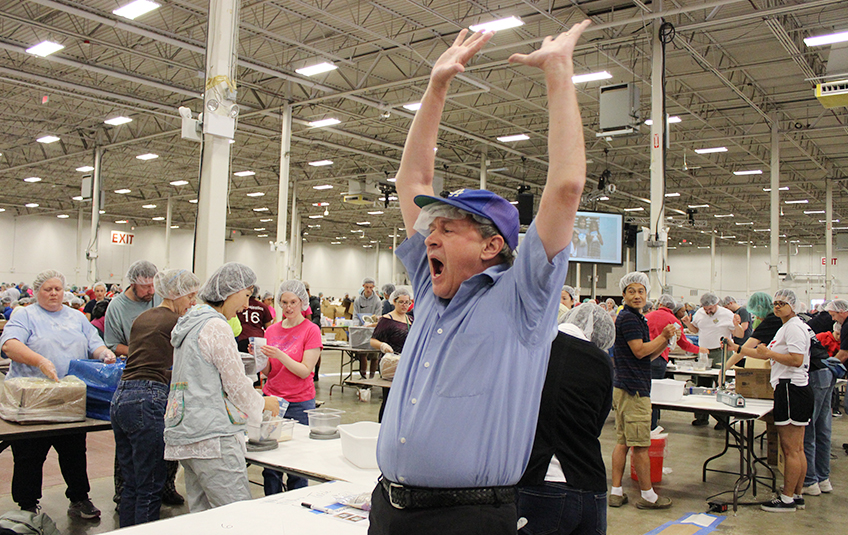 Food Fight Breaks Records
"This is what the Lord says to you: 'Do not be afraid or discouraged because of this vast army. For the battle is not yours, but God's.'" – 2 Chronicles 20:15

Last weekend, volunteers in Virginia packed 5,044,464 meals, setting a new Feed My Starving Children record. This group also set and broke new records throughout the event — culminating in 1 million meals packed in a single session!

If you've ever packed meals at FMSC, you know how intimidating a goal this BIG can be.

About halfway through the 2016 Food Fight, staff member Sara Peterson shared the Old Testament story of Jehoshaphat with the FMSC team:

It is really important to know that this is NOT our battle. This is God's battle and He has invited us to be part of it. We can't fight this battle on our own power and God doesn't expect or want us to fight it on our own — this is God's battle.

God created the heavens and the Earth. He never loses. He's got this. Not only does he invite us to do battle with him, he is going to let us share in the victory!!

So then, what's our part in this? What are we supposed to do?
God continues in verse 17, "You will NOT need to fight in this battle. Stand firm, hold your position and see the salvation of the Lord on your behalf."

Basically SHOW UP. Show up and stand firm. God then tells Jehoshaphat exactly where to go. God has taught us what he wants us to do. Jesus showed us how to love our neighbor. He told us to feed widows and orphans. And He told us to share the Good News with others.
Virginia, YOU showed up.
Thank you for helping us make FMSC history. The meals you packed have the potential to feed nearly 14,000 children every day for an entire YEAR.
The meals YOU PACKED will be shipped to Haiti, Dominican Republic, Nicaragua and Guyana.
For a year, the host of this event, New Hope Church, spent countless hours planning and praying, but the idea to do a million meal plus MobilePack was first born in 2013.
Led by Discipleship Director Kim Feld, this is New Hope Church's seventh year hosting a MobilePack event. Held at the church, the events have packed 600,000 meals at the most. But Feld's vision and passion for feeding children continued to grow, and with it her events.
This year, New Hope partnered with NorthStar Church Network to bring thousands of volunteers to the Dulles Expo Center. There are 170 churches in the network — talk about the body of Christ coming together!
"When you're doing something like this, Executive Director Dee Whitten said, everybody's the same."
"Small churches get as much out of it as the big churches," he said. "It's a chance to be a part of something bigger than themselves."
Related Items