The Feed
Stories of Feeding God's Children Hungry in Body & Spirit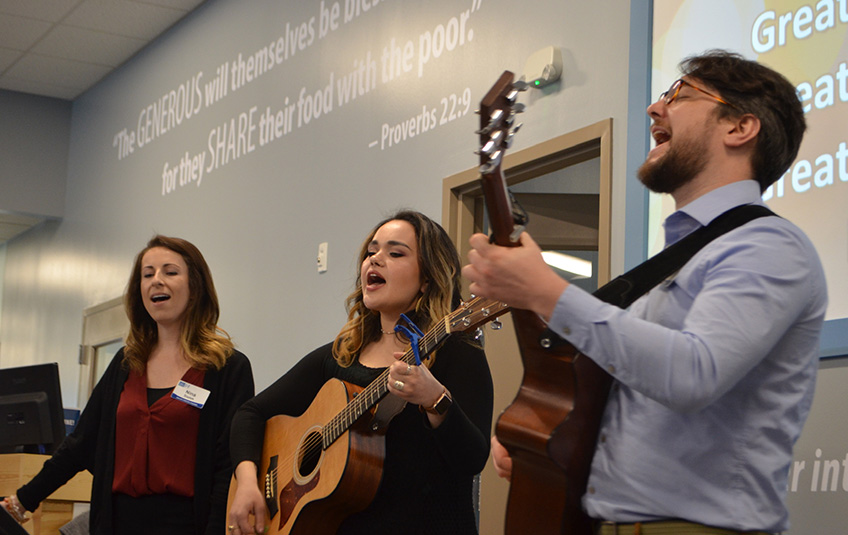 In Schaumburg: Dedicating our New Packing Site
Feed My Starving Children's Schaumburg, Illinois facility
recently moved
to a new, larger location. Last week, we spent some time dedicating the new site to the Lord.
Volunteers and staff have created many memories and fed millions of children in the eight years this location has been open. We're beyond excited for what's in store at the new site.
The new location is an expanded site that will fit up to 60,000 more volunteers each year. That means we'll be able to pack enough meals to feed 55,000 more children a daily meal each year.
The current Schaumburg site has meant a lot to our staff, volunteers and donors in the community, but we have simply outgrown it (as many volunteers who have tried to park there can verify!)
At the dedication celebration on March 10, we heard from FMSC's CEO, our food partner Mission Eurasia and prayed over the new site. We closed the ceremony with worship.
It was a reverent time as more than 100 of our faithful donors and volunteers joined with FMSC staff and partners to sing the Doxology.
Praise God, from Whom all blessings flow;
Praise Him, all creatures here below;
Praise Him above, ye heav'nly host;
Praise Father, Son, and Holy Ghost.
Sign up to pack meals at our new site located at 740 Wiley Farm Court.
Photo Gallery
Subscribe to The Feed
A couple times a month, we'll send stories of hope to your inbox.
Related Items