The Feed
Stories of Feeding God's Children Hungry in Body & Spirit
FMSC Expands Alternative Packing Solutions
On March 16, for the safety of our volunteers and staff, and in accordance with government guidelines, we made the difficult decision to pause volunteer packing at all FMSC sites and MobilePack™ events.
In the weeks since, we have worked diligently to implement alternative packing solutions to allow some meals to continue to be shipped to partners in urgent need.
Bulk machine packing
Only nine days after pausing volunteer packing, we launched our first alternative packing solution — a partnership with our vitamin supplier, Karlsburger Foods, Inc., to machine pack meals in bulk. Read more about this partnership
To date, Karlsburger Foods has produced about 6 million meals. Shipments are on their way to Haiti, Nicaragua, the Dominican Republic, Burkina Faso and El Salvador.
Only 51 days after stopping volunteer packing, meals have been packed, shipped, cleared customs and arrived at FMSC food partner Love A Child's warehouse in Haiti. This is a miracle!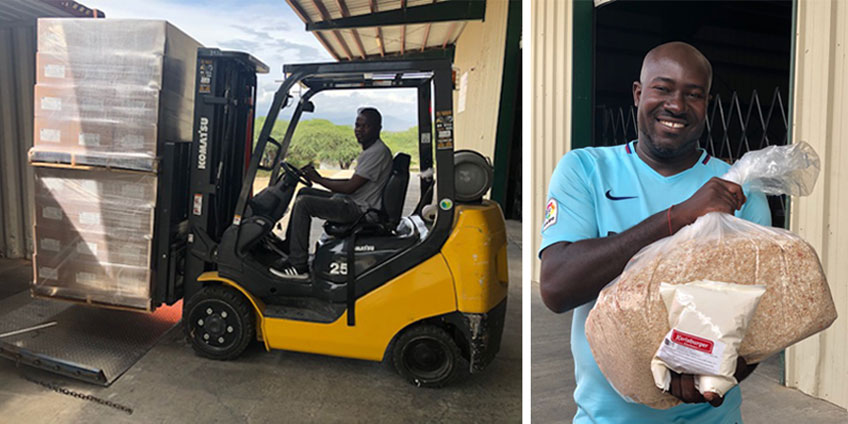 Hand packing
On April 23, we completed our first day of packing meals at the Minnesota Correctional Facility - Faribault. In the first day and a half, 34,128 meals were packed. Moving forward, offenders housed at the facility will take part in 9 shifts each week, using a special linear packing setup that allows for social distancing.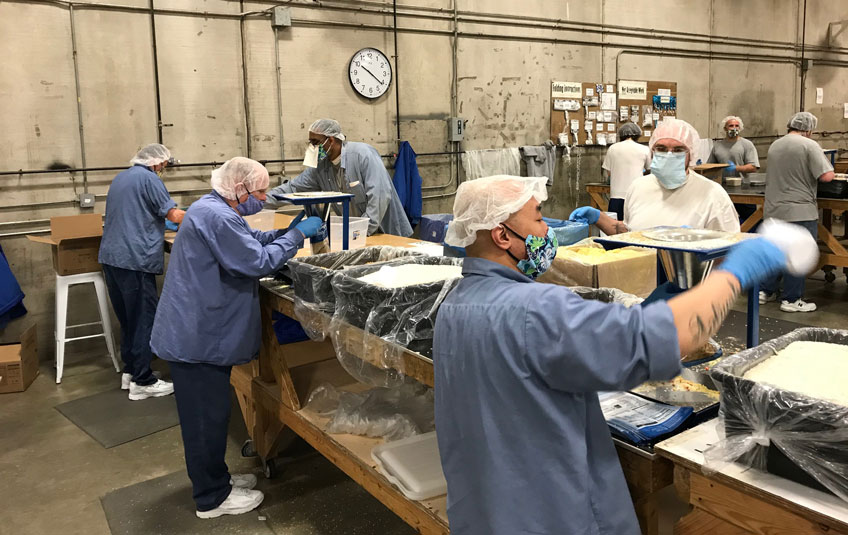 For several years, FMSC has been partnering with correctional facilities to feed God's kids and feed the spirits of incarcerated individuals. Read more
New machine packing
We've reached agreements with two companies, one in Minnesota and one in Utah, to machine pack one-kilogram (2.2 pounds) bags. Each of these bags holds about fifteen meals, compared to six meals for each of our standard hand-packed bags. These meals will go into production in the coming weeks.
We celebrate progress, but challenges remain.
We have committed to using these alternative methods to pack about 15 million meals per month for the next three months. This is about half of what our volunteers pack each month. And each of these meals costs about five cents more per meal than volunteer packed meals. This will cost an additional $2.2 million more than volunteer packed meals over the next three months.
At the same time, the World Food Programme estimates that COVID-19's global impact will double the number of people experiencing severe hunger to 265 million in 2020.
We have seen God's faithfulness through this difficult season and we are humbled by the generosity of FMSC's community of supporters. We continue to ask for your partnership.
Donate Now
Donate by credit card, bank account or digital wallet.
Subscribe to The Feed
A couple times a month, we'll send stories of hope to your inbox.