The Feed
Stories of Feeding God's Children Hungry in Body & Spirit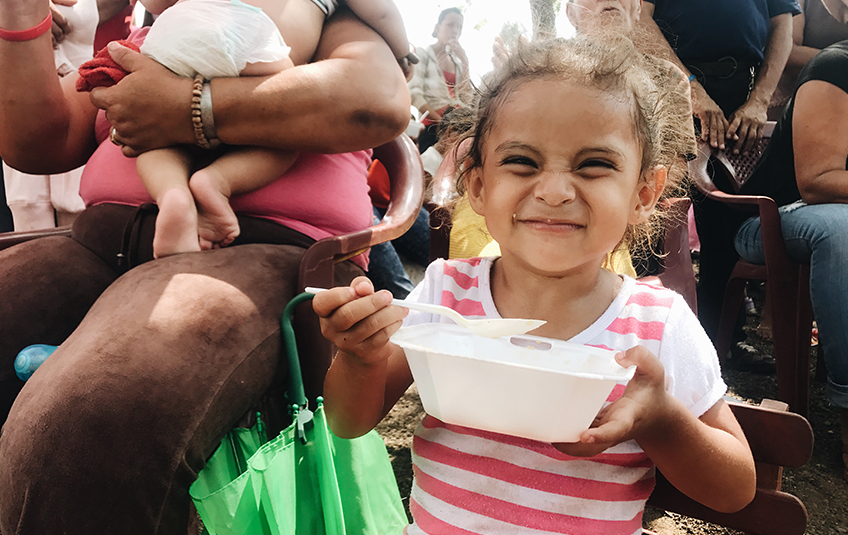 'Every Box of Food Has a Face'
May 15, 2017
Guest Author
Louis is an event team leader at Feed My Starving Children. This essay is a reflection from his first day in Nicaragua on a Food in Action trip. 
I went into this trip with the mindset to change the lives of as many kids as I possibly could. I was going to feed them and change their lives. God changed my mindset 100 percent.

It's funny how you can have one thing planned and the second you set foot out of the car God says, "No you are going to this, and yes, not only are you going to change lives but I'm going to change your mindset and life too."

If you've ever been to a session that I was working at and heard me talk about these kids you'd know that my heart overflows for them.

I get emotional at almost every closing because the fact is, we are feeding kids and what an amazing thing that is.

Anyways, this past February I worked an event called Feed the Need in Illinois. We packed 1 million meals and I honestly never thought I would see them again.

Fast forward to this week. I woke up this morning in the country of Nicaragua. I am here as an FMSC staff on a Food in Action Trip to help hand out the meals just like the ones that I help volunteers pack every day.

This morning we visited one of our amazing partners called Samaritans International. They receive roughly 32 containers of food a year and they are amazing partners of FMSC.

When we arrived to their warehouse, we instantly saw all of the boxes stacked up and us staff went to go and see where they had all come from.

I saw the site code FTN and immediately knew these boxes were from Feed the Need, the event I had just worked a couple of months prior.

Some were the actual pallets I helped wrap and strap.

We loaded up the boxes into trucks and then headed out to visit three different feeding programs and distribution centers. We entered a feeding program and we started to hand out cooked MannaPack meals to all the kids and families there.


There was this one little girl who was sitting holding her bowl but not eating it.

I walked over to her sat down and began to help her eat her food. At first I think she was a little scared but as soon as I started making funny faces her face list up with joy and she ate her whole bowl full of MannaPack.

We laughed, played, made noise when the adults were talking, we did things kids should be able to do.

This beautiful little girl's name is Arianna. Arianna was eating the same meals I had just seen being packed just a couple of months before. That's when it became real.

Arianna is able to walk, talk and live because of this food. More importantly she's able to be a kid.

She doesn't have to beg or look for food every day because her family receives this food. She's able to cause trouble, goof around and smile because that's what kids do.

Back to the part before. I was here to feed kids and change lives. But Arianna changed my life.

Every box of food we pack has a face to it. Every .22 cents raised feeds a kid just like Arianna a meal that allows them to simply be the kids they were meant to be.

I always knew that but this week a saw it, and it became heartbreakingly real.

I saw this food bring joy, hope and life with my own two eyes and I am forever changed because of it. I want this generation to be the generation that ends hunger. Will you join us?
Subscribe to The Feed
We'll periodically send stories of hope to your inbox.
Related Items