The Feed
Stories of Feeding God's Children Hungry in Body & Spirit
In Guatemala: What Hunger Really Looks Like
January 17, 2019
Guest Author
Kurty Darling is the Assistant Site Manager at Feed My Starving Children's Coon Rapids, Minnesota location. Here, she shares reflections from a partner visit.
As site staff we are aware of the opportunity that comes with our job. We have the opportunity to work alongside fantastic volunteers day in and day out doing work that is meaningful and literally life saving for millions of families around the world. We get to learn stories from the field and pass them on. We hear about our partners and the hard inspiring work they do within their communities. This week, the Coon Rapids team had the opportunity to meet one of our partners, Denise Walsh with Believe Guatemala.
Believe Guatemala is a beacon — intentionally painted bright green in the middle of a community built mostly of gray tin shacks. Surrounded by the largest city dump in Central America the smell can get intense if the wind blows in the wrong direction.
Denise herself was drawn to Guatemala from what she called a "restless heart" that was always filled with a prompting to do more, to travel somewhere new, to broaden her impact and understanding of the world.
Believe Guatemala was founded to provide an oasis for children whose parents spend long days working the labor intensive, dangerous, but honest work of scavenging the city dump for food and scraps to trade for money.
Due to the nature of the long days and dangerous work, parents often lock their toddlers in their houses for safety, under the supervision of children as young as 5.
It was the dream of Believe to provide a space where children could gather, be exposed to life outside the dump, be supervised, play freely and receive an education.
Believe was created and soon started sending their children to an excellent private school in the area through a sponsorship program.
Trouble Behavior or Hunger? 
As the children started school, feedback from the teachers stated that the students were causing trouble. They could not pay attention in class and were restless. They would fall asleep constantly, and were often caught digging through the trash to provide their school lunches.
Of course they didn't know this behavior is generally frowned on, nor had they ever had to sit at attention in a structured environment.
Denise reflected that it was a major wake-up call to the organization because they realized that all these "trouble" behaviors were indicators of extreme hunger — something she herself didn't fully understand the far reaching implications of until the school feedback.
Here is where FMSC comes in. Denise herself is a longtime volunteer at our Coon Rapids location. She loves to bring her teenagers in to pack. She connected with an FMSC staff member and said, "Let me see if there is some way that we can get this food into the hands of our children in Guatemala."
Through an act of faith and lots of hard work on Denise's side, her application to become a full food partner was granted, and Believe Guatemala started to receive MannaPack™ Rice.
She emphasized over and over how quickly they started to see the changes in their kids.
This change was apparent to her when the kids received a large shipment of books to keep at the center. Education has always been a major inspiration behind the work that Believe is doing.
When they decided to provide a library at the center, she wasn't sure how it would be received. With intense joy and pride, she showed us the pictures of the kids who had found the books, and were sprawled out on the floor reading them. She said it was then that she knew their bellies were no longer hungry because they had the capacity to feed their minds rather than worry about their stomachs.
Food is the Foundation
While food insecurity has many tangible effects that we often hear about (distended bellies, brittle hair, etc.), Denise reminded us of how central having a stable diet is to a growing and developing child.
From birth, having access to the vitamins and protein that the developing brain needs sets the capacity and trajectory for both fine and gross motor skill development. At Believe they witness this reality constantly.
Denise showed us paintings produced by a 5-year-old girl who has been involved in the preschool program since age 3.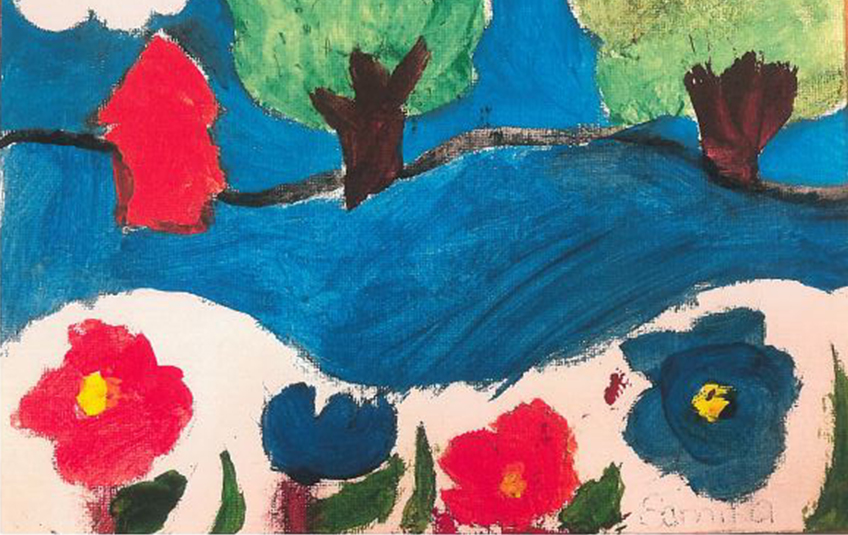 In this painting she was able to very closely paint within the given lines of the project, indicating that she is at the appropriate development stage for a 5-year-old's fine motor skills.
In contrast, she showed us a painting done by an 11-year-old girl who is brand new to the program and has spent her entire childhood without the proper nutrition that her brain needed to develop at the appropriate pace. She was not equipped with the fine motor skills to paint in the lines, something that should come as second nature to a thriving 11-year-old child.
Denise pointed out that they will have to work hard as an organization to catch her up to grade level. With contagious hope and optimism she added that it is OK because "children's brains are incredibly elastic and now that she is being given proper nutrition her brain will soak up these skills like a sponge."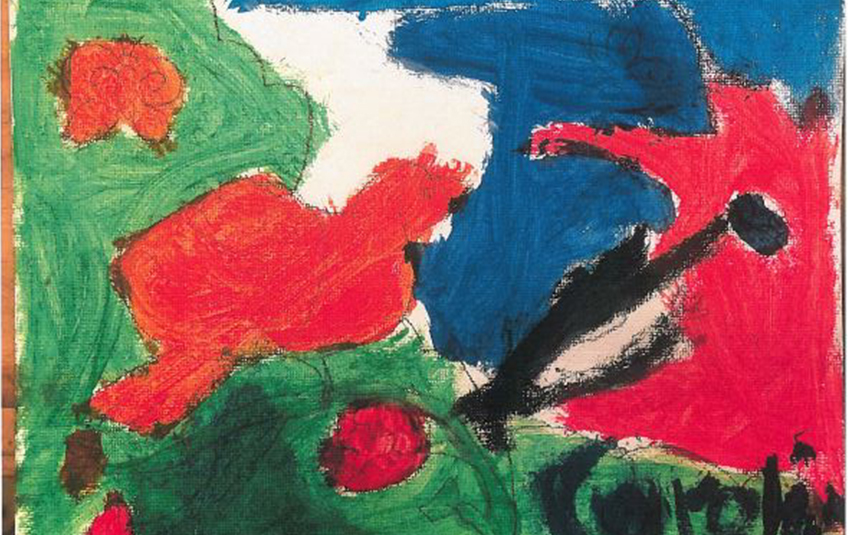 As a staff member who has the opportunity to tell the stories of our kids every day, sometimes it is hard to remember the impact that our food is having on very specific communities throughout the world. Denise emphasized over and over how what we do here together matters. Our food is saving lives and providing for bright futures where children are free to live into their potential. And it all started with one FMSC volunteer, a restless heart and a huge leap of faith.
Sign up to pack life changing meals TODAY.
Subscribe to The Feed
A couple times a month, we'll send stories of hope to your inbox.
Related Items