The Feed
Stories of Feeding God's Children Hungry in Body & Spirit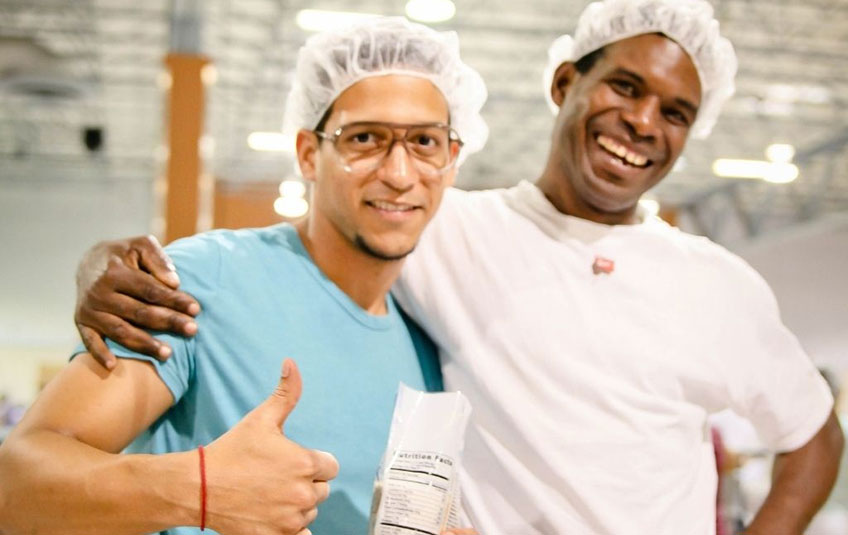 This is FMSC: Feeding spirits
Feeding kids. Feeding spirits. Empowering communities. These three pillars are at the heart of the FMSC mission. In a new three-part blog series, we will introduce you to each of these pillars — and the profound hope that begins with food.
If you missed it, read about our first pillar here: This is FMSC: Feeding kids
The FMSC mission is to feed God's children, hungry in body and spirit — and that hunger is more than a physical need for food. It's a desire for meaning, purpose and hope. It's the need we share: to love and be loved.
And it's at the heart of the second FMSC pillar: feeding spirits.
---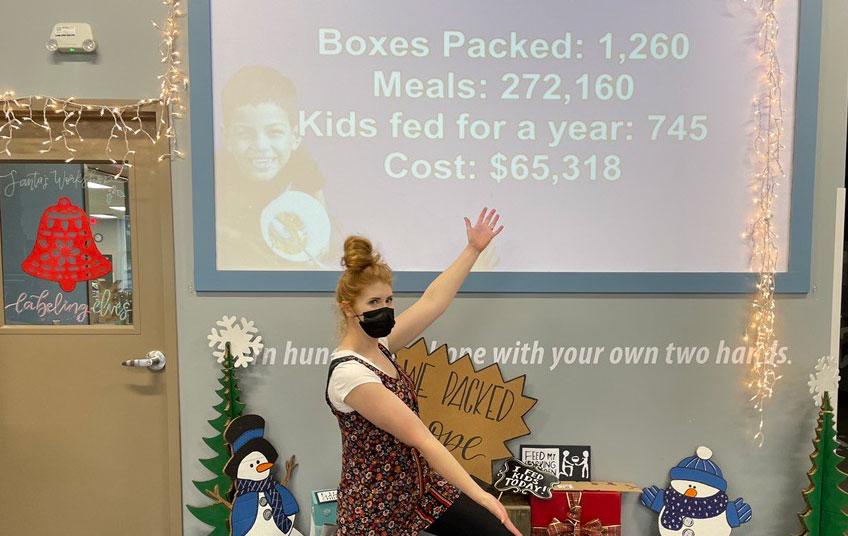 "A lifeline": Feeding spirits in the packing room
Kathleen Monson is a professional vocal performer. In August 2020, she was supposed to travel with her choir to perform at the Bristol Cathedral in England. But exposure to COVID-19 and a subsequent mandatory quarantine dashed those plans.
"I was absolutely devastated. As countless gigs were getting cancelled, I felt my singing career was evaporating. I didn't quite know what to do. However, I was determined … to stay positive. … I was introduced to FMSC several years ago by my bestie, so I knew the organization was amazing and I thought that it was somewhere to start."
So on the day she should have been stepping onto a plane, she walked into the FMSC Schaumburg packing room instead.
Kathleen said she walked out after her session, thinking, "This was a good thing. It did a lot of good for my heart."
She started packing several times a week. With COVID restrictions putting her singing career on hold, Kathleen found herself with more time on her hands — and she wanted to make that time count.
"I know the Lord told me to do something with the time you've been given."
In January 2021, she mentioned to John, the Schaumburg site manager, that she aimed to pack 500 boxes that year. When he responded that a truckload is 1,260 boxes, Kathleen met his eyes: "Challenge accepted."
She kept careful logs, tracking each pack. 105 boxes per month. Minimum of 10 boxes per session. With each box packed, she found purpose. Healing. "[The packing room] became a place to escape. We were doing something physical and something good."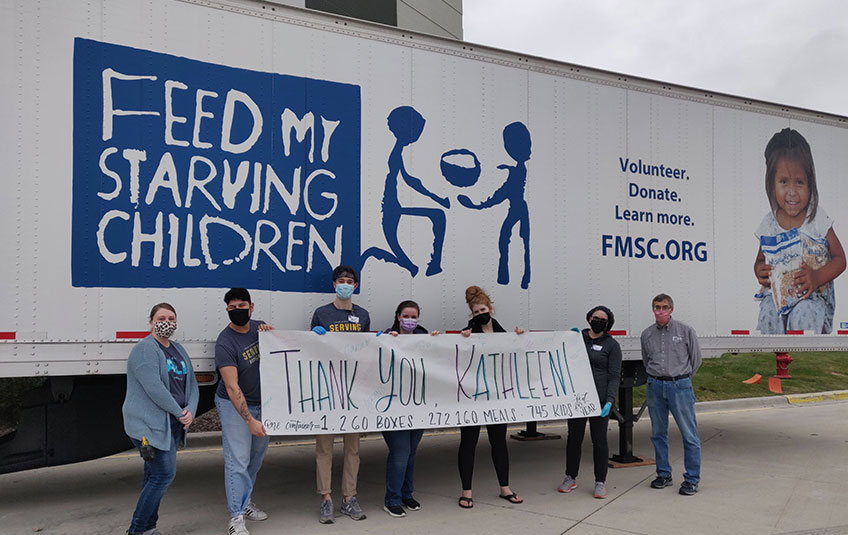 12 months and 90 two-hour packing sessions later, she hit her goal. In 2021, Kathleen packed enough to fill a truck with 1,260 boxes — a total 272,160 meals for kids and families around the world.
"I wish I could say that the children who received these meals in countries like Malawi, Nicaragua, Haiti, Afghanistan, Iraq, Somalia and Guatemala were benefiting more than I was, but that would be wrong. [Packing at] FMSC became a lifeline for me, and for that I am forever grateful."
---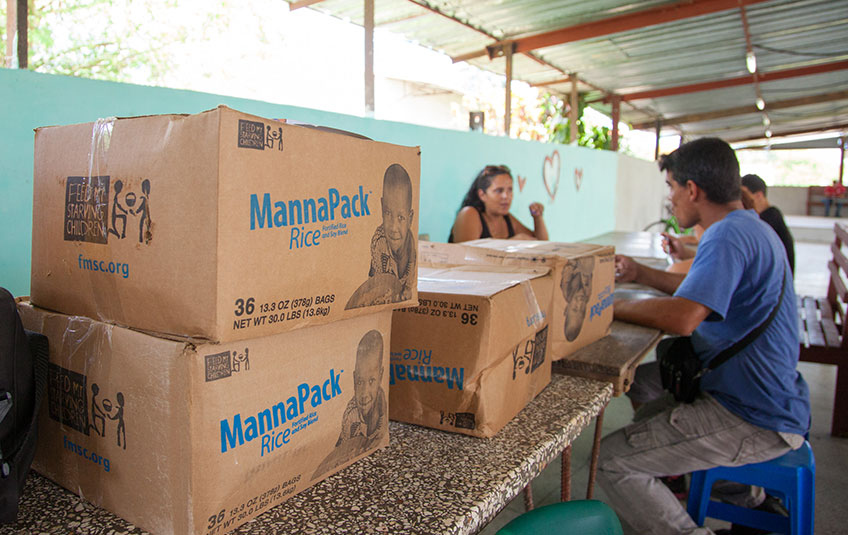 "I have really felt the mercy of God": Feeding spirits in the field
Sixteen-year-old Juan* lives in Cuba. He receives ongoing treatment due to a chronic, crippling medical condition that prevents him from living an ordinary life as a teenager. Juan's family spends most of their income on medicines and physical therapy to alleviate his condition, leaving little left over for food and other important expenses.
For Juan's family, receiving MannaPack meals from FMSC partner Outreach Aid to the Americas (OAA) is no less than a godsend.
His mother shared:
"If it had not been for my faith that has helped me believe that these difficult times of need are passing and bearable, I would not be here today thanking you for your offerings. Thanks for your support. I am now aware that I have a family in Christ that has not abandoned me or my son. I do not know what would have become of our family in the next few weeks if it was not for your help. I have had days of crying thinking about how I am going to feed and supply the needs of my children — especially Juan's — but in those days of grief, I have received help from the generous pastors. I have really felt the mercy of God."
To Juan's family, these meals are so much more than just food. These meals tell them that they matter. Their family is loved — and God truly cares for them.
The family also shared that, because of the provided meals, they can now afford additional treatments for Juan, like speech therapy and cognitive therapy to help him learn how to speak and read.
Fund reliable meals for families like Juan's »
*Name has been changed to maintain confidentiality.
---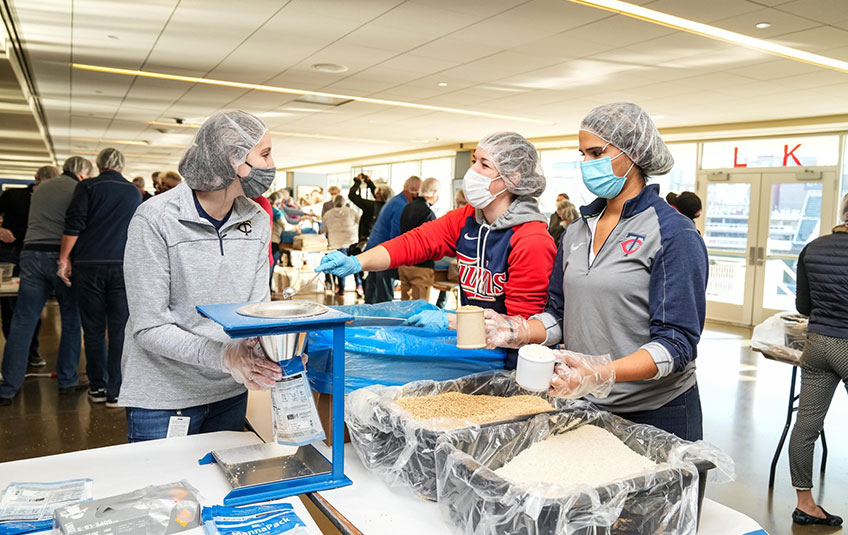 "Healing in the hairnets": Feeding weary spirits
As communities climb out of the pandemic, spirits are heavy — across the U.S. and around the world.
Dave Gunnlaugsson, Regional Development Advisor for MobilePack™ events, observed, "I think God has really put FMSC in a place to be a part of healing [in response to] the pandemic."
In other words, he said, "There's healing in the hairnets."
When people put on their hairnets and start to pack, divisions fall away. When the music turns on and the room begins to fill, we see hope and healing. We see God at work — and spirits fed.
Dave remembers how it felt to walk into a MobilePack event in Marshfield, Wisconsin — the first MobilePack event since the pandemic began. For event hosts, participants and FMSC staff alike, the experience was soul-restoring.
"I watched it in Minnesota when I talked to a family at a table. All they could say to me was, 'Thank you so much for giving our family a safe place to be together.' Another told me, 'My teenager talks to me more in this hour of packing than they do all year long.'"
In Estes Park, Colorado, a 14-year-old girl prayed powerful words over FMSC as an organization and our staff and our partners.
In Fargo, North Dakota, we saw a community come together to pack more than 1.4 million meals — thousands of volunteers, many under age 18, turning hunger into hope.
Time and again, MobilePack hosts tell us that they want to create an opportunity for their community to gather and connect over something that matters to them all. And we know it's true.
There's healing in the hairnets.
---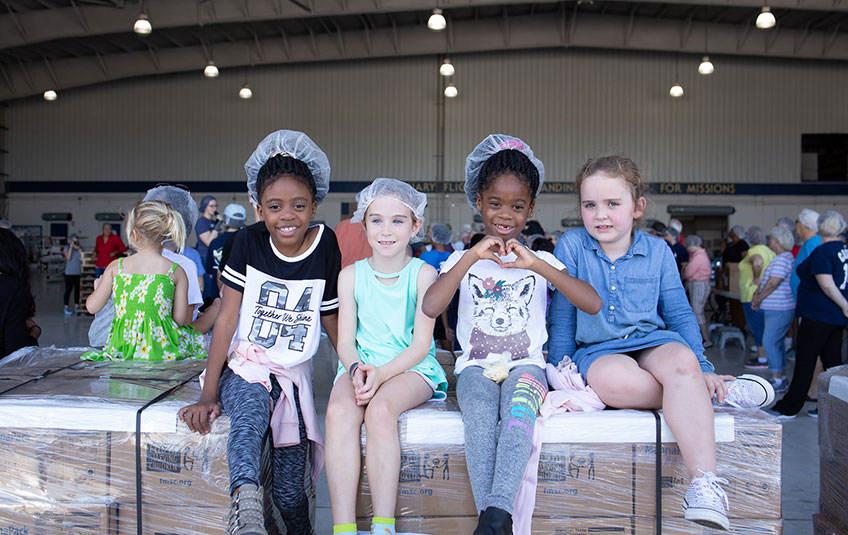 This is your generosity feeding spirits
From the first cents funded to the pallets packed to the bowls eaten — we know God is at work, feeding spirits every step of the way.
It's a privilege to be a part of this process, right alongside you, as together we continue feeding kids, feeding spirits and empowering communities.
Donate Now
Donate by credit card, bank account or digital wallet.
Subscribe to The Feed
A couple times a month, we'll send stories of hope to your inbox.