Ginger's Year of Living Sixty
Stories of Feeding God's Children Hungry in Body & Spirit
Related Items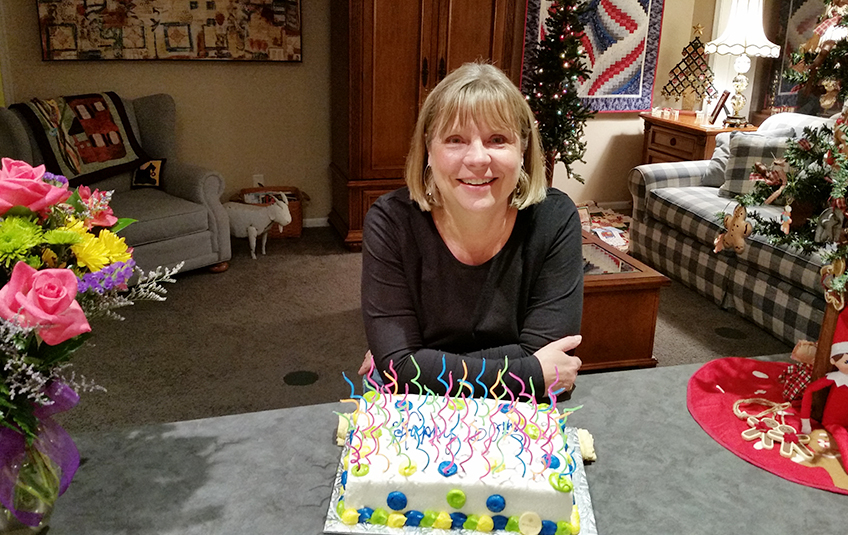 Ginger's Year of Living Sixty
Ginger Bollinger packed close to 13,000 MannaPack™ meals last year. She faithfully came to FMSC packing sessions in Eagan, Minn. at least30 times to accomplish this goal.

It was all part of her "Year of Living Sixty," a project she came up with before her 60th birthday on Dec. 15 last year.

Ginger's original goal was to pack 6,000 meals as part of the project that also had her reading 60 books and walking 600 miles of trails (on top of working a full time job)!

From her blog post at the beginning of the project:

"And in an effort to mark and honor this milestone year, what started as a big idea has turned into a project called My Year of Living Sixty. Here's the plan in a nutshell: read 60 books, hike 600 miles of trails, and pack 6,000 meals for Feed My Starving Children between December 15, 2014 and December 14, 2015.

It challenges me in three dimensions of my life – intellectually, physically, and spiritually as each of the elements will be a stretch to accomplish. It has symmetry, which is somehow appealing to me – who knows why."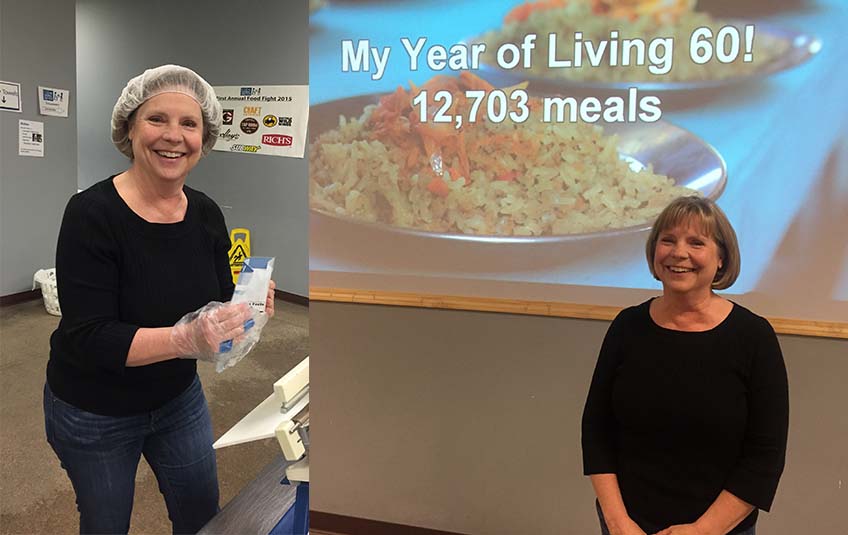 Why did she choose Feed My Starving Children for the spiritual element of her project? She couldn't think of a better way to grow spiritually than serving people.

She arrived at packing sessions – sometimes two or three a week – in good cheer and spread encouragement and joy to those around her.

By the time spring rolled around, she knew she was going to blow past her goal. She hit the 6,000 meal mark in June and kept going.

"I didn't want to quit. I was feeling such a sense of purpose and of joy in being involved in the process that I didn't want to," she said. "And it was like God said 'just dream bigger.'"
So Ginger set a new goal – 12,000 meals by Dec. 15, 2015.

It was like God was telling her, "With me all things are possible. Don't limit what you think you can do."

Ginger just turned 61. She accomplished every goal she set during the past year.

"My 'Year of Living Sixty' is over, but that doesn't mean my work at FMSC is," she said. "It's just become such a part of my life that I look for that to continue."

Thank you, Ginger! You packed enough meals to feed 30 kids for A WHOLE YEAR.

Ginger also funded a majority of those meals, introduced friends, family and her community to FMSC and brought many of them to the Minnesota Gala!


Subscribe to The Feed
We'll periodically send stories of hope to your inbox.