The Feed
Stories of Feeding God's Children Hungry in Body & Spirit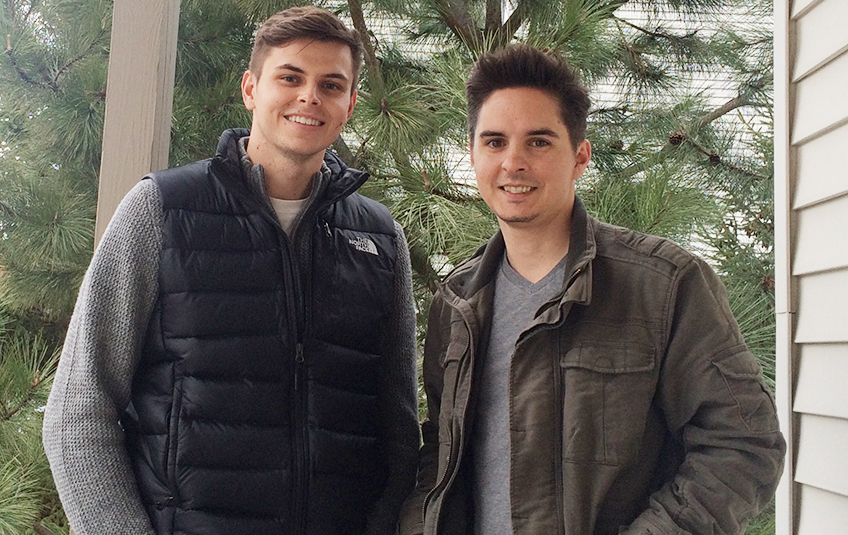 Born Passion: Connecting the Dots for the Next Generation
Two millennials from the Twin Cities have started a company to foster the next generation of volunteers and donors, and they're kicking it all off with a three-month campaign with Feed My Starving Children.

After graduating from college, Jeff Geier, 24, and Hunter Stanek, 25, were working corporate jobs when they had what they describe as an awakening.

Geier said they both wanted to do more in the world and make a difference in people's lives.

Starting a nonprofit was their first thought, but after doing research they realized there are a lot of nonprofits in the Twin Cities and that a lack of nonprofits wasn't the issue.

They started talking to their friends and realized that other millennials wanted to get involved with causes but didn't know where to begin. They also discovered that a lot of younger people wanted to be able to volunteer with others‐ as part of a community.

They also talked to nonprofits and came away with two things: nonprofits need volunteers and funding, specifically getting the next generation of donors involved. So they started Born Passion as a way to connect the dots.

"Born Passion was kind of obvious in the sense that we're an avenue for people who don't know where to get started and don't want to do it alone," Geier said.

The company's mission is "to bring purpose back to reality and transform communities by working together."

The Feed My Starving Children Connection

Geier grew up in Andover, Minn. and volunteered at FMSC's Coon Rapids location in high school.

"That was my first volunteer event where the light bulb went off in my head, and I thought, 'Wow you can actually make a huge difference banding together,'" he said. "Everything changed for me, and I realized how much is possible."

Geier has always loved how the packing session starts off with a powerful story then sends people straight into an "amazing volunteer event."

"And at the end you can see the impact you made and you felt like when you walked out that you did something meaningful, and it's so hard to find things like that," he said.

Geier said he and Stanek are Christians and love getting to bless the food at the end of the packing session and work alongside people and show them the love of Jesus no matter who they are or what they believe.

It's mind boggling that there are children in the world dying from a lack of food, he said.

"Growing up a white suburban kid not having to deal with that type of problem…sometimes I think about it like, 'Why was I so fortunate to have food and shelter?'" he said. "And I don't think I'll ever have the answer, but we are blessed to have these things, and we can use that to bless others."

They've organized a Born Passion packing event at each FMSC Minnesota location from April through June. They'll end the campaign with a fundraising concert at the Brave New Workshop in downtown Minneapolis (date TBD).

A Unique Model

Stanek and Geier want people to know Born Passion not only for its mission, but its model.

They take one Twin Cities nonprofit and schedule three months of volunteer events for the Born Passion network and end the campaign with a fundraising concert where 100 percent of proceeds are donated to the nonprofit.

They call it 1-3-1™ and explain how it works on their website: "Born Passion is a movement that fosters collaboration between the community, causes and champions. By combining these change-makers and utilizing our 1-3-1™ model we get a unique approach to community involvement that maximizes the impact that can be made to worthy causes in the Twin Cities."

For corporations or "champions," this is meant to infuse a culture of generosity inside the organization by coordinating volunteer opportunities and concert events for them.

For nonprofits or "causes," Born Passion seeks to increase volunteerism and funding through event planning and marketing.
For volunteers or "communities," it's meant to connect those interested in volunteering to a variety of different causes each year where they can volunteer for and support the most credible causes in the Twin Cities.

And they don't want to stop here. Their goal is to be able to plant teams in major cities across the United States.
"We believe that to truly feel alive you have to put others before yourself," Geier said.

"You're never going to really truly find happiness unless you truly understand how important it is to give early and give often."

Learn more about the Born Passion movement HERE and take part in Born Passion's FMSC packing sessionsHERE.

Related Items