Painting to Feed Hungry Children
Stories of Feeding God's Children Hungry in Body & Spirit
Related Items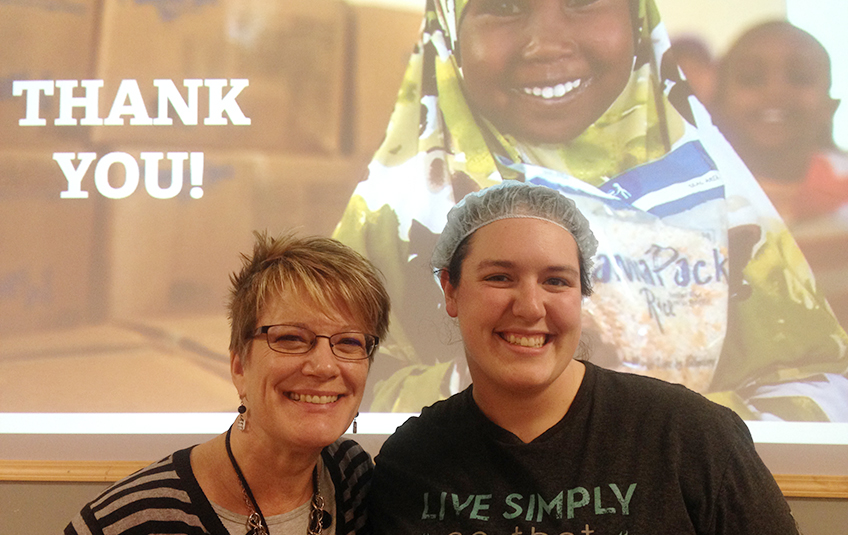 Painting to Feed Hungry Children
February 25, 2016
Guest Author
Bethany Brandvold is a team leader for Feed My Starving Children.

Suzanne, a leader from Adult-Teen Challenge MN has been bringing participants to Feed My Starving Children for six months. Each time, these participants have come with such energy and excitement to pack food and make a difference.

One day as I was doing a closing orientation, I heard many murmurs across the group, I saw that the participants were very eager and intent on finding a way to fundraise money for FMSC.
It was clear that they couldn't just NOT do something.

Suzanne stated that they gave her a "stink eye", the good kind of course, during the closing, essentially trying to communicate "how can we make this happen?!?"

The individuals of Adult-Teen Challenge do not necessarily have access to funds during their stay, so getting creative was key.

One day during their Art Therapy session, they were painting on canvases. At the end of the session Suzanne saw that there was leftover paint.

"I couldn't just throw it away," she said.

So she decided to paint a beautiful cross. It was clear that God had given Suzanne the gifts of artistry and creative vision. She decided to sell it online.

Through Facebook channels, she sold the painting for $70 to a church in New York, and donated that money to FMSC.

This has ignited an opportunity within the groups at Adult-Teen Challenge, as they now want to continue to paint to feed hungry children around the world.

They certainly found a creative way to raise funds for FMSC, all while tying it into their curriculum.

"It's kind of cool, because that paint would have just gone into the garbage," she said. "But just like God, he takes the garbage in our lives and turns it into something beautiful."
Something beautiful indeed!

Editor's note: The mission of Adult-Teen Challenge is to assist teens and adults in gaining freedom from chemical addictions and other life controlling problems by addressing their physical, emotional and spiritual needs. Measures were taken to ensure that the privacy of the individuals from Adult-Teen Challenge MN was protected in the process of telling this story.

Subscribe to The Feed
We'll periodically send stories of hope to your inbox.