The Feed
Stories of Feeding God's Children Hungry in Body & Spirit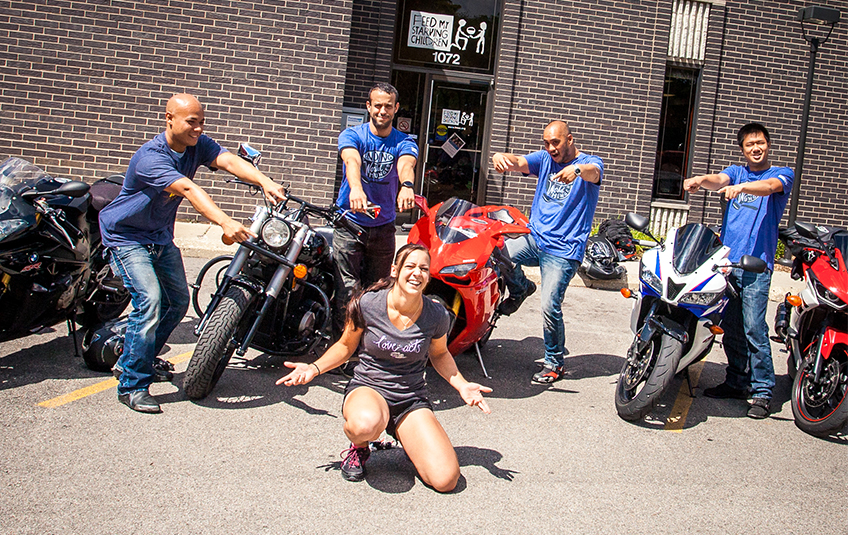 Ride. Pack Food. Repeat.
These bikers have big hearts! They don't just ride together — they volunteer together. Recently, they packed more than 24,000 meals for children around the world!
The group is informal, led by Marc and his girlfriend Arvie, who have packed with Feed My Starving Children before.
The group itself isn't big, and events come up organically. One of the bikers set up this FMSC packing session because he grew up with the food.
Why they pack, in their own words:
Rizwan:
"We are just average people that also happen to have a passion for riding. Riding alone does not set us apart from anyone else. I think most people in general have a sense of giving back, helping others. This was the first time I had been at FMSC and I thought they do a fabulous job with how organized they are. I thought those two hours spent were super-efficient. Great place to bring your kids to, to teach them a thing or two about team-work and giving back."
Troy:
"I pack because I can't imagine the challenges the ones in need face. I realize that I'm very fortunate and volunteering to help comes with no question. At my previous company, we hold the record for packing 342 boxes. I'm so very proud of that because it shows humans can be motivated purely by helping someone else in need versus so many common things we see today like greed."
Janelle (has packed six times over the past year):
"I initially heard about FMSC through my church, and have volunteered in the past. I think that packing meals with FMSC is a great way that you can individually and collectively make an impact for something that truly matters — and hits the heart so deeply. On top of that, the staff help make it a really great environment that is fun and open to everyone to participate. I think this is one of the coolest ways that I can mix my social circles. FMSC is a Christian organization, but you don't have to identify as the same to volunteer with them. All you need is your heart. This is something that I can do with my friends from church, working out, riding motorcycles, etc. all together. When I posted up on Facebook, more friends voiced interest in coming the next time we go — all the more reason to plan another group event! I love that as an organization, FMSC humbly attributes their success to God, and prays over every palette of meals shipped. As a Christian, I think that's really awesome, and I feel honored to participate."
Ed:
I have always thought it is important to contribute to society no matter how much or how little you have. Many people use financial excuses to not participate in charity, but FMSC shows that donating your time can make a huge difference and be very gratifying. As motorcyclists, we routinely seek ways to help the less fortunate. During last December's Toys for Tots ride, an estimated 70,000 bikers gathered to donate toys to children who otherwise might not receive a gift during the holidays. We also have groups that will go on a "feed the homeless" ride, where we use our own funds to buy food and hand deliver a warm meal to the people living out on our streets. FMSC is a great outlet for us to satisfy our craving of philanthropy. It's easy and rewarding work."
Marc:
"My girlfriend, Arvie, and I have gone three or four times now. We started last year for her birthday. Since then, we both got hooked. We love the feeling we get once we are done and that we are able to help kids around the world who can easily use our assistance with just a few hours of our time. The difference we make in their lives is worth more more than two hours of our time so we are glad to volunteer. We didn't go too often, but we are both wanting to volunteer at least every month, if not more often than that!"
Alfonso:
"I packed because I wanted to help those in need and feel part of something big that could potentially change someone's life. I generally like to help people, and if I can I will."


Dave (bought a FMSC shirt for each person in our group): 
"I wanted to make a difference as I myself starved when I was younger and saw the poverty in my home country."

Thank you — we can't wait to see you guys in the packing room again!
Subscribe to The Feed
A couple times a month, we'll send stories of hope to your inbox.
More stories of hope