The Feed
Stories of Feeding God's Children Hungry in Body & Spirit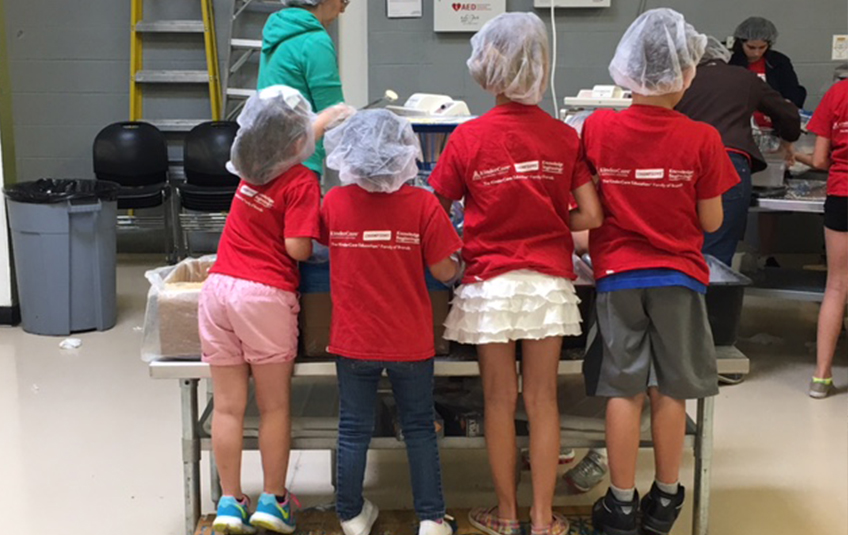 In Schaumburg: From the Mouths of Babes
July 26, 2017
Guest Author
"The mouths of the righteous utter wisdom, and their tongues speak what is just. The law of their God is in their hearts; their feet do not slip." -- Psalm 37:30-31 
Stacey is a development advisor at Feed My Starving Children. She is based out of our Schaumburg, Il. packing site. 
I'm a BIG believer in passing along God stories. I believe that when we see God move, it's not just for our own eyes. We share His stories with others so they are blessed, too!

This story warmed my heart this morning.

We had a group from KinderCare come pack with us in Schaumburg this morning. EVERY stepstool available was pulled out as about 30 5-year-olds stepped up to help us feed hungry kids just like them around the world.

The 19 kids in Nicaragua will now receive food for an entire year. Each of their lives has been GREATLY impacted by young hands here who packed today.

But the impact was not just one-way.

After learning a bit about hunger, watching the story of a child just like them in Haiti whose life has been changed by MannaPack™ meals, and seeing firsthand what a dirt cookie looks like, one boy summed things up perfectly.

I asked this young volunteer if packing was hard work.

"No. It isn't as hard as not having food to eat," he said. "I'm glad kids will have food!"

From the mouths of babes.
Subscribe to The Feed
A couple times a month, we'll send stories of hope to your inbox.
Related Items