The Feed
Stories of Feeding God's Children Hungry in Body & Spirit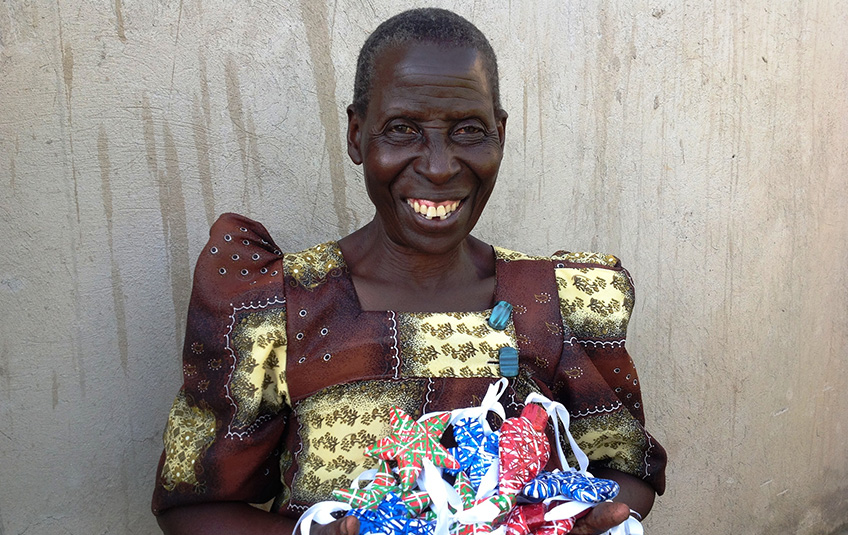 FMSC MarketPlace: Joyce's Story
"'Many women do noble things, but you surpass them all.' Charm is deceptive, and beauty is fleeting; but a woman who fears the Lord is to be praised. Honor her for all that her hands have done..." -- Proverbs 31:29-31
Every time you buy one of Joyce's products, you give her the energy to produce more.

The grandmother of 21 creates beautiful necklaces and ornaments for Feed My Starving Children's Ugandan MarketPlace partner, Hope Again Women.

Joyce creates these products by rolling or wrapping colorful paper by hand. With the money she's earned, she built a home and sends her grandkids to school.

Joyce's 21 grandchildren have been orphaned and live with her.

"All of their parents have been buried," Richard from Hope Again Women said. "It is her struggle to make sure she raises enough income to make sure she looks after these children, send them to school and feeds them."

The ministry employs more than 300 women, many of whom are widows affected by HIV/AIDS and – like Joyce – who care for multiple children in their households.

The women produce jewelry made from recycled magazines and hand-dyed, hand-woven grass items. The Hope Again Women's Ministry is one of FMSC's largest MarketPlace partners.

As a leader at Hope Again Women, Joyce has seen women come together. Now they are able to save and invest in different things because they are working in groups rather than on their own.

Their prayer is to see the market expand so they can design and create more products.
Shop products from our Ugandan partners HERE.
Subscribe to The Feed
We'll periodically send stories of hope to your inbox.
Related Items