The Feed
Stories of Feeding God's Children Hungry in Body & Spirit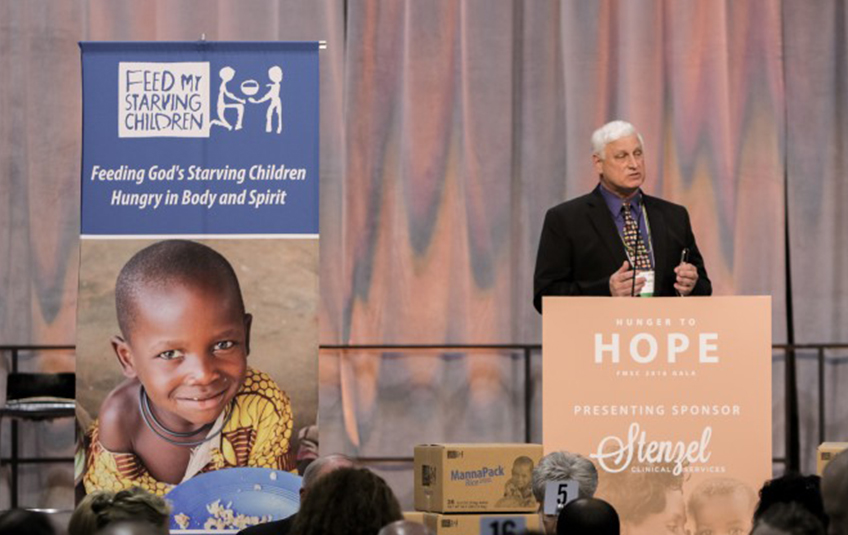 Illinois Gala Recap 2016
Close to 1,100 people attended our Illinois 2016 Gala last Saturday. The theme of the inspirational evening was Hunger to Hope.

The program, emceed by ABC7 Chicago meteorologist Tracy Butler, paid tribute to mothers dealing with horrific situations beyond our comprehension – mothers who are forced to send their children to bed hungry every night.

Nora, a mother from Nicaragua, shared her story of hope.

Before enrolling in Fabretto programs, Nora and her husband struggled to feed their three children. They washed and ironed clothes and sold firewood to earn money.

"The day to day life was very difficult. We did not have regular income as we worked informally. What we earned wasn't enough to cover basic needs," she said.

She and her husband sell coffee in a co-op. Nora is also co-founder of the Basket Co-op in Cusmapa, Nicaragua. All three of her children have benefited from Fabretto programs.

Nora touched many people's hearts when she said that even though we are apart in distance, "Spiritually, we are all together."

It was especially touching when FMSC presented Nora the gift of a sealer for her coffee bags. She and her husband had been sealing the bags with heat from the flames of candles.*

"Nora's story is a story of hope. It's a story we pray that all mothers can one day experience," said Mark Crea, Executive Director/CEO of FMSC.

If you missed the opportunity to purchase beautiful, handmade items from our MarketPlace (including items made by Nora herself), it's not too late! Many items are available at our packing sites and on our online MarketPlace.

The live auction, with professional auctioneer Kristine Fladeboe Duininck, had the crowd cheering, especially when a trip to Nicaragua was auctioned off and Nora stood up to say she would cook a meal for the trip goers.

Paul Oman and 12-year-old daughter Kelsey live-painted acrylics on separate canvases to give vision to the mission of FMSC. The paintings were later auctioned off.

Nate and Kim Beck were joined by their daughter Grace, 13, to bring live music to the event. If this family sounds familiar, it's because they are no strangers to FMSC. In 2011, they partnered with us with their hot dog cart, Natedogs.

Mark Crea shared Feed My Starving Children's "born again" story — how we packed 26 million meals from the start of FMSC to 2003, but after rededicating to the Lord, we have since packed more than 1.2 BILLION meals! And the food DOES make a difference.

"FMSC food allows our partners to achieve so much more. I hear from partners all around the globe how crucial this food is," Crea said. "It's a critical first step. Having this food available for our partners' feeding programs allows families to thrive!"

Our photo booth (complete with Storm Trooper cameo) was a big hit!

Through your generosity FMSC raised more than $640,000—which will provide nearly 3 million nutritious meals to those who need it most!

We are still working toward our $700,000 goal to feed desperate children. YOU can help us fill that gap HERE!

Thank you for your generosity and support!

*The coffee the FMSC MarketPlace sells is grown by Nora but packaged in the United States.

Related Items