The Feed
Stories of Feeding God's Children Hungry in Body & Spirit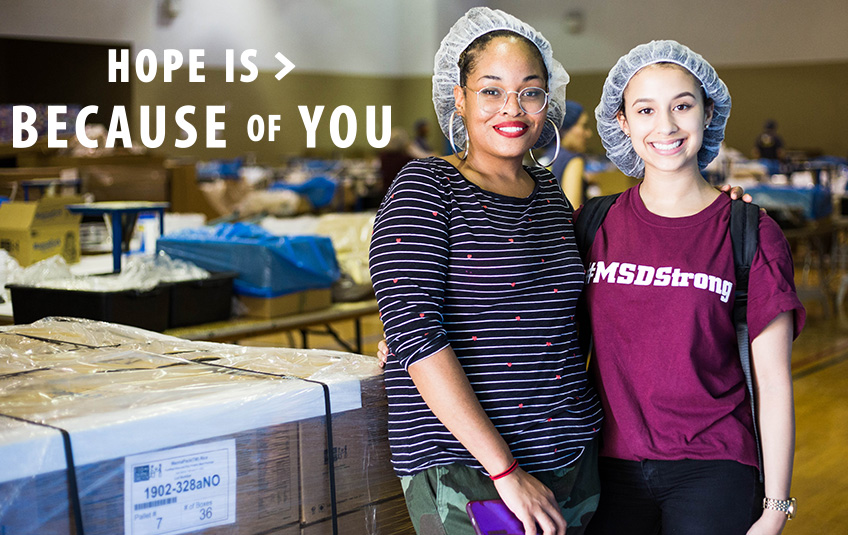 Hope is Greater Because of YOU
"Very truly I tell you, whoever believes in me will do the works I have been doing, and they will do even greater things than these…" – John 14:12
From Somalia to Haiti to the Philippines, we hear the same cry of hunger, and it is getting louder. If you listen, it is almost deafening.

The Food and Agriculture Organization of the United Nations' latest report on world hunger, The State of Food Security and Nutrition in the World tells us that hunger is still on the rise. 

This report makes it so clear that we need to keep working together to end hunger.
The fight against hunger can seem overwhelming, but at FMSC, we know that hope is greater.

It's greater than conflict. It's greater than drought and famine and disease. It's greater than earthquakes and hurricanes. It's greater than poverty.

And it's greater than hunger.

Thank you for believing this. Every time you put on a hairnet and pack meals or write a check or drop a quarter in a bucket, you are saying, "Yes. Hope IS greater."

What you do makes a difference. We need you more than ever as conflicts and natural disasters continue to wreak havoc in the lives of children around the world.
Because of You
You lead the charge here at home to make a difference across the globe.

You ignite a spark in others.

Without you regularly packing meals, without your lemonade stand, without your monthly giving, without your legacy giving, we wouldn't be FMSC.

Hope is greater because of YOU.

This year, we'll bring you stories of the difference you make every single day. We'll highlight volunteers, donors, Hope Champions, FMSC staff and partners and so much more. And we would love to hear from you. Send your FMSC story to kkoranda@fmsc.org for a chance to be featured in this campaign. We can't wait to hear from you!
Watch the video:
Subscribe to The Feed
A couple times a month, we'll send stories of hope to your inbox.
Related Items