The Feed
Stories of Feeding God's Children Hungry in Body & Spirit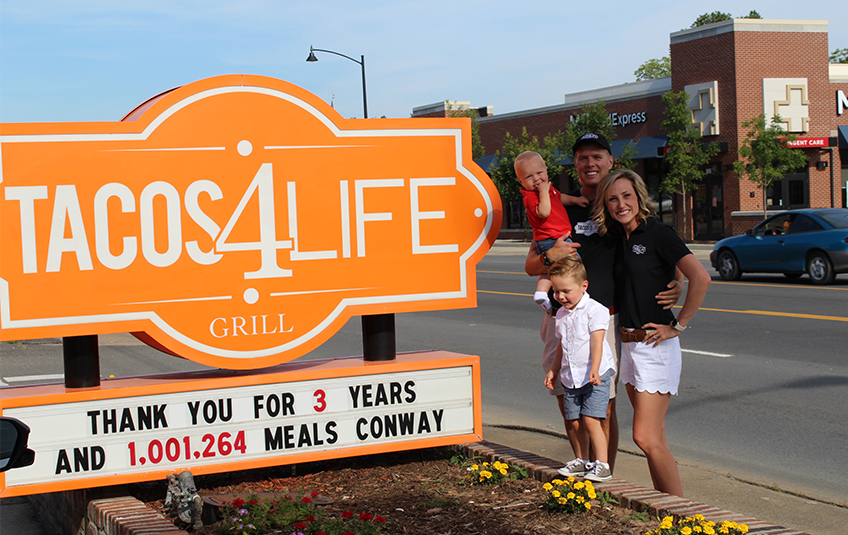 More Than Tacos
Three years ago, Austin and Ashton Samuelson founded Tacos 4 Life, a taco shop on a mission. For every chef-crafted taco, rice bowl, quesadilla or salad sold, Tacos donates 22 cents to Feed My Starving Children to purchase a meal for a child in need.

To date, Tacos has raised more than 3.5 million meals to help feed kids all over the world. Their mission is to feed 1 million kids a day, and with each restaurant they open an additional 1,000 kids are fed each day.

"The food truly serves as a baseline to provide health and nourishment, then phase two of the food becomes a means of hope, consistency and love for these children," The couple said. "It's amazing seeing how a warm meal in an environment where nothing is secure or guaranteed can make all of the difference."
Tacos 4 Life currently operates five locations in Arkansas, will soon open six new franchise locations and have a vision to expand across the country.

This amazing company has also hosted 11 MobilePack events! This year alone, they have rallied enough volunteers to pack more than 1 million meals at MobilePack events. We are so grateful for this partnership that continues to grow with each passing day.

And there is so much more to this story! Check out FMSC's first edition of The Scoop to see how God fit the pieces together.

We can't wait to see what God continues to do through these Hope Champions. You can be a Hope Champion, too! It's easy. Just visit our Hope Champion page to learn more and fill out an application to be a third-party fundraiser. Just like Austin and Ashton, YOUR passion can bring hope to children around the world.
Subscribe to The Feed
A couple times a month, we'll send stories of hope to your inbox.
Related Items