The Feed
Stories of Feeding God's Children Hungry in Body & Spirit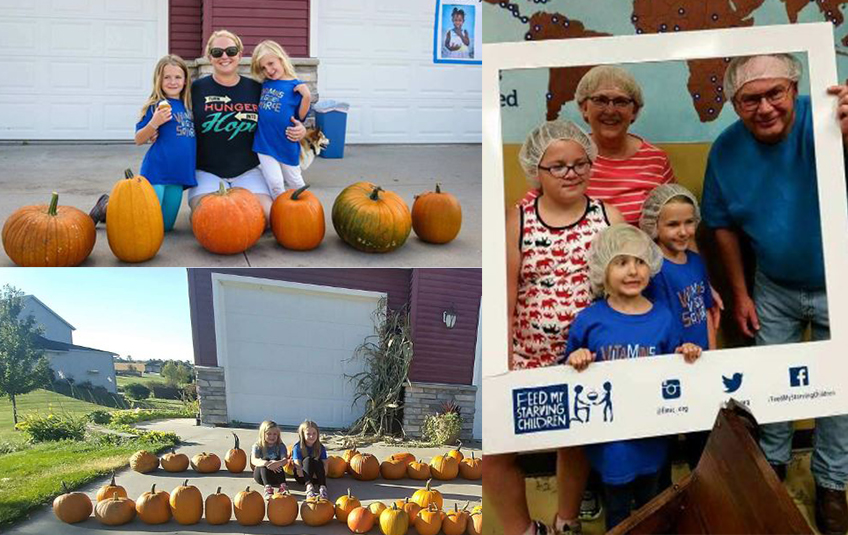 One Family, Four Years of Pumpkins, Thousands of Meals
"The generous will themselves be blessed, for they share their food with the poor." -- Proverbs 22:9
At just 3 years old, Anna and her older sister, Adison, 6, would take their little red wagon down to the family's backyard pumpkin patch and fill it with pumpkins to raise money for Feed My Starving Children.
The sisters, now 7 and 10, have raised more than $1,600 selling pumpkins. That has provided more than 7,000 meals to kids around the world.

They also sell cupcakes. Their mom, Amy, baked the cupcakes and the girls helped decorate them with cream cheese frosting and candy corn when they got home from school.

The next day, they sold 15 DOZEN cupcakes and 60 pumpkins – all to feed kids.
Moved to do More
It all started when Amy took Adison to a packing session years ago.

"They heard the stories about the kids who don't have food and who mix the water with clay to make cookies and they felt bad," Anna said while dropping off this year's $651 donation with her grandparents, long-time FMSC advocates with a local Lions club.

The family was moved to do something, and decided their abundance of backyard pumpkins presented the perfect opportunity.

Over the years, Anna and Adison have also held lemonade stands in the summer and donated their birthday money to FMSC.

"I love that FMSC is their first choice in when deciding who to raise money for," Amy said.

The girls are also spreading the word about FMSC by bringing their Girl Scout troop in to pack meals. Now, some of the families who had never heard of FMSC pack once a month.

Anna has packed five to seven times with her parents, grandparents, friends and Girl Scouts, she said. Her favorite part is praying over the food.

"I really hope it makes it to the kids so they don't die," she said. "I feel happy they get the food."

She also likes the MannaPack Rice™ samples that are given at closing at our permanent sites.

"Sometimes I get to taste what the kids are going to taste," she said. "And then I feel like the kids aren't so far away."
We can't wait to see what these HOPE Champions do next. You can be a HOPE Champion, too! It's easy. Just visit our HOPE Champion page to learn more and fill out an application to be a third-party fundraiser. Just like Anna and Adison, YOUR abundance can bring hope to children around the world. 
Related Items