The Feed
Stories of Feeding God's Children Hungry in Body & Spirit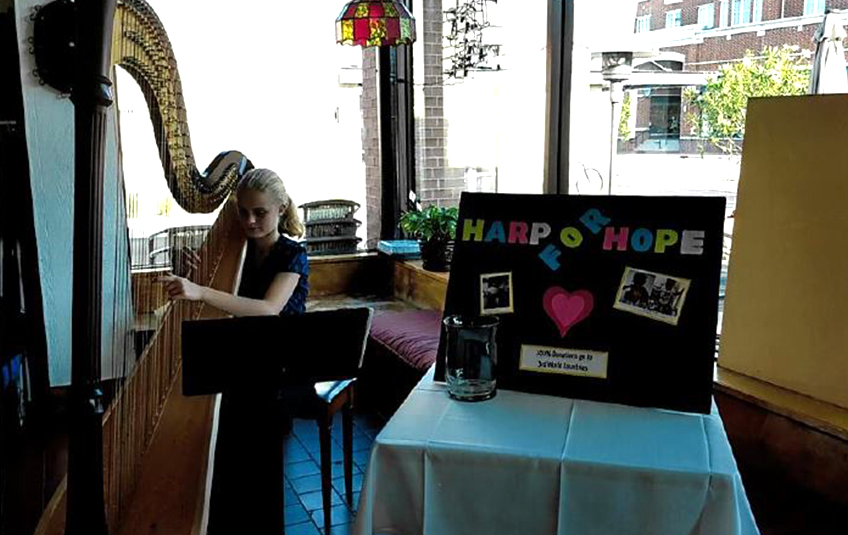 Playing the Harp to Feed Kids
October 12, 2017
Guest Author
"Awake, my soul! Awake, harp and lyre! I will awaken the dawn. I will praise you, Lord, among the nations; I will sing of you among the peoples. For great is your love, reaching to the heavens; your faithfulness reaches to the skies." – Psalm 57:8-10
Betty is a team leader for Feed My Starving Children.
Fourteen-year-old Cellestine came to our Libertyville, Il. site a few months ago with a friend and was so taken with our mission and feeding kids she wanted to do more.
She plays the harp and decided she would use her God-given talents to raise money to feed more kids. She proudly sent in a check to buy a box of food from her performance.
But she wanted to do even more. With the guidance of her mother Claudine, she played her harp at a local restaurant and put out her own handmade board with pictures.
She raised enough to feed two children for a year!
The restaurant is so taken with her they have asked her back again.
She now has a monthly scheduled time to play her harp, raise more money and feed more kids.
We are so inspired by Cellestine. You can be a HOPE Champion, too! It's easy. Just visit our
HOPE Champion page
to learn more and fill out an application to be a third-party fundraiser. Just like Cellestine, YOUR talents can bring hope to children around the world. 
Subscribe to The Feed
We'll periodically send stories of hope to your inbox.
Related Items