The Power of Prayer at FMSC
Stories of Feeding God's Children Hungry in Body & Spirit
Related Items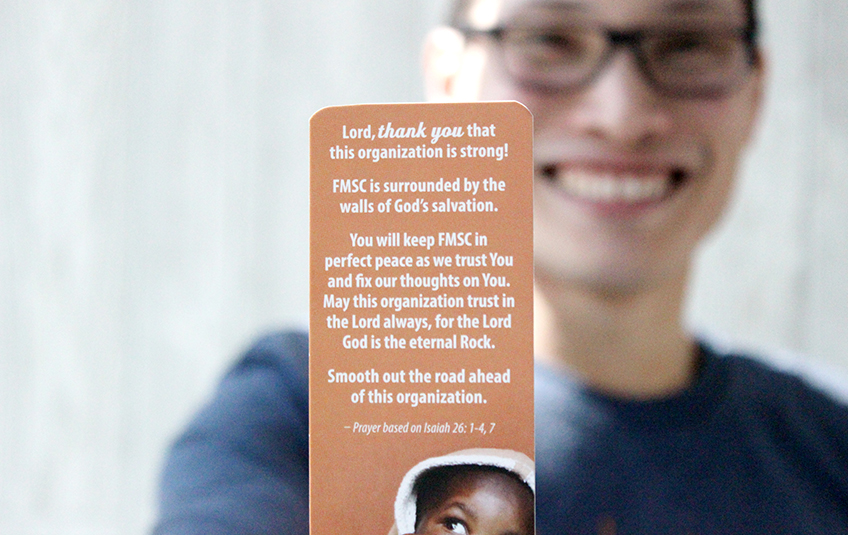 The Power of Prayer at FMSC
Erin Arndt is a site manager for Feed My Starving Children.

I remember my first experience at Feed My Starving Children outside of volunteering–as a person hoping to be an employee. I arrived at the interview and before we got into the interview portion, the hiring manager asked if I was okay if she opened the interview in prayer.

That was the last thing I was expecting, having come from the corporate world where it was against policy to put a small desktop Christmas tree in my cube.

I said yes, and throughout the prayer, I could feel tears welling inside of me and in one split second thought, "Oh no, they are going to see me cry," and in the next split second, I felt a sense of peace rising with me. It was beautiful.

Being part of an organization in which prayer is such an interwoven part of our day…I love it!

Together as staff, we pray at the start of our day to focus on the foundation we are built upon and lift up: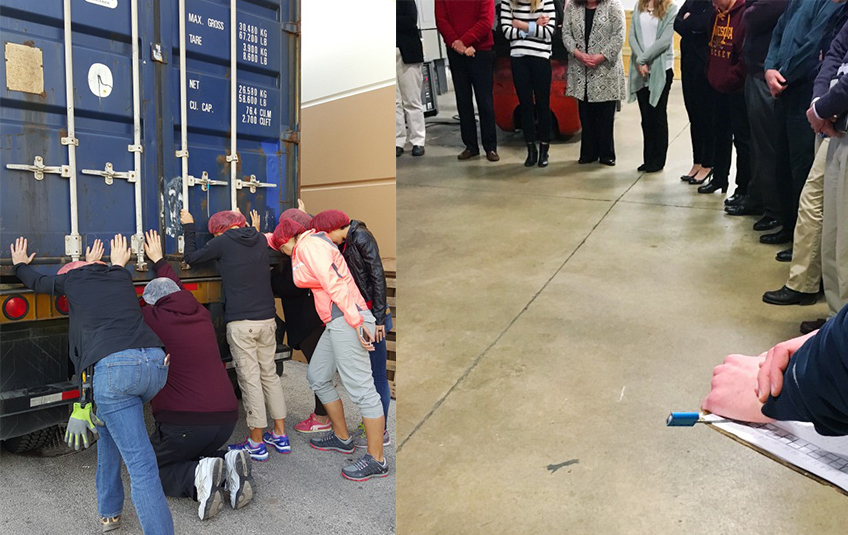 o Our partners- all that they do, all they go through and for all of God's children

o Our volunteers- those coming that day as well as those who haven't yet signed up, prayer requests and praises that have been requested by volunteers, or praises of volunteer stories that we have witnessed or have been shared with us.

o Our donors- past, current and future

o Organizational prayers and praises for the variety of things across departments, sites, and our board.

o Staff personal concerns and praises- it humbly connects us all.

o The optional blessing at the end of every shift- Sometimes for staff this is one of the most touching experiences. To see individuals coming together, sometimes with arms around each other, holding hands, possibly placing a hand on the pallet/boxes of food, or simply participating.

We witness unification. We witness hugs. We witness tears. We witness true hope. The love that is lifted at that time can be insurmountable. Again…God has brought these people together.

Other Opportunities for Prayer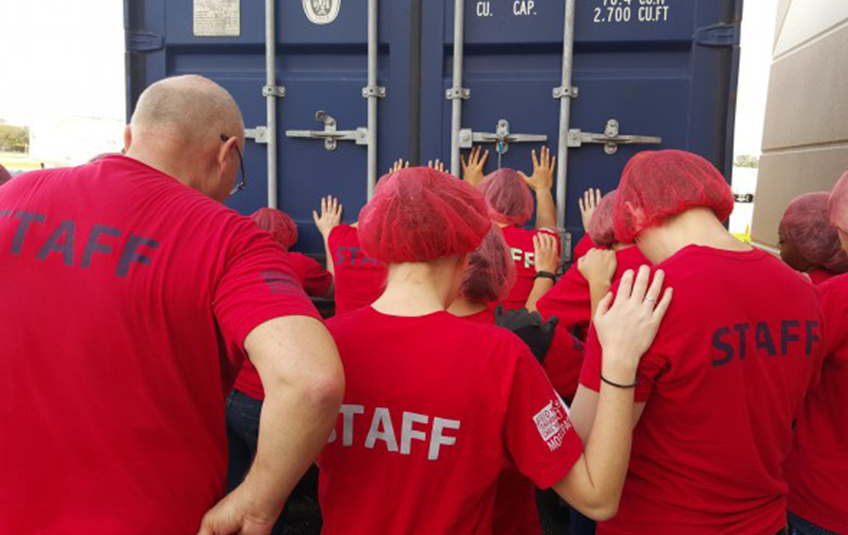 o Prayers before meetings- This keeps us grounded. We ask that God guide our discussions so that we continue to make decisions that align with our mission to feed His children

o On the Spot Prayers among staff- We are a compassionate staff. We are humans with hurts and praises, and I have witnessed staff coming together to pray for each other

o Prayers over Shipments- It's a time for all staff to stop whatever tasks they are doing and focus on the core of our organization — coming humbly and gratefully together to praise the hands and feet of Christ, the volunteers who packed hope and love, to offer praise for staff and volunteers who worked together to orchestrate the possibility of the shipment, to request safety and blessings over the MannaPacks in the container, to request safety over all transportation, to pray for the specific partner who will be receiving the food and to pray for the amazing and beautiful children of God who will receive the food.

We come together to lift up our gratitude for all He continues to give us opportunities to do. We come together to spread the love He commanded us to share.

So Why Do We Pray?

We pray to feel closer to Him, to become more unified in Him, to humble ourselves, to feel His power and His love, to seek guidance and feel protection, to grow, to feel, and to share faith, hope, and love–His LOVE. Without these, what is there?

FMSC will never force prayer on any volunteers. We do offer an opportunity to for volunteers to be part of a blessing at the end of the packing sessions, but no one is obligated to participate. It is simply an optional opportunity to be part of that aspect of FMSC.
Subscribe to The Feed
We'll periodically send stories of hope to your inbox.