The Feed
Stories of Feeding God's Children Hungry in Body & Spirit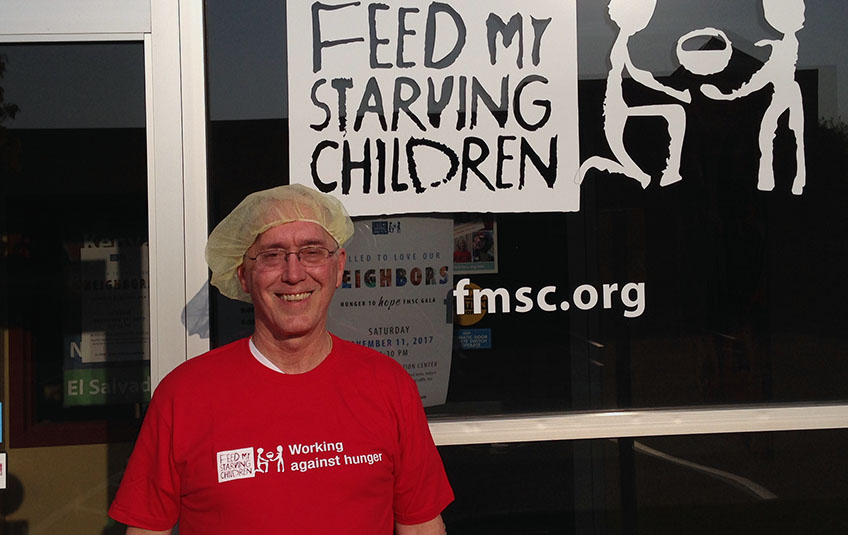 My FMSC Story: Bob
July 16, 2018
Guest Author
Bob is a Volunteer Program Facilitator at Feed My Starving Children. This post is part of a series where Feed My Starving Children staff share their FMSC story. Follow along on social media with #MyFMSCStory. 
Surely everyone who works for FMSC has a unique story. It is striking how sincerely passionate everyone involved with FMSC is to the success of the mission. "How does that feed more kids?" is often the rallying cry for when a decision needs to be made.

Part of my long career as a VP of Sales & Marketing for a medical device company took place just two buildings from the FMSC Chanhassen site. While the site was well-known among my professional colleagues and my church friends, never was there a time when I stepped foot in the facility – to this day, I don't know why.

When the medical device business started to fail, I found myself in job transition. My friends, some of whom experienced something similar in their careers, strongly suggested that volunteerism was excellent therapy for those suffering the rollercoaster ride of unemployment.

Immediately my thoughts were directed to Feed My Starving Children. Reserving a time slot online was a very simple process; plenty of times during the day and throughout the week to get involved. It started simply as a once-per-week act; later evolving into a strict "every Tuesday morning" event.

Getting to know the FMSC staff and the super volunteers was quite easy…..they all had a heart for feeding the kids.

Knowing how many kids were fed for a year was my benchmark for a successful packing session; the more volunteers at the site, the more kids fed.

Leaving the site after a packing session always left me with a very satisfying feeling with eager anticipation for the next week's return. Upon returning home, my wife would be 'downloaded' with positive stories of the day.

After two years of volunteering, my wife suggested I work at FMSC full time. "Work at something you love," was her advice. When a full time position opened up, I jumped at it and have found that every day is a wonderful and unique experience.

Kind hearts work on staff at our sites. Kind hearts make up the management team at FMSC. Kind hearts of all ages and abilities volunteer at our sites. Kind hearts are seen in our generous super volunteers. Kind hearts make a difference in this world. Watching God work through His people is so amazing. After every one of my shifts, my wife is still 'downloaded' with the events of the day. It usually starts with, "Can you believe…"

God led me to FMSC, of that I am sure. What He wants me to do next, I don't know. But here I am Lord!!!!
Do you want an FMSC story?
Come work with us
!
Current staff — send your story with photos to social@fmsc.org. We can't wait to hear your FMSC story.
Subscribe to The Feed
A couple times a month, we'll send stories of hope to your inbox.
Related Items