The Feed
Stories of Feeding God's Children Hungry in Body & Spirit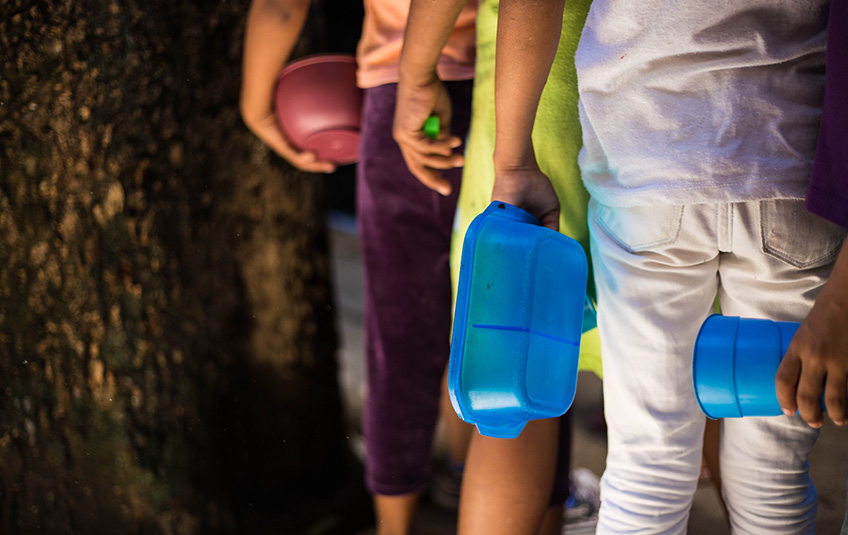 Until All are Fed: A Look at the Top Global Food Crises
''I can describe the horrors of what it was like to live under siege… but to describe how it feels to be hungry? On day one it is bad, and on day two you start to think, 'what can I do about this?' Beyond that I will not say." – Syrian refugee, FSIN report
Eight countries accounted for the majority of people facing acute food insecurity last year, according to the latest Food Security Information Network report on global food crises. That amounts to almost 72 million people.

These eight countries experienced the most severe food crises – crises driven primarily by conflict and natural disasters.

Feed My Starving Children's faithful network of partners distribute MannaPack™ meals in schools, orphanages, medical clinics and feeding programs in 70 countries around the world. They do this every day. On good days and bad. During disasters and times of calm.

Last year, these partners faithfully distributed more than a million meals in four of the worst food crises.
We are called to feed God's starving children hungry in body and spirit. We strive to reach everyone, until ALL are fed. In looking at our distribution map, there continue to be gaps in where the greatest needs are in the world today.

FMSC has been called to stand with our partners in some of the most complicated, hardest to reach places in the world. But as you read this, there are regions that FMSC is currently unable to reach. Please join us in praying for open doors and partnerships in those regions.

"We will do everything possible to feed these children and leave the impossible to God," FMSC CEO/Executive Director, Mark Crea, said.

The sobering FSIN report makes it so clear that we need to keep working together to end hunger. The fight against hunger can seem overwhelming, but at FMSC, we know that hope is greater – and it's because of you.

Hope is greater than conflict. It's greater than drought and famine and disease. It's greater than earthquakes and hurricanes. It's greater than poverty. And it's greater than hunger.
Sign up to pack meals TODAY.
Fund lifesaving meals TODAY.
Editor's note: The Global Report on Food Crises (GRFC 2019) is a collaborative effort between numerous agencies in the international humanitarian and development community to share their data, analysis, knowledge and expertise regarding people facing food crises.
Subscribe to The Feed
We'll periodically send stories of hope to your inbox.