The Feed
Stories of Feeding God's Children Hungry in Body & Spirit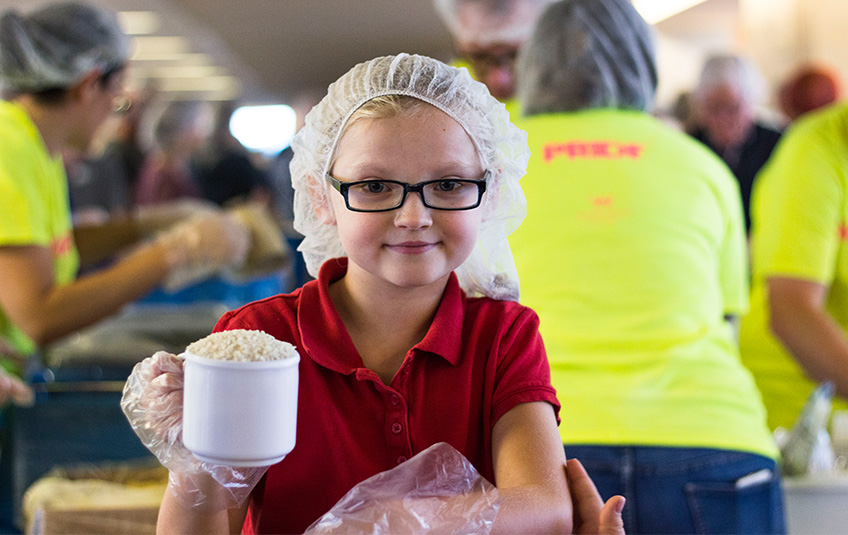 The Story of 2020
"Let us hold unswervingly to the hope we profess, for he who promised is faithful." – Hebrews 10:23
This past year was full of words many of us never want to hear again. Unprecedented. Canceled. Despair. But if you've been following along, we just keep talking about hope.
Hope isn't all sunshine and rainbows or a denial of reality. No, hope exists inside the darkest places. If it was a physical thing we could touch, it would be as tough as nails, as sturdy as an oak tree. If it had a voice, it would say, "It's OK; I'm here." If it was a person, it would just keep showing up.
It's how children know they'll have a meal tomorrow and a bright future. It's how we know that there's more to the story.
Hope looks a lot like you.
It looks like 11-year-old Bailey, who started a claw machine business to feed kids. It looks like Jason, who wouldn't let a canceled marathon stop him from running. It looks like the tops of heads, gathered virtually for prayer.
It looks like an airplane hangar full of volunteers and resilience most of us couldn't even imagine. It looks like finding a way when all feels hopeless.
Hope is at the heart of everything we do here at FMSC, and because of that, the story of 2020 isn't one of despair. It is one of hope.
Last spring, before the world changed, our CEO Mark Crea wrote the following in our Annual Report. It's as true today as it was then.
As we look into the year ahead, it's important to look back. Back at God's faithfulness in hardship. Back at your faithfulness in answering His call to feed more kids. Back at what we have done well – and what we can do even better.
I have no doubt that we will see similar challenges this year as we hear the cries of hunger ripple across a broken world. But we continue to trust the Lord because as 1 Thessalonians tells us, "The one who calls you is faithful, and He will do it."
And friends, He has called us to feed His kids.
Thank you for writing such a beautiful story this year. Here's how you can help write the story of 2021:
Donate Now
Donate by credit card, bank account or digital wallet.
Subscribe to The Feed
A couple times a month, we'll send stories of hope to your inbox.