The Feed
Stories of Feeding God's Children Hungry in Body & Spirit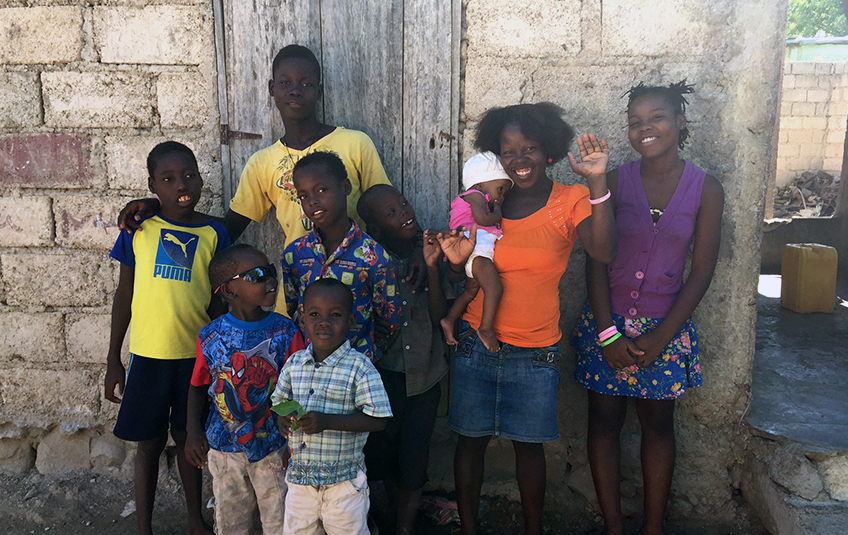 12 Stories that Celebrate Girls and Women
"She is clothed with strength and dignity; she can laugh at the days to come." – Psalm 31:25
International Women's Day is March 8. Feed My Starving Children celebrates women every day, but we love any excuse to highlight the stories of some of the strong, beautiful women we work with around the world!
Did you know that in addition to eliminating hunger, one of the United Nations Sustainable Development Goals is gender equality for all women and girls? According to the SDGs, gender inequality persists worldwide, depriving women and girls of their basic rights and opportunities.
In 2012, almost half of all women who were victims of intentional homicide worldwide were killed by an intimate partner or family member, compared to 6 percent of male victims.
Child marriage is declining, but not fast enough. Around 2000, nearly 1 in 3 women between 20 and 24 years of age reported that they were married before 18 years of age. Around 2015, the ratio was just over 1 in 4. The decline is driven by an even steeper reduction in the marriage rate among girls under 15 years of age during that period.

The average amount of time spent on unpaid domestic and care work is more than threefold higher for women than men, according to survey data from 83 countries and areas. Available data indicate that time spent on domestic chores accounts for a large proportion of the gender gap in unpaid work.

Globally, women's participation in single or lower houses of national parliaments reached 23.4 per cent in 2017, just 10 percentage points higher than in 2000. Such slow progress suggests that stronger political commitment and more ambitious measures and quotas are needed to boost women's political participation and empowerment.

Women are still underrepresented in managerial positions. In the majority of the 67 countries with data from 2009 to 2015, fewer than a third of senior- and middle-management positions were held by women.
12 Stories that Celebrate Women and Girls
This year's International Women's Day campaign presses forward for gender parity, which is estimated to be 200 years away. It is in light of this that we celebrate the following women and partner programs that empower girls. Our partners are doing BIG things for gender equality in countries like Nicaragua and Uganda.
1. Esther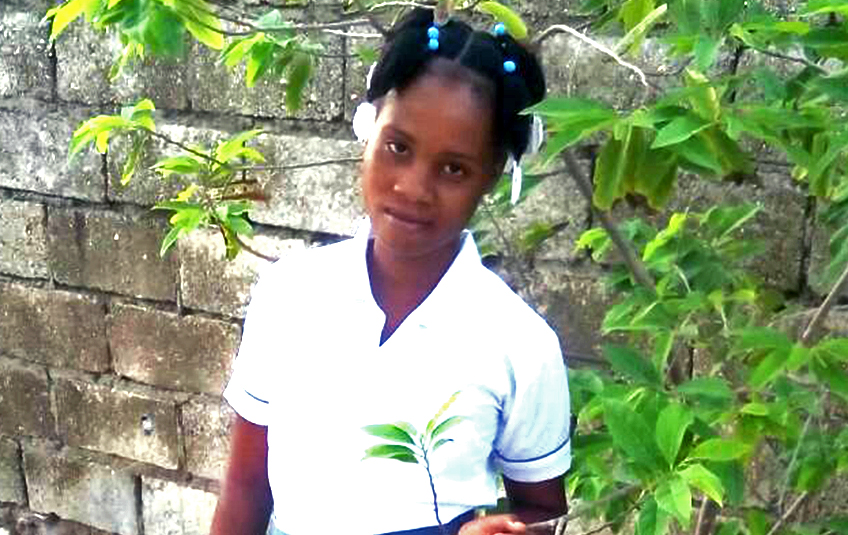 A year ago a flood swept my sister and brother out to the ocean. It hurt really bad to watch as the flood come down the mountain into our village. Everyone was running and screaming. The water was fast and deep. It tore down our houses and took everything we had. My school uniform and my school books were gone. I was sure that I would not be able to go back to school. I did not know what was going to happen to us. Everything was gone. I did not have a house or a bed where I could sleep. My mother was so sad because there was no way to find food for us. – Esther
2. Joyce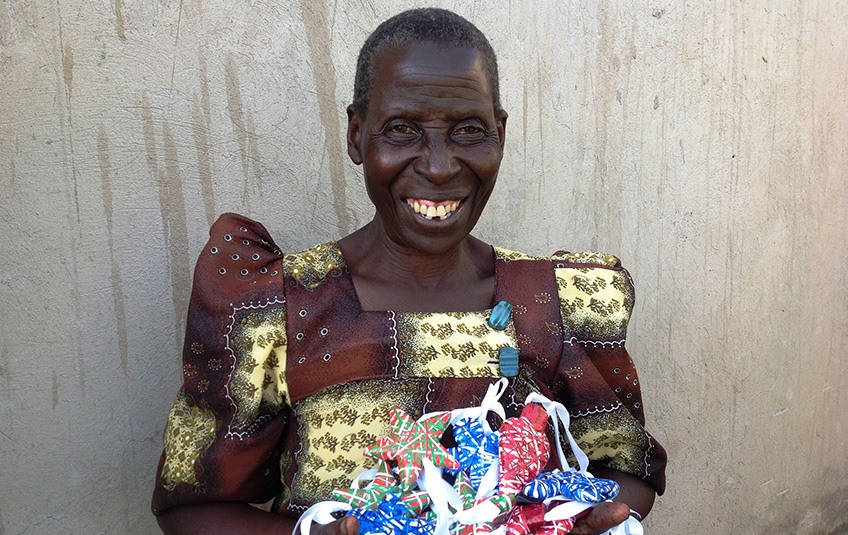 Every time you buy one of Joyce's products, you give her the energy to produce more. 
The grandmother of 21 creates beautiful necklaces and ornaments for Feed My Starving Children's Ugandan MarketPlace partner, Hope Again Women. 

Joyce creates these products by rolling or wrapping colorful paper by hand. With the money she's earned, she built a home and sends her grandkids to school. 

Joyce's 21 grandchildren have been orphaned and live with her.

"All of their parents have been buried," Richard from Hope Again Women said. "It is her struggle to make sure she raises enough income to make sure she looks after these children, send them to school and feeds them."
3. Empowered Girls Club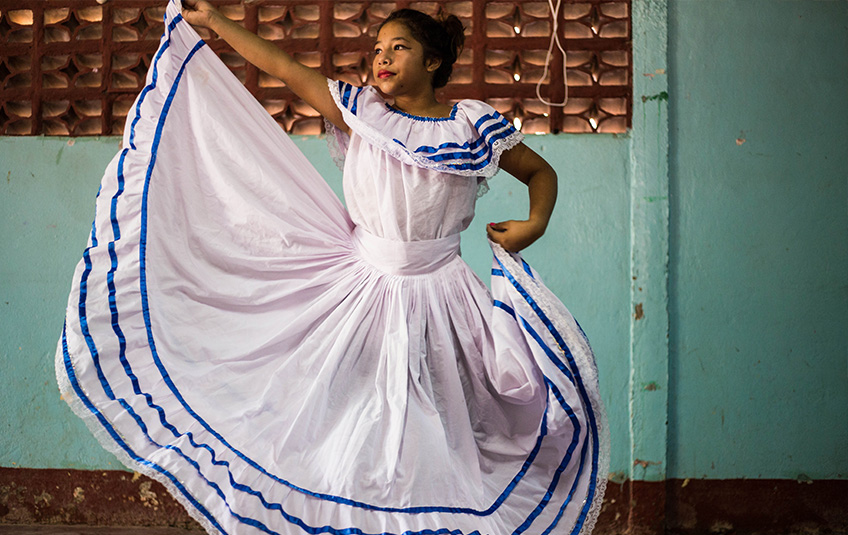 Convoy of Hope's Empowered Girls program brings educational programs to schools and communities. Sessions include contextually appropriate topics such as self-esteem, gender-based violence and harmful cultural beliefs and practices. The girls in the club are also supported nutritionally with MannaPack meals. 
Nicaragua, the poorest country in Central America, is plagued by a high birth rate among adolescents, which perpetuates a cycle of poverty and low educational attainment, according to the CIA World Factbook.

One of the girl's mothers, describing herself only as "Little Vanessa's mother," said she was grateful for the program.

"I've seen big progress in my daughter. She has been very much helped by the training she has received," she said.

Convoy of Hope's programs in Nicaragua feed 13,231 children at 38 program centers, but their work extends far beyond providing meals.
4. Cellestine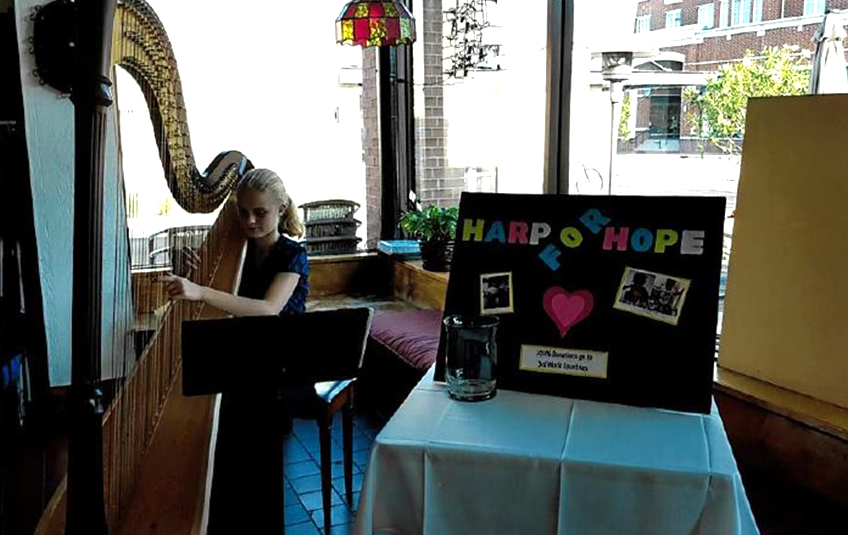 Fourteen-year-old Cellestine came to our Libertyville, Il. site a few months ago with a friend and was so taken with our mission and feeding kids she wanted to do more. 

She plays the harp and decided she would use her God-given talents to raise money to feed more kids. She proudly sent in a check to buy a box of food from her performance.

But she wanted to do even more. With the guidance of her mother Claudine, she played her harp at a local restaurant and put out her own handmade board with pictures. 

She raised enough to feed two children for a year!
5. Mdm Fifin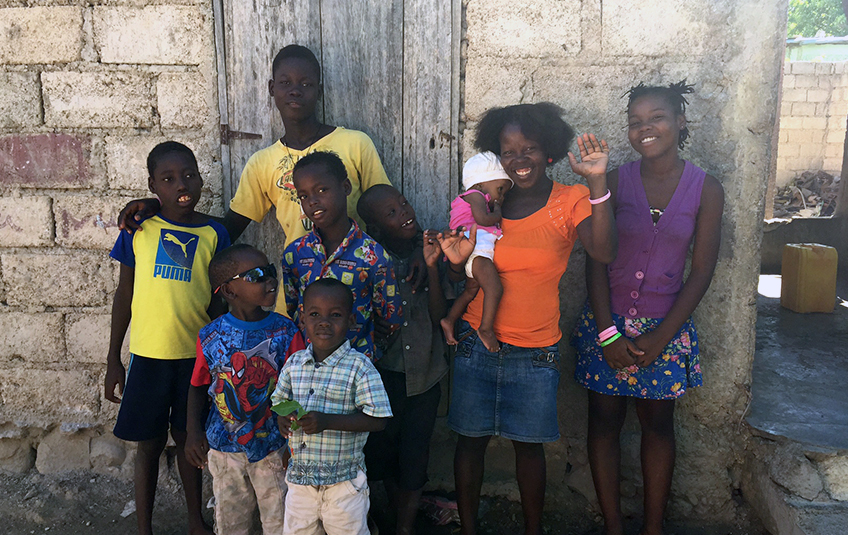 Mdm Fifin is working towards starting a small business at the end of the year.

The mom of 10 plans to sell rice, beans and oil outside of her home on a main walkway out of her village in Haiti.

Her children range in age from 7 months to 21 years. Before Elevate started working with Mdm Fifin, only five of her school aged children had attended school. Their first goal was to get the children in school.

Then, they wanted to make sure that the family had enough food to survive. MannaPack meals help supplement Mdm Fifin and her children until she is able to make enough profit with her business to support her family.

The final step is providing Mdm Fifin with a small microloan and business training.

6. Karina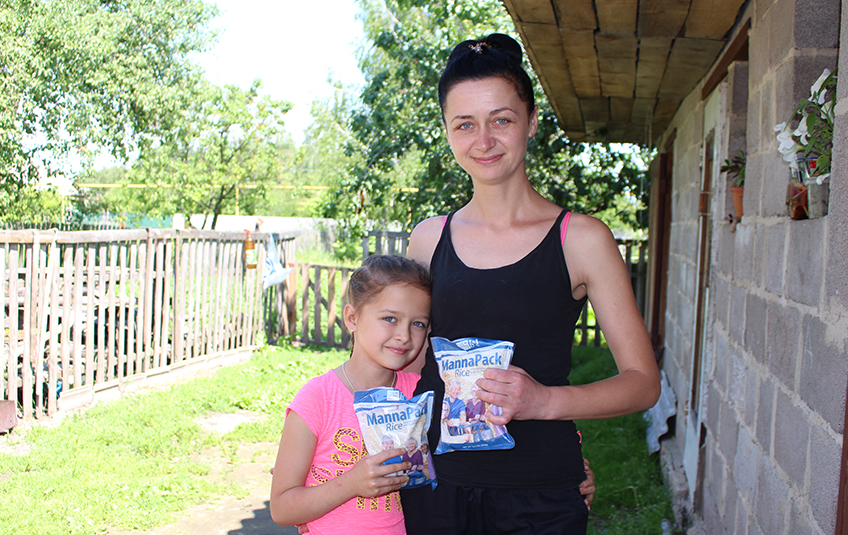 Karina, 8, shares a tiny room with her parents in a small house. Bringing nothing with, the family fled to this home after war broke out in Ukraine. It was there that Feed My Starving Children's partner, Mission Eurasia, found Karina, diligently working in her handwriting workbook.
The little girl, who was born with a cleft palate, studies hard. "I want to be a doctor, just like the ones that fixed my lip," she said. "I want to do surgeries that help people look and feel better." Karina was also born with a weak immune system that causes her to get sick easily. A few years ago, she missed the majority of her classes and her father's income went to paying off these steep medical bills. The war broke out just as the family was recovering from this setback.
7. Josefa
My mom had work. She earned a wage by selling her body to men. She was addicted to drugs and alcohol. As a result of this work, one night she became pregnant. This is how I became part of her life. I was a problem for her. At 8 days old, she abandoned me. I was given to another family. For the rest of my life I had hate and bitterness towards her and I just wanted to hurt myself. At one point, I didn't want to continue on. – Josefa
8. Strong grandmothers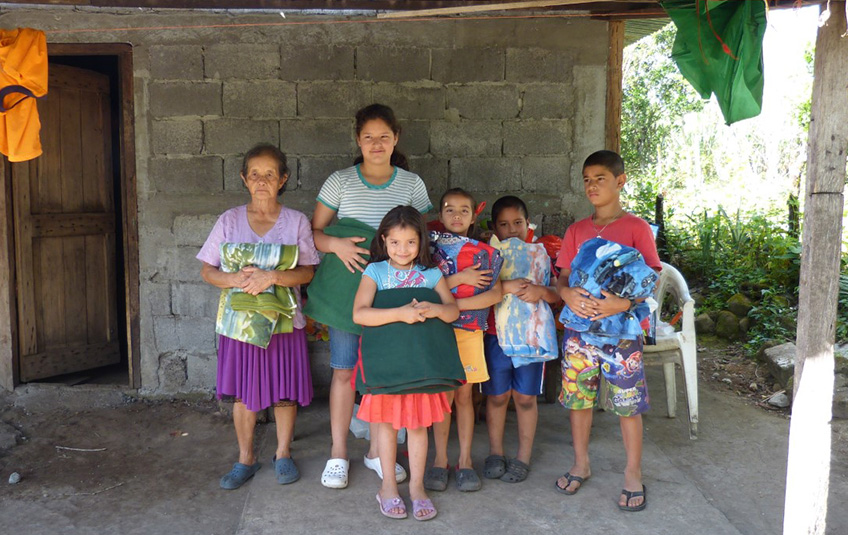 Ana sleeps in the chicken coop outside her one room house in Panama so her seven grandchildren have more room to sleep comfortably. She is one of many strong women in Panama who make sacrifices to feed and care for the children in their lives.
9. Nicole from Color + Kindness

 Nicole was standing in her kitchen washing dishes when the idea for Color + Kindness hit her.
She was already running a small business for prints, but something just didn't feel right. She didn't have the inspiration to create. So she prayed. "I asked God. I said, 'I love doing creative things, but I'm stuck. Could you help me?'" Within 20 minutes she was envisioning paper donuts that kids could decorate, with a message of "donut worry." That idea eventually morphed into Color + Kindness, a shop full of color, purposeful prints and encouragement. For every dollar spent, they give 22 cents to Feed My Starving Children to ensure kids are fed.
10. Anna and Adison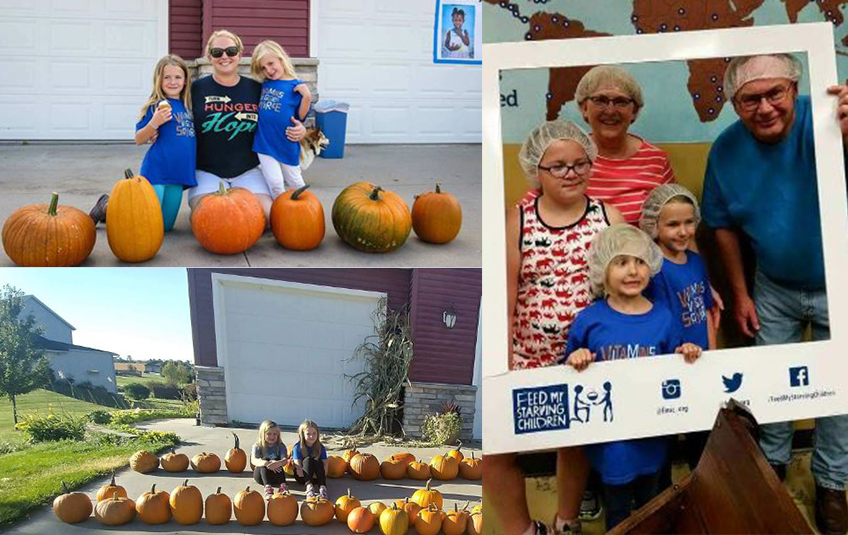 At just 3 years old, Anna and her older sister, Adison, 6, would take their little red wagon down to the family's backyard pumpkin patch and fill it with pumpkins to raise money for Feed My Starving Children.
The sisters, now 7 and 10, have raised more than $1,600 selling pumpkins. That has provided more than 7,000 meals to kids around the world.
11. Club Pregnant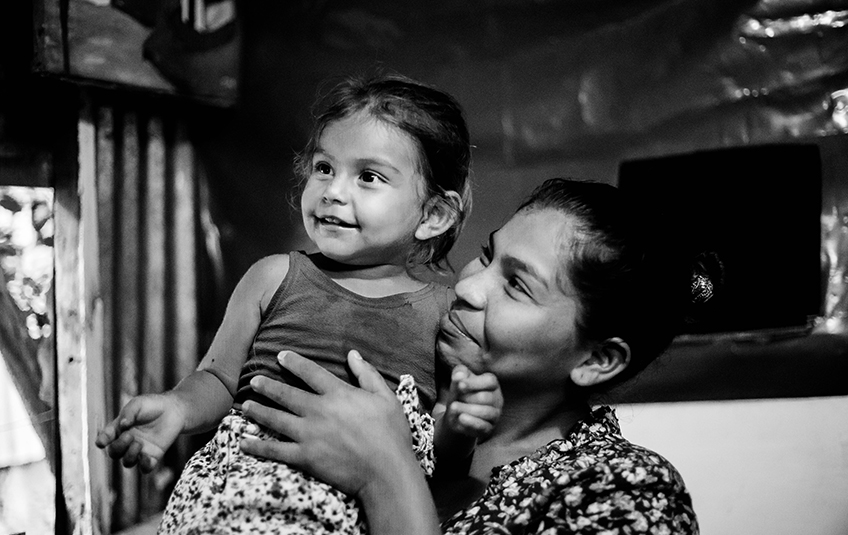 ORPHANetwork designed Club Pregnant to wipe out malnutrition before the largely irreversible damage it can cause in the crucial time between conception and two years.

In the program's supportive atmosphere, mothers are educated and empowered to proactively care for their children's development. Their own nutrition is supplemented by nutritious MannaPack meals.

More than 80 percent of babies in this program were born with a healthy weight, with 89 percent reaching healthy weight by two months.

Club Pregnant educates teenage girls about preventing teenage pregnancies and how to protect themselves from sexual abuse – both of which are prevalent in Nicaragua.

It is common to see 12 and 13 year old girls pregnant or taking care of a baby, Nicaragua Director for ORPHANetwork Eddy Morales said.

"The goal of having teens in the club is to teach there is a life out there," he said. "Many girls in Nicaragua suffer from abuse…we want them to know they're not alone. There's a whole world out there."
12. Isabel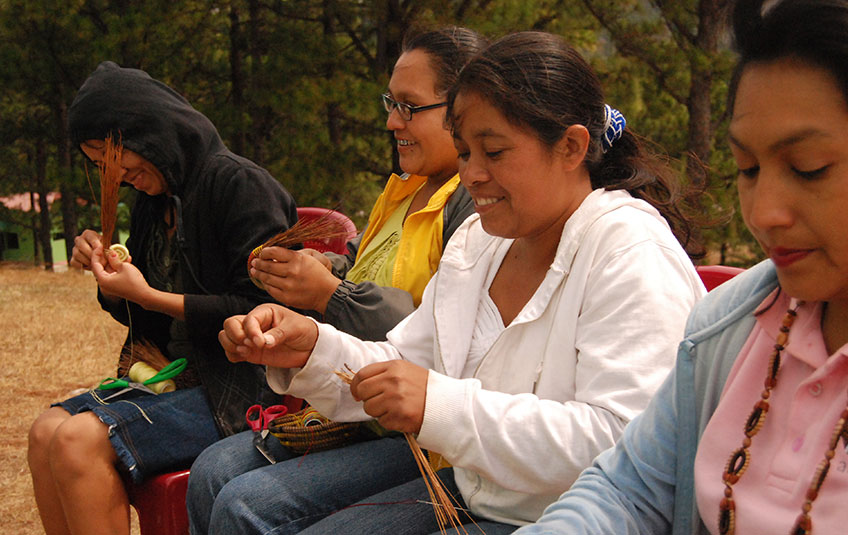 Isabel's blistered hands were cramping. She had just arrived home from a long day weaving pine needle baskets for a cooperative run by Fabretto. The pine needles poked her fingertips and dug into her skin causing splinters.

She still had a long night ahead caring for her babies. But she had finished making her first basket. Making that basket had taken her 30 hours of hard labor.

Years later, she smiled recounting the story of making her very first basket to staff at Fabretto, an FMSC MarketPlace partner.

"Finishing the basket made it all worth it," Isabel said. "It was more than just a basket to me. It was proof that I could do it. I could fight and overcome the machismo culture and I could sustain myself and my family.
Bonus Story: The Importance of Educating Girls
More than 60 percent of 103 million youth lacking basic literacy skills are girls, according to the United Nations.

At Feed My Starving Children, we know the power of food in education. We know that nutritious food paves the way for education. It helps kids concentrate in school and dream for the future.

Education is so important. But sadly, girls around the world are at a disadvantage.

In 2014, 54 percent of countries had not achieved gender parity in lower secondary education, and 77 percent of countries in upper secondary education, according to the 2016 Global Education Monitoring Report (GEM).

This inequality leads to a lack of access to skills and limited opportunities for employment when girls grow up.
As an FMSC volunteer and donor, you can do so much to support empowerment of girls and women. The meals you fund and pack end up in the hands of girls because Feed My Starving partners with some pretty amazing organizations. 
Donate Now
Donate by credit card, bank account or digital wallet.
Subscribe to The Feed
We'll periodically send stories of hope to your inbox.
Related Items